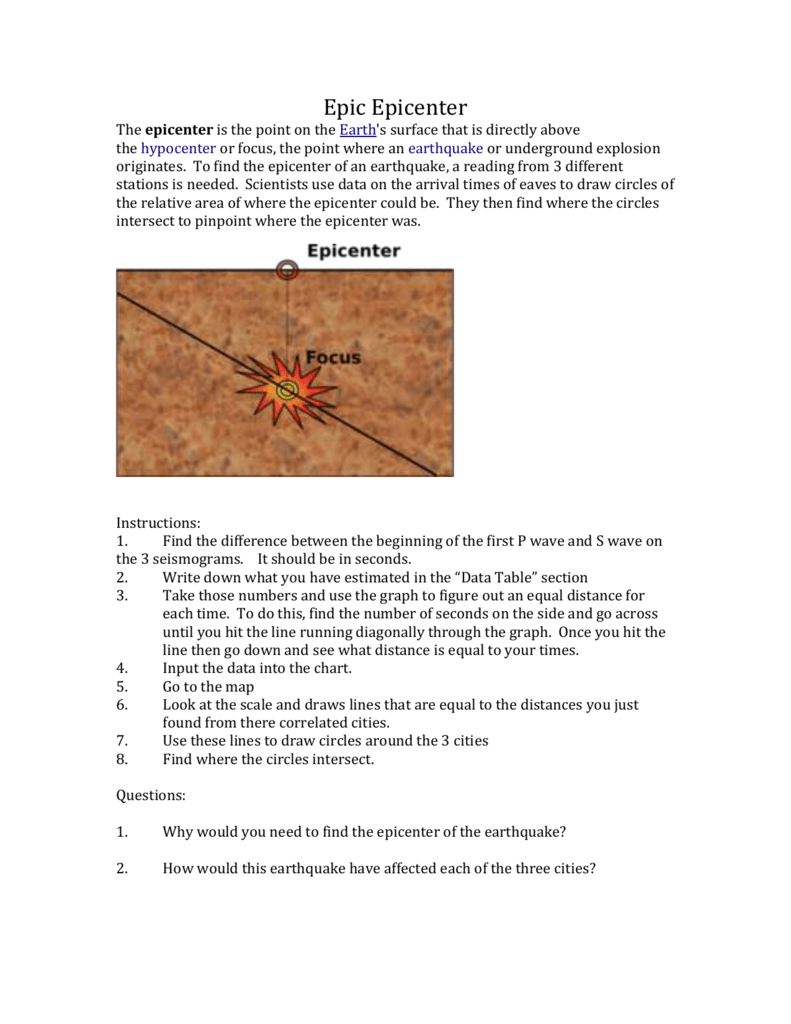 Epic Epicenter
The epicenter is the point on the Earth's surface that is directly above
the hypocenter or focus, the point where an earthquake or underground explosion
originates. To find the epicenter of an earthquake, a reading from 3 different
stations is needed. Scientists use data on the arrival times of eaves to draw circles of
the relative area of where the epicenter could be. They then find where the circles
intersect to pinpoint where the epicenter was.
Instructions:
1.
Find the difference between the beginning of the first P wave and S wave on
the 3 seismograms. It should be in seconds.
2.
Write down what you have estimated in the "Data Table" section
3.
Take those numbers and use the graph to figure out an equal distance for
each time. To do this, find the number of seconds on the side and go across
until you hit the line running diagonally through the graph. Once you hit the
line then go down and see what distance is equal to your times.
4.
Input the data into the chart.
5.
Go to the map
6.
Look at the scale and draws lines that are equal to the distances you just
found from there correlated cities.
7.
Use these lines to draw circles around the 3 cities
8.
Find where the circles intersect.
Questions:
1.
Why would you need to find the epicenter of the earthquake?
2.
How would this earthquake have affected each of the three cities?