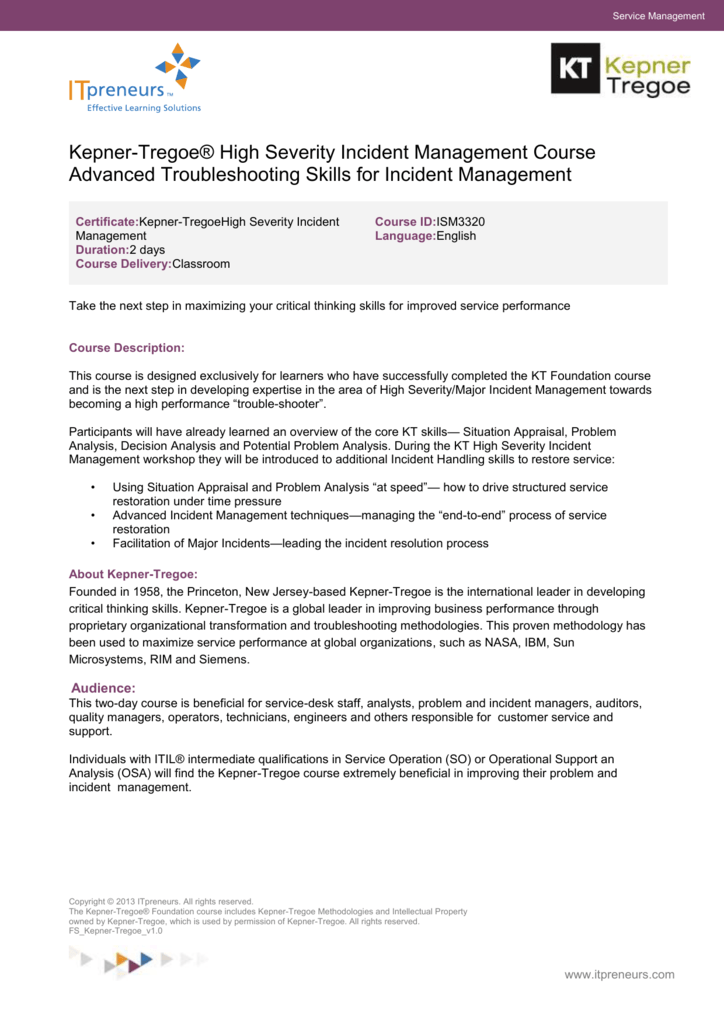 Service Management
Kepner-Tregoe® High Severity Incident Management Course
Advanced Troubleshooting Skills for Incident Management
Certificate:Kepner-TregoeHigh Severity Incident
Management
Duration:2 days
Course Delivery:Classroom
Course ID:ISM3320
Language:English
Take the next step in maximizing your critical thinking skills for improved service performance
Course Description:
This course is designed exclusively for learners who have successfully completed the KT Foundation course
and is the next step in developing expertise in the area of High Severity/Major Incident Management towards
becoming a high performance "trouble-shooter".
Participants will have already learned an overview of the core KT skills— Situation Appraisal, Problem
Analysis, Decision Analysis and Potential Problem Analysis. During the KT High Severity Incident
Management workshop they will be introduced to additional Incident Handling skills to restore service:
•
•
•
Using Situation Appraisal and Problem Analysis "at speed"— how to drive structured service
restoration under time pressure
Advanced Incident Management techniques—managing the "end-to-end" process of service
restoration
Facilitation of Major Incidents—leading the incident resolution process
About Kepner-Tregoe:
Founded in 1958, the Princeton, New Jersey-based Kepner-Tregoe is the international leader in developing
critical thinking skills. Kepner-Tregoe is a global leader in improving business performance through
proprietary organizational transformation and troubleshooting methodologies. This proven methodology has
been used to maximize service performance at global organizations, such as NASA, IBM, Sun
Microsystems, RIM and Siemens.
Audience:
This two-day course is beneficial for service-desk staff, analysts, problem and incident managers, auditors,
quality managers, operators, technicians, engineers and others responsible for customer service and
support.
Individuals with ITIL® intermediate qualifications in Service Operation (SO) or Operational Support an
Analysis (OSA) will find the Kepner-Tregoe course extremely beneficial in improving their problem and
incident management.
Copyright © 2013 ITpreneurs. All rights reserved.
The Kepner-Tregoe® Foundation course includes Kepner-Tregoe Methodologies and Intellectual Property
owned by Kepner-Tregoe, which is used by permission of Kepner-Tregoe. All rights reserved.
FS_Kepner-Tregoe_v1.0
www.itpreneurs.com
Learning Objectives:
Key components of KT workshop are:
•
•
•
•
•
A discovery case to assess current approaches to Incident Management and compare them to the
KT approach
"Process Teaches" which introduce the KT concepts in a step-by-step approach
A series of case studies which allow participants to test their understanding of the techniques in a
structured/simulated environment
Coaching and feedback by the instructor to reinforce the learning
Structured discussions about how the KT processes get implemented to drive hard results
Benefits:
• Learn Kepner-Tregoe's advanced troubleshooting skills
• Hone your skillsthrough case studies and application
• Learn about how to improve the performance of your Incident Management processes and restore
service faster and more consistently
Case Study:
A large number of case studies will reinforce and cement the skills learned at the KT High Severity Incident
Management Workshop.
Course Logistics:
Classroom
Whiteboard, flipchart, and projector
Participants — maximum of 16, no minimum requirement
Prerequisites:
Participants need to have successfully completed the Kepner-Tregoe Foundation Course and Exam.
Course Material:
Participants receive a copy of the classroom presentation material and the Participant Workbook, which
contains reference material.
About the Examination:
The KT High Severity Incident Management exam is an online exam which can be offered at the end of the
second day of the training course or taken by the candidate at another convenient date and time. This will
require that the candidate selects and registers a proctor who will supervise the exam delivery.
In order for participants to be eligible to take the KT High Severity Incident Management exam, they have to
participate in an accredited KT High Severity Incident Management course for 2 days.