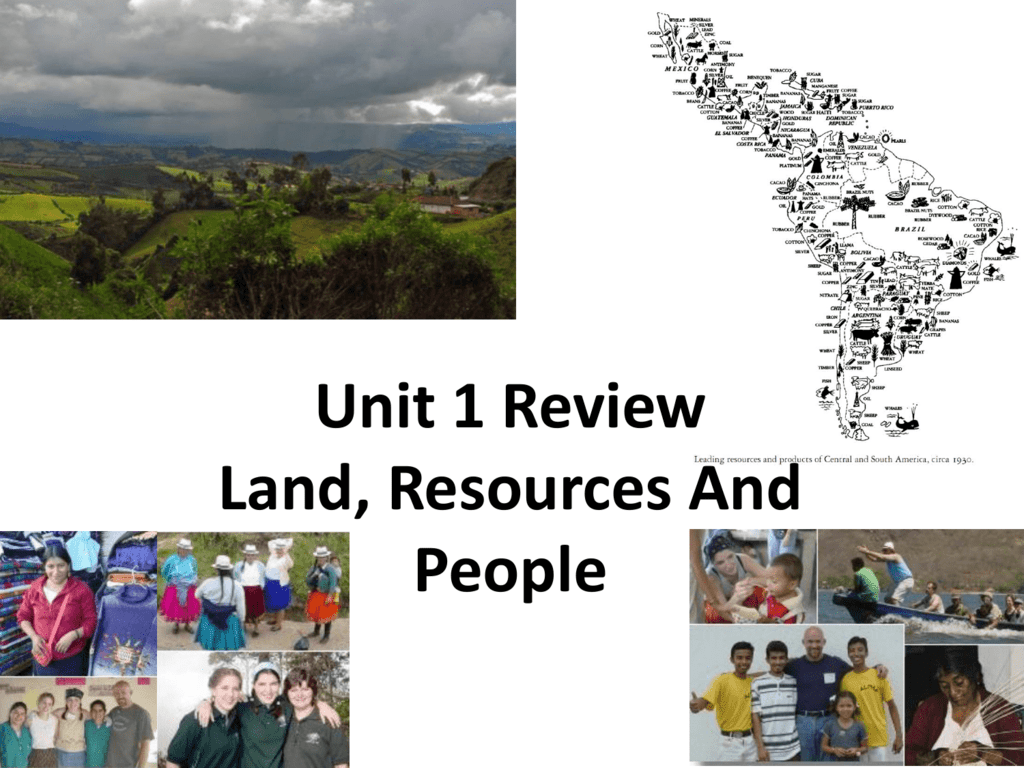 Unit 1 Review
Land, Resources And
People
A primary source is a source
of information taken from an
original document, text or
audio video.
Most of the
Earth's
surface
is covered
by
water
Mountains, plateaus and
plains are examples of
landforms.
Due to an increase in food supply and better
medical care, the world' population recently,
has increased, rapidly.
To the right is
the Western
Hemisphere.
Latin
America is
shaded in
green.
Above is a view of
the Western
Hemisphere. It is
made of North
and South
America.
Canada
United
States
To the left is a view of
Latin America. It is
made of South
America, the
Caribbean Islands and
Middle America, which
is Mexico and the 7
countries of Central
America.
Weather is the
condition of the
air and sky from
day to day.
Canada
Since Canada is a long way
from the Equator, the climate
tends to be very cold.
Equator
Equator
Latin America's climate is affected by elevation,
the Equator and wind patterns. Life in the
mountains are cooler. Hotter weather is found
near the equator. Strong winds blow warm air
away from the Equator and colder air is blown
up from the south, the Antarctica.
ELEVATION…
is the height of land
above sea level
A plateau is a large, mostly flat area that rises above
the surrounding land. Much of Mexico is a plateau.
The Amazon River Basin is
home to the largest tropical
rain forest in the world.
Amazon Rain Forest
Due to an excellent supply of
heat, light and water, thousands
of different kinds of plants grow
in the rain forest.
The Andes Mountains is the long
mountain chain that runs along
the west coast of South America.
Crops grown on farms in the Andes are
influenced by elevation.
Subsistence farms
raise enough food
to feed only the
farmer's family.
The economy is a system of
producing, distributing, consuming
and owning goods, services and
wealth.
When a country depends
largely on one resource or
crop for income, it is
known as a one-resource
economy.
To reduce their reliance on one natural resource
or crop, many Latin American nations have begun
to build up their industries.
The drop in oil prices in
the 1980s probably
helped to convince
Venezuela to promote
investment in other
industries, (diversify).
Fossil fuels are resources that were
created over millions of years from
the remains of prehistoric plants and
animals.
Coal and
natural gas
are examples
of
nonrenewable
resources.
Migration is the movement of
people from one country or
region to another.
Push-Pull Theory is used by Involuntary migration is
geographers and demographers when people are forced
to move from one
to explain migration. When people
location to another.
living in a region find it difficult to
live, they feel a push to move away
in search of better paying jobs or
better schools and medical care.
The hope for better living conditions
pulls them to a new location.
Many people have moved (migrated)
from the rural areas shown below right,
to urban areas for better paying jobs and
to give their children better opportunities,
in the areas of health and education.
Many people in Latin America leave the rural countryside
for the urban, city life, in hopes of finding better jobs.
Urban refers to the city.