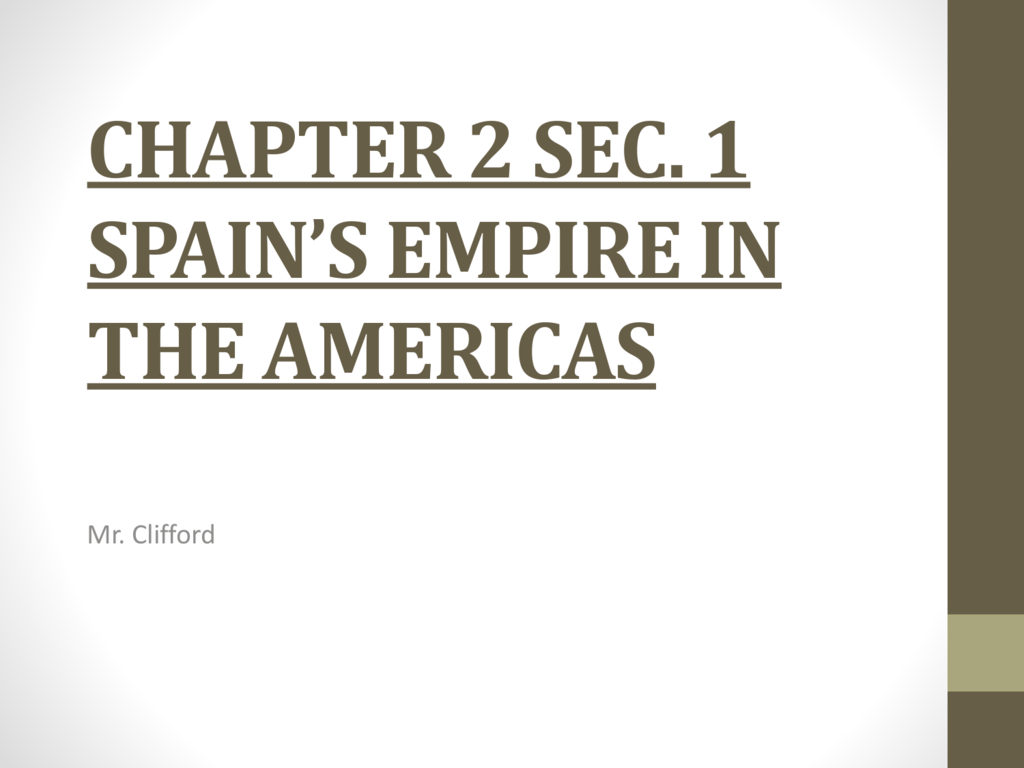 CHAPTER 2 SEC. 1
SPAIN'S EMPIRE IN
THE AMERICAS
Mr. Clifford
WHAT IS THE MAIN IDEA OF
THE SECTION
• Throughout the 1500s and 1600s, the Spanish conquered
Central and portions of North America.
• WHY DOES THIS INFORMATION MATTER NOW?
-Spanish language, religion, and architecture continues to
influence the Americas.
Chapter 2 Section 1 Vocabulary
•
•
•
•
•
•
•
•
Hernándo Cortés
conquistador
New Spain
mestizo
encomienda
Juan Ponce de León
New Mexico
Popé's Rebellion
Spanish Claim a New Empire
• Conquistadores: specially
trained Spanish soldiers who
colonized the New World in
search for gold & silver.
• With the help of superior
weapons, native allies, &
disease the Spanish
dominated Native American
populations. The conquest
produced enough gold and
resources to make Spain the
largest and strongest empire
on earth.
Cortes Subdues the Aztecs
• Hernando Cortes: a gifted Spanish diplomat
& military leader
• Cortes would force Aztecs (present day
Mexico) to mine for gold an silver.
• In 1520 CE, Aztecs rebelled against the
Spanish and killed their leader Montezuma
for allowing Cortes to take over their empire.
• Aztecs were devastated by small pox which
was brought by the Spanish.
• The Spanish finally conquered the Aztecs in
1521.
Small Pox
Small Pox
Spanish Pattern of Conquest
• Peninsulares: Spanish men who traveled
to New Spain to settle and profit off the
land.
• Spanish men would marry Native
American women and eventually, the
entire society was mestizo.
• Mestizo: mixed race (European, Native
American, and eventually African)
Spanish Pattern of Conquest
• Encomienda System: oppressed the Native American by
forcing them to work within a brutal labor system
known as
• Native Americans were forced to farm, ranch, or mine for
Spanish landlords.
HOW TO CONQUER FOREIGN LANDS &
NATIVE PEOPLES
(THE SPANISH WAY)
1.) Committed expedition leader who is a good diplomat
2.) Strong military (conquistadors) and superior weapons to overtake
native peoples
3.) Hidalgo's and peninsulares to:
- settle land and create plantations
- marry Native American women and create a
mestizo population. (Eventually, the population
will all
have Spanish blood)
4.) Impose 'encomienda' labor system to develop and harvest cash
crops.
5.) Force Spanish culture and religion (Roman Catholicism) on Native
America society.
Spain Enters Golden Age
• 16th century: Spain
was the most
powerful nation in
the
world. Eventually,
massive inflation
would hit Spain.
The Conquistadores Push North
Spanish began funding more expeditions in search of land and
gold.
• Exploring Florida:
• Spanish explorer Juan Ponce De Leon discovered Florida.
• Settling the Southwest
• Spanish explorer Francisco Vasquez de Coronado led the first
Spanish expedition into what is now Arizona, New Mexico, Texas,
Oklahoma, and Kansas.
• Spanish priests and explorers followed Coronado's trail and
established congregacion's.
Resistance to the Spanish
• Conflict in New Mexico
• Spanish settlers/priests
attempted to convert Native
Americans into Roman Catholics.
• Spanish soldiers and priests
destroyed sacred objects of
Native Americans and punished
Native Americans who did not
convert.
• Natives rebelled against Spanish
attempts to transform their lives
and beliefs.
Pope's Rebellion
- Successful Native American
rebellion against Spanish priests
and settlers.