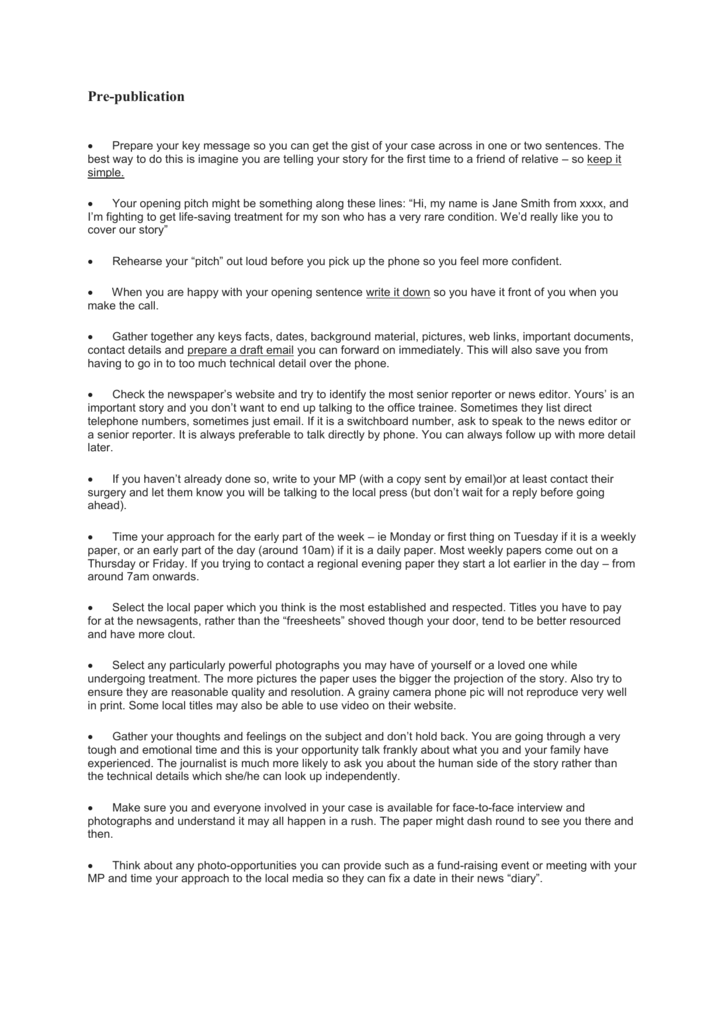 Pre-publication

Prepare your key message so you can get the gist of your case across in one or two sentences. The
best way to do this is imagine you are telling your story for the first time to a friend of relative – so keep it
simple.

Your opening pitch might be something along these lines: "Hi, my name is Jane Smith from xxxx, and
I'm fighting to get life-saving treatment for my son who has a very rare condition. We'd really like you to
cover our story"

Rehearse your "pitch" out loud before you pick up the phone so you feel more confident.

When you are happy with your opening sentence write it down so you have it front of you when you
make the call.

Gather together any keys facts, dates, background material, pictures, web links, important documents,
contact details and prepare a draft email you can forward on immediately. This will also save you from
having to go in to too much technical detail over the phone.

Check the newspaper's website and try to identify the most senior reporter or news editor. Yours' is an
important story and you don't want to end up talking to the office trainee. Sometimes they list direct
telephone numbers, sometimes just email. If it is a switchboard number, ask to speak to the news editor or
a senior reporter. It is always preferable to talk directly by phone. You can always follow up with more detail
later.

If you haven't already done so, write to your MP (with a copy sent by email)or at least contact their
surgery and let them know you will be talking to the local press (but don't wait for a reply before going
ahead).

Time your approach for the early part of the week – ie Monday or first thing on Tuesday if it is a weekly
paper, or an early part of the day (around 10am) if it is a daily paper. Most weekly papers come out on a
Thursday or Friday. If you trying to contact a regional evening paper they start a lot earlier in the day – from
around 7am onwards.

Select the local paper which you think is the most established and respected. Titles you have to pay
for at the newsagents, rather than the "freesheets" shoved though your door, tend to be better resourced
and have more clout.

Select any particularly powerful photographs you may have of yourself or a loved one while
undergoing treatment. The more pictures the paper uses the bigger the projection of the story. Also try to
ensure they are reasonable quality and resolution. A grainy camera phone pic will not reproduce very well
in print. Some local titles may also be able to use video on their website.

Gather your thoughts and feelings on the subject and don't hold back. You are going through a very
tough and emotional time and this is your opportunity talk frankly about what you and your family have
experienced. The journalist is much more likely to ask you about the human side of the story rather than
the technical details which she/he can look up independently.

Make sure you and everyone involved in your case is available for face-to-face interview and
photographs and understand it may all happen in a rush. The paper might dash round to see you there and
then.

Think about any photo-opportunities you can provide such as a fund-raising event or meeting with your
MP and time your approach to the local media so they can fix a date in their news "diary".
The initial call:

Identify yourself and where you live at the outset and say you have an important story you would like
them to cover. You may have to repeat your opening "pitch" as the first person to answer may be a
receptionist who will forward the call.

If possible, be logged on to your computer at the same time so you can send through links and
pictures while talking to the journalist or immediately afterwards.

Avoid being fobbed off and asked to "just send in an email". Ask for direct telephone numbers and
names so you can follow up later.

If they say they will pass your number to a reporter to call you back, don't wait longer than a couple of
hours before chasing up. Newsrooms are hectic places and messages can get lost or forgotten. If anything,
it helps to be a little pushy and tenacious – it shows you have a strong story and you are prepared to fight
to be heard.

Relax – they'll be on your side! Journalists are often juggling several stories at once and can come
across as gruff and non-committal at first. Just make it as easy as possible for them to get to the
information they need to make a decision.
The interview:

Be direct and assertive when asked for comment. You are fighting a campaign so there is no room for
British understatement. Don't beat about the bush – let rip!

Think of a call to action you want to make through the local media– ie you are demanding the
Government reverses its unfair policy, you want locals to support the campaign, lobby your MP or sign a
petition. By doing this you are giving the reporter a strong "hook" for his story and it also means he or she
has to approach the other relevant parties – ie the Government or your MP – for comment

Slow down! The journalist will be trying to take a note of everything you say but believe it or not they
are often embarrassed about asking people to repeat themselves.

Tell the interviewer about any pictures you have that may be of interest. The reporter may pass you on
to a photographer or picture editor to discuss this.

Speak in full sentences and avoid blunt yes/no answers.

Be as open, cooperative and flexible as possible. Be prepared to talk about your feelings, rather than
just rely on factual statements.

Be prepared to give full names, ages and occupations of immediate family and make sure you spell
them out precisely.

Ask the reporter to include the link to the petition and the support group website in their story
Post-interview:

Make sure the journalist can get back in touch with you quickly to double checks facts etc.

Chase up in a friendly way and ask if and when the story is going in the paper and when it will be on
the website.

Be prepared for the story to be "held over" to a later publication date. This can happen at the last
minute as the paper goes to press and a breaking news story comes in.

If the paper declines the story ask whether they would run a letter to the Editor from you instead.
Post – publication:

If you happy with the story call or email the reporter to thank them.

Ask if the paper could let you have copies of the pictures they may have taken for use on, say, your
own Facebook page.

If there are minor factual corrections to be made, ask they make the necessary amendments to the
web version. If they have made a major mistake, ask that they to run a correction in print.

Make copies of the print version of the story and if possible scan them in so you can show to
interested parties such as your MP in future.

Let everyone know via the aHUS Facebook, your own Facebook and/or Twitter by forwarding the link
from the news website. It's also worth alerting the patient group so they can get the message out.

Make sure you keep in touch with the reporter and alert them to any developments or key events,
preferably in advance.