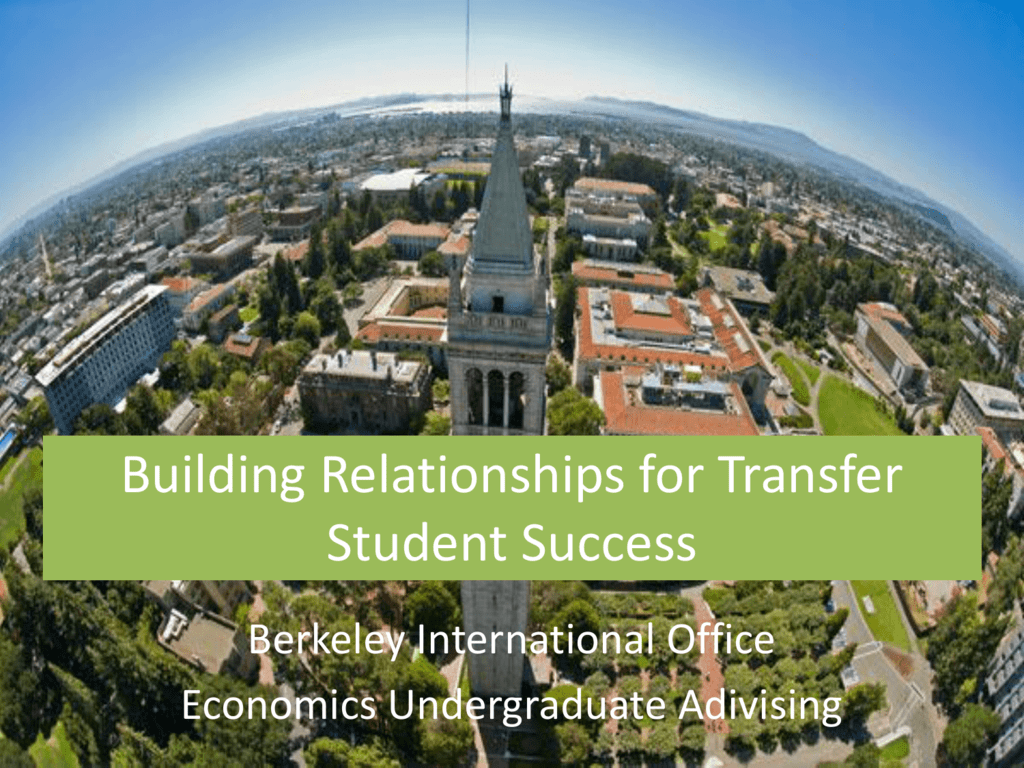 Building Relationships for Transfer
Student Success
Berkeley International Office
Economics Undergraduate Adivising
Who's Here?
• Icebreaker
–
–
–
–
–
–
–
What's your name?
Where are you from?
What's your favorite food at home?
What's your favorite Berkeley restaurant and why?
Are you an Economics major?
What is your astrological sign?
What is something that you might have in common
with your group members?
– What is a question that you might want to ask your
college or academic advisor?
You
Relationship
X
Relationship Blocks
•
•
•
•
•
•
•
•
•
Unfamiliarity with new environment
Size of institution
Size of classes
Access to instructors
Bureaucracy
Language Barrier
Cultural differences
Workload differences
Overly intelligent classmates
• Name some of YOUR transfer student
resources?
Transfer Student Resources
• Transfer Student Re-entry Student Parent
Center
• Berkeley International Office
• College Advising Office or Department
Advising Office
• Professors/Graduate Student Instructor
• Student Learning Center
• Student Clubs and Organizations
•
•
•
•
•
•
•
•
•
•
Career Counseling Library
Career Center
University Health Center
Religious/Spiritual Belief Groups
Library/Computing Services
Family
Friends
Classmates/Acquaintances
Undergraduate Research Apprentice Program
Student Professional Associations
Tips for Building Academic
Relationships
• Step out of your comfort zone
• Look for useful resources and establish a
connection
• Take notes and track your progress
• Be proactive, do your research
• Be honest and let people know when you
don't understand or just don't know
• Be persistent
Economics Academic Advising
They are here to help you!