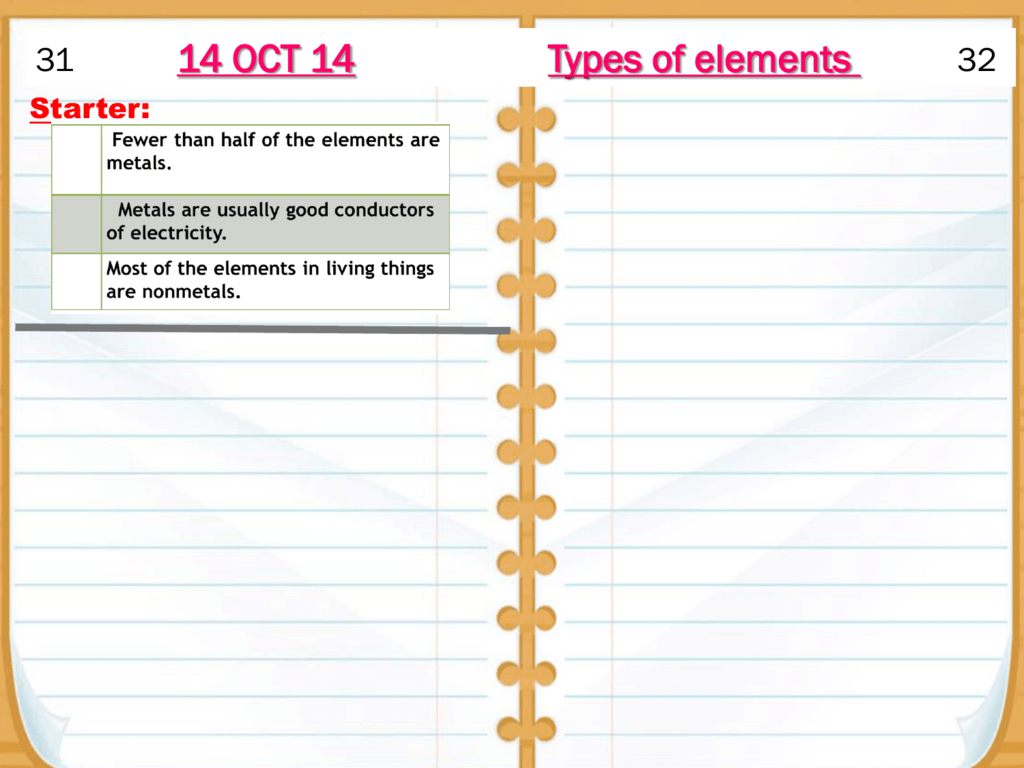 31
Starter:
14 OCT 14
Types of elements
32
Starter:
Write in A if you agree with the statement;
Or D if you disagree with the statement.
Fewer than half of the elements are
metals.
Metals are usually good conductors
of electricity.
Most of the elements in living things
are nonmetals.
31
Practice:
14 OCT 14
Types of elements
32
Practice:
Types of Elements
metals
nonmetals metalloids
Metals
Malleable (easily
shaped)
2. Has Luster (Shiny)
3. Good conductor of
heat
4. Good conductor of
electricity
5. Some metals are
magnetic
1.
Non-metals
1.
2.
3.
4.
5.
Brittle ( broken
easily)
No Luster (not
shiny)
Poor conductor of
heat
Poor conductor of
electricity
No nonmetals are
magnetic
Metalloids
The properties of
metalloids are
between metals and
nonmetals.
2. Most like nonmetalsboth chemically and
physically. (Brittle,
poor heat
conductor)
3. They conduct
electricity, but not
as well as metals
(semiconductors).
1.
31
Starter:
14 OCT 14
Types of elements
Application:
32
Application:
1. Create a key and shade in the following types of elements:

Metals

Metalloid

Nonmetals
31
14 OCT 14
Types of elements
Connection:
32
Connection
Chemical
Symbol
O
N
B
Li
Element Name
Type of element (metal,
nonmetal, metalloid)
oxygen
Chlorine
Silicon
Calcium
Sodium
nonmetal
Exit:
1.
2.
Explain what is the most common metal
that you use.
In what ways do you use it?