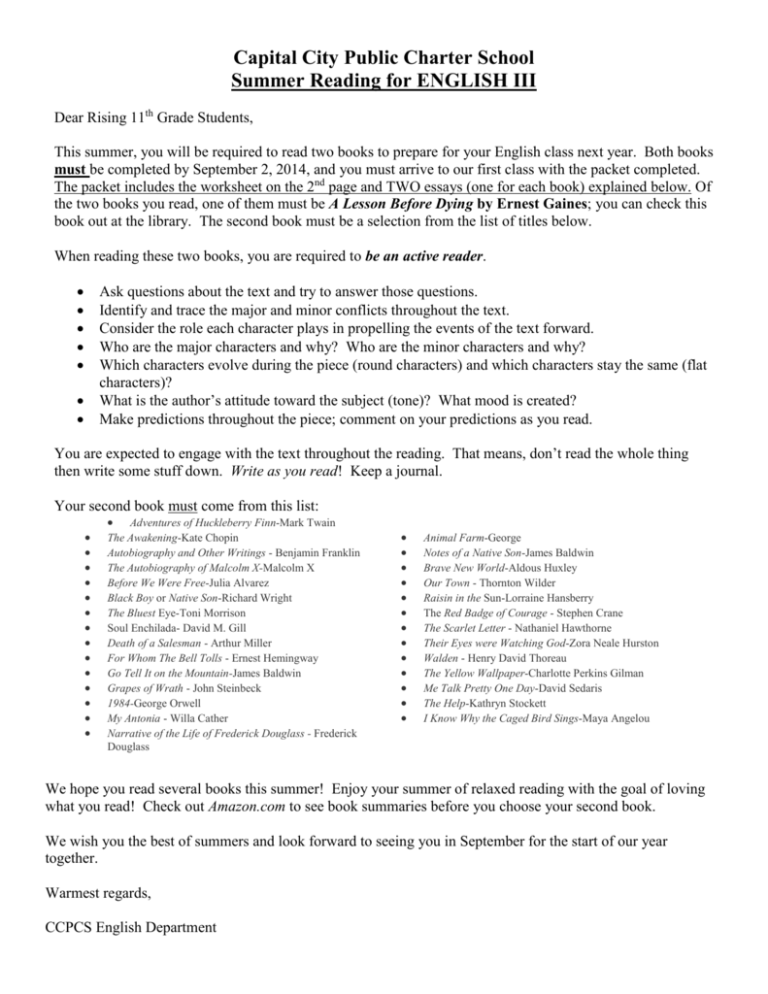 Capital City Public Charter School
Summer Reading for ENGLISH III
Dear Rising 11th Grade Students,
This summer, you will be required to read two books to prepare for your English class next year. Both books
must be completed by September 2, 2014, and you must arrive to our first class with the packet completed.
The packet includes the worksheet on the 2nd page and TWO essays (one for each book) explained below. Of
the two books you read, one of them must be A Lesson Before Dying by Ernest Gaines; you can check this
book out at the library. The second book must be a selection from the list of titles below.
When reading these two books, you are required to be an active reader.





Ask questions about the text and try to answer those questions.
Identify and trace the major and minor conflicts throughout the text.
Consider the role each character plays in propelling the events of the text forward.
Who are the major characters and why? Who are the minor characters and why?
Which characters evolve during the piece (round characters) and which characters stay the same (flat
characters)?
What is the author's attitude toward the subject (tone)? What mood is created?
Make predictions throughout the piece; comment on your predictions as you read.


You are expected to engage with the text throughout the reading. That means, don't read the whole thing
then write some stuff down. Write as you read! Keep a journal.
Your second book must come from this list:















Adventures of Huckleberry Finn-Mark Twain
The Awakening-Kate Chopin
Autobiography and Other Writings - Benjamin Franklin
The Autobiography of Malcolm X-Malcolm X
Before We Were Free-Julia Alvarez
Black Boy or Native Son-Richard Wright
The Bluest Eye-Toni Morrison
Soul Enchilada- David M. Gill
Death of a Salesman - Arthur Miller
For Whom The Bell Tolls - Ernest Hemingway
Go Tell It on the Mountain-James Baldwin
Grapes of Wrath - John Steinbeck
1984-George Orwell
My Antonia - Willa Cather
Narrative of the Life of Frederick Douglass - Frederick
Douglass













Animal Farm-George
Notes of a Native Son-James Baldwin
Brave New World-Aldous Huxley
Our Town - Thornton Wilder
Raisin in the Sun-Lorraine Hansberry
The Red Badge of Courage - Stephen Crane
The Scarlet Letter - Nathaniel Hawthorne
Their Eyes were Watching God-Zora Neale Hurston
Walden - Henry David Thoreau
The Yellow Wallpaper-Charlotte Perkins Gilman
Me Talk Pretty One Day-David Sedaris
The Help-Kathryn Stockett
I Know Why the Caged Bird Sings-Maya Angelou
We hope you read several books this summer! Enjoy your summer of relaxed reading with the goal of loving
what you read! Check out Amazon.com to see book summaries before you choose your second book.
We wish you the best of summers and look forward to seeing you in September for the start of our year
together.
Warmest regards,
CCPCS English Department
Name: ______________________________________________________ Date: ______________________
ENGLISH III: A Lesson Before Dying by Ernest J. Gaines
INSTRUCTIONS: Complete this worksheet as you are reading, and then type or write your essay and attach it to this
worksheet. You will submit both the worksheet and essay on the first day of class.
I.
Characters: Matching
_____ Mr. Gropé
_____ Jefferson
_____ Brother and Bear
_____ Grant
_____ Miss Emma
_____ Henri Pichot
_____ Vivian
_____ Paul
_____ Tante Lou
_____ Guidry
_____ Reverend Ambrose
II.
Plot Sequencing: Number the following events from 1-7 in chronological order.
____ Jefferson refuses to talk or eat the food that Miss Emma has brought him.
____ Grant sits alone under a pecan tree while Jefferson is executed.
____ Grant brings Jefferson a radio and then a little notebook.
____ Jefferson faces a jury of 12 white men who find him guilty of murder.
____ Jefferson writes in his diary that the first time he cried is when the children visited him.
____ Miss Emma pleads with Mr. Henri to let Grant visit Jefferson.
____ Grant's students perform a Christmas play and dedicate it to Jefferson.
III.
Comprehension: Write your answers in complete sentences.
1. Grant's aunt, insists he help Jefferson
2. Grant's supportive girlfriend
3. Young, kind deputy
4. Falsely accused of murder, executed
5. Sheriff, rule-driven
6. Narrator, asked to make Jefferson a man
7. Asked to save Jefferson's soul
8. Old, white, murdered storekeeper
9. Wealthy, white landowner
10. Jefferson's godmother
11. Tried to steal wine from the store
1. Describe the setting of the novel.
2. Describe the narrator of the story.
3. What initial incident sets this story in motion?
4. What do Tante Lou and Miss Emma expect from Grant? Does he deliver?
IV.
Short Essay: In your opinion, who is the hero of the novel and why? On a separate sheet of paper, write
an essay of at least one page explaining your answer using textual evidence.
English III
Reading Journal for Summer Reading
Assignment for Book of Choice
For your second book, you will write a Reading Journal. Your journal should be typed, 12pt font, doublespaced and be at least two pages long: one page for the summary and one page for the reflection. You will
submit this paper on the first day of class. NOTE: ALL WRITING SHOULD BE IN YOUR OWN WORDS or
the source must be cited. Otherwise, it is considered plagiarism, and you will be subject to disciplinary action.
Reading Summary
Write a thoughtful one-page summary of your novel that includes the following:
Paragraph 1: Background information: Setting (time and place) and characters with descriptions
Paragraph 2: Plot summary: Summary of the action of the novel
Paragraph 3: Literary techniques: discussion of themes, author's tones, figurative language, etc.
Reading Response
Write a one-page reflection that captures your honest response to the book. In this section you will discuss your
feelings, thoughts, reactions, and questions about situations, ideas, actions, characters, settings, symbols, plots, themes, and any other
elements in the story. You can't be wrong in your responses, so take risks and be honest. Write about what you like and dislike, what
seems confusing or unusual to you. If you're stuck, you can use the questions below to get you started. Do not just answer these
questions! They are meant to get you thinking. Write your response in paragraph form.
1. Choose a character. What is the biggest problem s/he struggles with? What advice would you give him/her?
2. What character do you sympathize with the most? What do you have in common with this character?
3. Pick one character and explain why you would/would not like to have him/her as a friend.
4. Describe and explain why you would/would not like to have lived in the time or place of the story.
5. Describe a conflict in the book that relates to one you have experienced. How are the two experiences
similar? How are they different?
6. Write a letter to a friend explaining why you do or do not recommend this book.
7. Write a book review for the book that can be sent to a local newspaper.
8. Rewrite the ending of the novel.
2nd
ENGLISH III
SUMMER READING ASSIGNMENT
BOOK POSTER
Instructions: Choose a book to read from the assigned list. Create a poster for the book
that conveys the most important information in your novel in an engaging way. You
should bring your poster to class on the first day of school, September 2, 2014. It will be
graded using the following rubric.
Component
Important
events/plots
Main
characters
Text/headline
Visually
appealing
Setting
4
Two or more scenes
that give the reader
a full sense of the
story.
Includes major
characters, some
minor characters,
you can tell
importance,
personalities, and
relationships
Title, text provides
a clear summary,
outstanding quote(s)
and/or review(s),
catchphrase,
Multiple colors,
contrasting,
exceptional
effort/thought,
images expertly
convey content
from novel
Tells exactly when
and where the book
occurred.
3
At least one scene
that reflects an
important event in
the story.
Shows major
characters and
some importance
and personalities
2
1
A vague scene
No events are shown.
that does not show
much about the
story.
Shows major
Doesn't show main
characters but you characters
can't tell
importance
Title, quotes from
movie or book, text
provides a
summary
Title, few
additional words,
tells some but not
enough
Bland, Only the title, no
additional text
More then 4 colors
shows enough
effort/thought,
images sufficiently
convey content
from novel
Some color, little
thought/effort,
little visual
appeal, images
connect to the
content of the
novel.
Provides a
suggestion about
the place of the
book.
No effort, no color, not
visually appealing, plain
It tells when and
where but not being
specific.
Didn't give any clues of
when and where the
setting is.