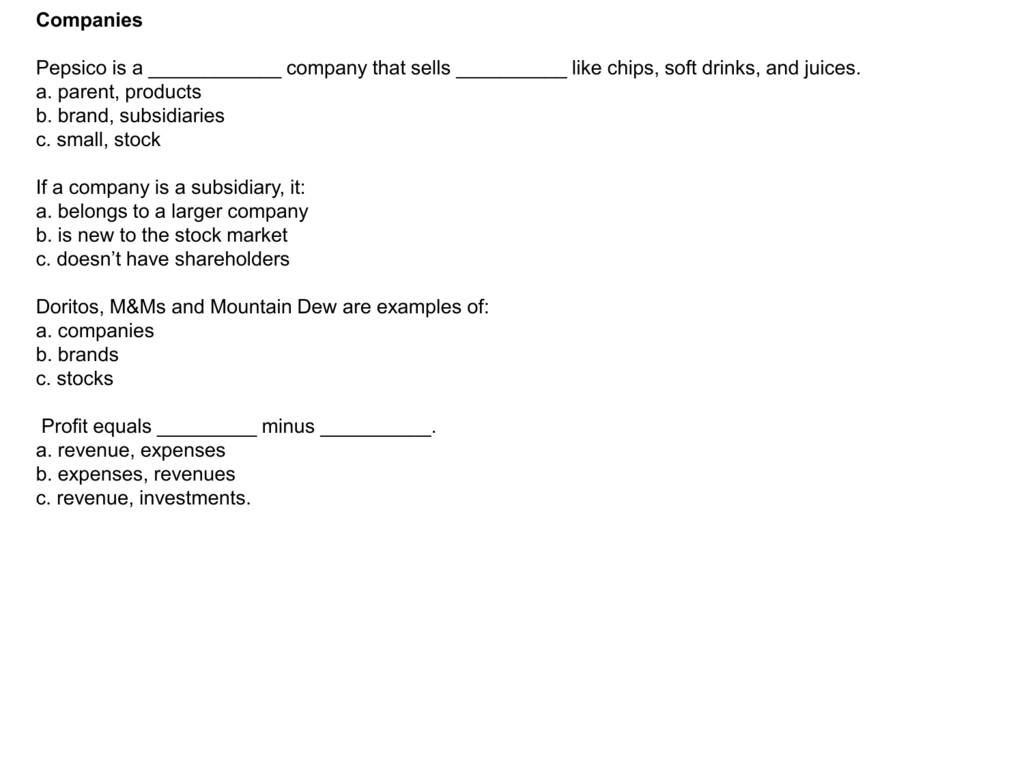 Companies
Pepsico is a ____________ company that sells __________ like chips, soft drinks, and juices.
a. parent, products
b. brand, subsidiaries
c. small, stock
If a company is a subsidiary, it:
a. belongs to a larger company
b. is new to the stock market
c. doesn't have shareholders
Doritos, M&Ms and Mountain Dew are examples of:
a. companies
b. brands
c. stocks
Profit equals _________ minus __________.
a. revenue, expenses
b. expenses, revenues
c. revenue, investments.
Public Ownership
_________ are issued by corporations and by governments to raise funds.
a. stocks
b. bonds
c. earnings
Corporations can be private or publicly-owned.
a.True
b. False
Not all companies publicly trade stock.
a. True
b. False
When a company "goes public", what does it do?
a. issues stock for investors
b. invites shareholders to vote
c. receives money from the government
Publicly held companies may issue stock to raise money to expand their business.
a. True
b. False
Shareholders in a for-profit corporation are liable for the debts of the corporation.
a. True
b. False
Stocks
The letters that identify a stock for investors is called the
a. nickname.
b. ticker symbol.
c. abbreviation.
The ____________ for Kellogg is K.
a. company abbreviation
b. ticker symbol
c. mutual fund symbol
In a stock quote, volume means:
a. number of dividends paid
b. total number of shares traded
c. how many shareholders own the stock
You can look in today's newspaper to see today's closing price of a stock.
a) true
b) false
You can find Tuesday's stock closing price for Hershey in Wednesday's newspaper.
a. True
b. False
The NYSE, AMEX and NASDAQ are:
a. technology stocks
b. stock exchanges
c. mutual funds
Investing
Why are investments riskier than savings?
a. companies don't care about you
b. it is not your money
c. there are more unknowns
When you buy a share of stock in a public company, you become a _________________ of the company.
a. borrower
b. customer
c. part-owner
When you invest in a bond, you are
a) owning a government business
b) loaning money to a company
c) borrowing money for stock purchases
A_____________investor is one who likes to take risks.
a. conservative
b. moderate
c. speculative
In general, the _____ risk you are willing to take, the __________ the possible return on your investments.
a. less, less
b. less, greater
c. more, less
Gains/Losses
The chance of losing all or part of your investment is called:
a. risk
b. margin
c. option
Stock prices fall because:
a. companies don't make profits everyday
b. there are more sellers than buyers
c. dividends are paid
Patrick bought 10 shares of stock in Mattel Corporation for $12.00 per share. Two years later he sold the 10
shares for $15.00 per share. Patrick had a ________.
a. profit
b. loss
c. debt
If you bought 200 shares of YUMMY at $45 per share and sold YUMMY for $48 per share, how much money
did you make?
a. $460
b. $300
c. $600
The Board of Directors of ABC Company voted to share some of the profits with its shareholders. They have
decided to issue
a) dividends
b) bonds
c) bonuses
Gains/Losses
Dividends can be paid out to investors in the form of
a. stock
b. cash
c. stock or cash
All stocks must pay dividends.
a. True
b. False
Dividends are paid to shareholders from
a) contributions from company employees
b) part of the company's earnings
c) company's production of goods and services.
Mary's mother owns KLA stock. She currently receives a dividend payment every quarter. She is guaranteed to
receive a dividend every quarter as long as she owns KLA stock.
a. True
b. False
You love M&Ms! You bought 210 shares of Mars Company at $24 to add to your portfolio. While eating away,
you earned a dividend of .75 a share. Later you decide you are getting fat and you sell your Mars stock for $32
a share. How did your candy addiction affect you investment?
a. you made $6,877.50 profit
b. you lost $1,522.50
c. you made $1837.50 profit
52 week
High
low
stock
div
P/E
84.00
36.50
192.20
31.50
16.40
128.60
Intel
Pzza
Ford
2.40
.45
__
24
38
18
Vol
100s
194500
45000
230000
Hi
Low
Close
81.64
26.30
134.70
79.60
26.00
130.10
81.50
26.15
130.90
Chang
e
1.50
.25
3.65
How many shares of Pzza stock were traded?_____
a) 4,500,000
b) 45,000
c) 450
Which stock closed closest to its low of the year?__________
a) Pzza
b) Ford
c) Intel
If you bought 100 shares of Intel at its high price for the year, and sold it at its closing price, what would be your
capital gain or loss?______
a) $14.00 loss
b) $250 loss
c) $8,150 gain
Which stock pays the highest dividend?__________
a) Intel
b) Pzza
c) Ford
Which stock's closing price showed the least change in price from the previous day?
a) Intel
b) Pzza
c) Ford
52 week
High
low
stock
ticker
Vol
100s
Hi
Low
Close
Change
44.00
21.50
Hasbro
HAS
101500
41.64
40.00
40.20
2.50
36.50
14.00
Kellogg
K
25000
26.30
24.40
26.20
.35
60.00
32.10
Ford
F
130000
54.70
51.50
51.55
2.65
When the stock market closed, Kellogg's closing price was ________
a. $14.00
b. $.35
c. $26.20
Hasbro's highest price for the last 52 weeks was ______ a share.
a. $41.64
b. $44.00
c. $40.20
The total number of shares of Ford stock traded was
a. 130,000.
b. 1,300,000.
c. 13,000,000.
If Mary invests $1,000 in stocks, she is at risk of
a. losing the $1,000 she invests.
b. losing more than the $1,000 she invests.
c. losing nothing because she is secured.