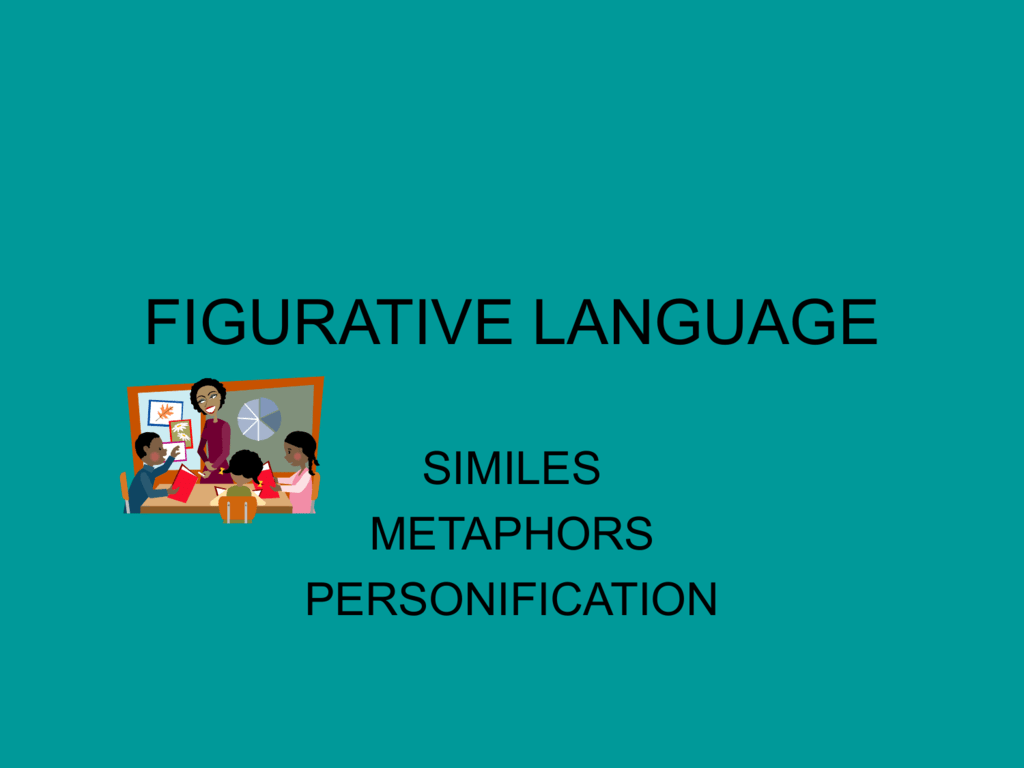 FIGURATIVE LANGUAGE
SIMILES
METAPHORS
PERSONIFICATION
SIMILES
• A simile is a comparison between two unlike
things using comparison words "like" or "as".
• For example:
His eyes were as blue as the sky.
His eyes were blue like the sky.
Within your groups come up with one simile,
you have 1 ½ minute.
SIMILES
Look at the handout on your desk.
We are going to do them
together.
1)The bird was as _____ as a
_______.
2) My mom is as _______ as a
______.
3) The pillow was like a
____________.
4) My puppy is like
a_______________.
For homework do 1-5.
METAPHORS
• A metaphor is a comparison between two
unlike things without using "like" or "as".
• For example
The roof is an umbrella over my head.
Lisa is faster than a cheetah.
Your turn, as a group, come up with a
metaphor. Remember you cannot use
"like" or "as".
METAPHORS
Instructions for writing a
metaphor.
1st choose a noun
2nd choose a word to compare
your noun to
3rd write your metaphor
Noun turtle
I will compare it to My niece
Metaphor: My niece crawls
slower than a turtle.
For homework write two
metaphors on the line on the
handout given.
PERSONIFICATION
• Personification is giving
nonliving things human
characteristics.
• For example
1) The day fell into the
night.
The word fell is something
that a human could do.
2) The door opened and
closed all day.
PERSONIFICATION
Underline the word that
gives a quality of a
person.
1) The sun stretches its
warmth across the room.
Stretches
2) The chairs danced as the
baby bounced to and fro.
Danced
3)The darkness wrapped its
arm around me.
Wrapped
PERSONIFICATION
1.Frog
The frog jumped from pad to pad.
2.Table
The table rocked back and forth
because the leg was loose.
3. Grass
The grass waved in the wind.
4. Night
The night transformed into day.