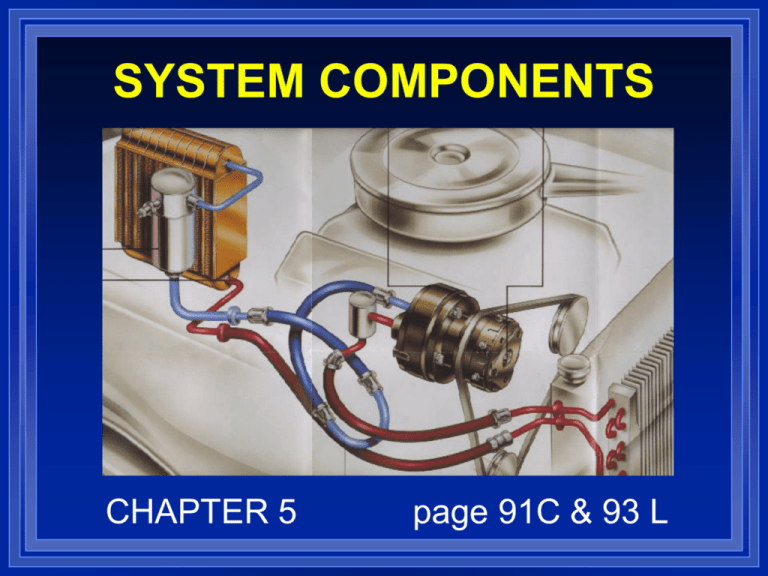 SYSTEM COMPONENTS
CHAPTER 5
page 91C & 93 L
OBJECTIVES
IDENTIFY AND COMPARE THE
STATE OF REFRIGERANT IN EACH
SECTION OF A/C SYSTEM.
 EXPLAIN PURPOSE OF SYSTEM
COMPONENTS.
 COMPARE THERMOSTATIC
EXPANSION VALVE TO FIXED
ORIFICE VALVE.

93C & 91L
ORIFICE TUBE SYSTEM
EXPANSION VALVE
SYSTEM
OPERATION OF
COMPONENTS
Compressor





Refrigerant Pump
Increases Pressure
and Temperature
Several Types
Separates High and
Low sides of system
Oil is stored in
crankcase (sump)
Compressor Malfunctions

Malfunctions evident following ways;
– Noise
– Seizure
– Leaks
– High inlet and low discharge pressure
Discharge Hose




CONTAINS HIGH PRESSURE.
SYNTHETIC RUBBER WITH NYLON
BARRIER LINING.
13/32 ID.
PREFORMED METAL ENDS WITH FITTINGS.
96C & 97C
109L
Condenser
Liquefies heat laden vapor.
 Receives Maximum Air flow.
 Hot vapor enters top of condenser.
 Hot Liquid leaves bottom of condenser.
 Refrigerant flows through condenser
coils and transfers heat to coils and fins.
 Fins transfer heat to air passing over
them.

Conventional Tube and Fin



Parallel Two Path.
Mechanically expanded tube to fin joints.
Circular Tubes.
Multi-Louver Fin Design

Manifolded Multi-path refrigerant flow.
Serpentine Tube and Center
Condenser



Brazed tube to fin joints.
Flat Tubes.
Parallel two path flow.
100C & 110L
Evaporator
Dehumidifies the airstream.
 Under ideal conditions, refrigerant boils to
complete saturation 3/4 of the way through
Evaporator.
 Flooded evaporator means is full of liquid
refrigerant with no room for expansion.
 Starved evaporator means all refrigerant is
boiled in the first quarter of the evaporator.

96C & 110L
Receiver Drier



Located between
condenser and
metering device
Assures only liquid
reached expansion
valve
Contains a chemical
drying agent
(Desiccant)
Hoses and Lines

NOTICE: Do not use
wormgear style
clamps for repairing
leaks in Nylon
barrier hose fittings.
Always repair Nylon
barrier hose with the
appropriate bubble
style crimp fitting.
103C
98L -102L
Liquid Lines
Condenser to the metering device
 5/16 or 1/4 inch ID.
 Made of rubber, nylon, copper, steel or
aluminum.
 Contains high pressure liquid!
 Has sight glass

Thermostatic Expansion Valve




98C
102L
Located on inlet side
of evaporator.
Used to control
evaporator temp.
Variable orifice can
vary on pressure,
temperature or both.
Can malfunction in
open or closed
position.




Is a Expansion
Valve: Chrysler
1979 and later.
Has internal sensing
bulb for low side
temperature.
Low Pressure Cut
Out Switch for low
R-12 Charge.
Thermostatic Switch
Senses Evap temp
to control clutch
operation.
H-Valve
99C & 104L
Valves In Receiver (VIR)

Three different
components
– TXV
– Receiver/Drier
– Pilot-operatedabsolute suction
throttling valve

Compressor runs all
the time.
Page 95C
Orifice Tube




Calibrated Restrictor
Different color = different Orifice size.
Mesh Filter Screen.
Meters refrigerant into evaporator as low
pressure liquid.
100C & 105L - 107L
Accumulator



Located between
evaporator and
compressor.
Primary function is to
separate the vapor
from the liquid and oil.
Location for desiccant.
102C & 107L
That's All Folks!!!