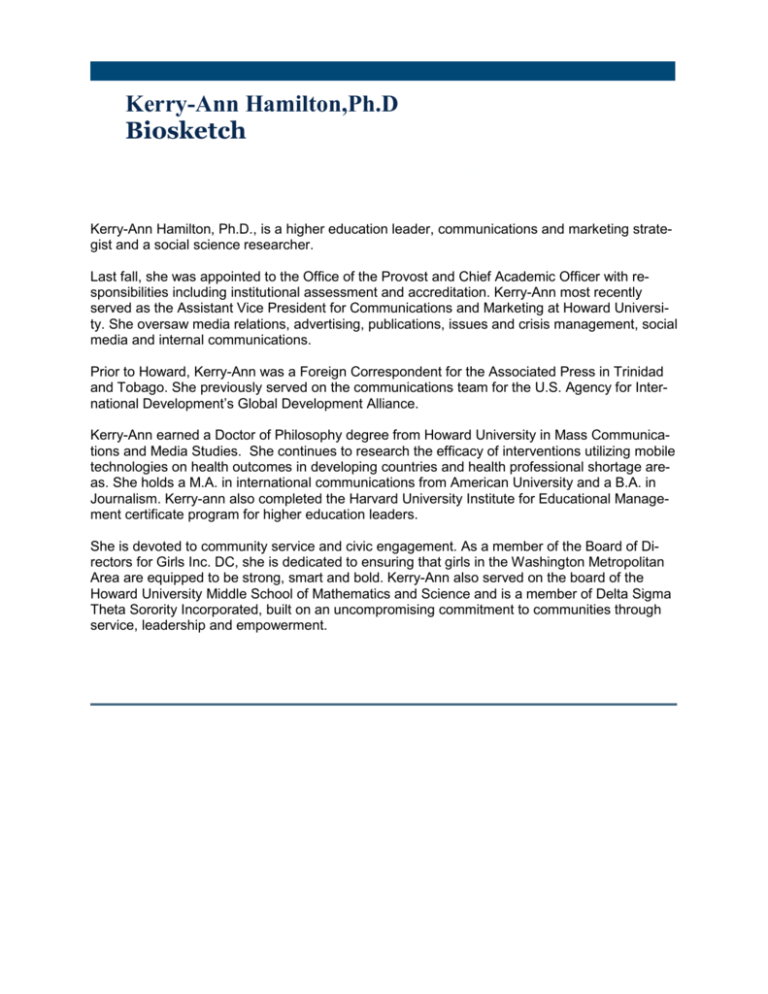 Kerry-Ann Hamilton,Ph.D
Biosketch
Kerry-Ann Hamilton, Ph.D., is a higher education leader, communications and marketing strategist and a social science researcher.
Last fall, she was appointed to the Office of the Provost and Chief Academic Officer with responsibilities including institutional assessment and accreditation. Kerry-Ann most recently
served as the Assistant Vice President for Communications and Marketing at Howard University. She oversaw media relations, advertising, publications, issues and crisis management, social
media and internal communications.
Prior to Howard, Kerry-Ann was a Foreign Correspondent for the Associated Press in Trinidad
and Tobago. She previously served on the communications team for the U.S. Agency for International Development's Global Development Alliance.
Kerry-Ann earned a Doctor of Philosophy degree from Howard University in Mass Communications and Media Studies. She continues to research the efficacy of interventions utilizing mobile
technologies on health outcomes in developing countries and health professional shortage areas. She holds a M.A. in international communications from American University and a B.A. in
Journalism. Kerry-ann also completed the Harvard University Institute for Educational Management certificate program for higher education leaders.
She is devoted to community service and civic engagement. As a member of the Board of Directors for Girls Inc. DC, she is dedicated to ensuring that girls in the Washington Metropolitan
Area are equipped to be strong, smart and bold. Kerry-Ann also served on the board of the
Howard University Middle School of Mathematics and Science and is a member of Delta Sigma
Theta Sorority Incorporated, built on an uncompromising commitment to communities through
service, leadership and empowerment.