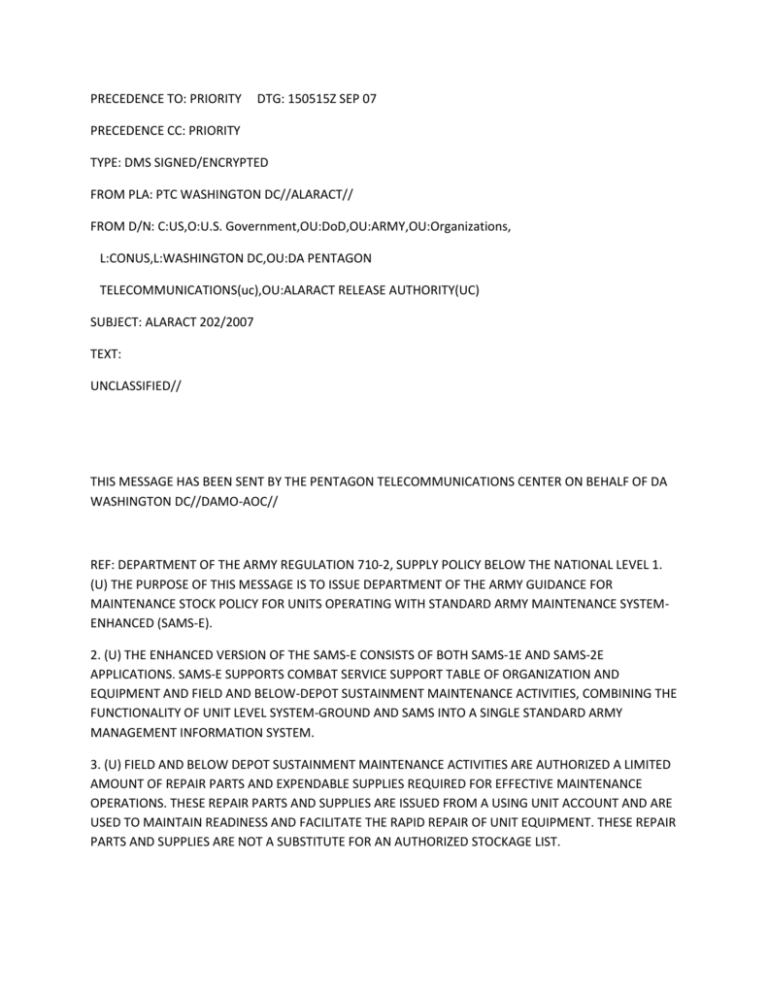 PRECEDENCE TO: PRIORITY
DTG: 150515Z SEP 07
PRECEDENCE CC: PRIORITY
TYPE: DMS SIGNED/ENCRYPTED
FROM PLA: PTC WASHINGTON DC//ALARACT//
FROM D/N: C:US,O:U.S. Government,OU:DoD,OU:ARMY,OU:Organizations,
L:CONUS,L:WASHINGTON DC,OU:DA PENTAGON
TELECOMMUNICATIONS(uc),OU:ALARACT RELEASE AUTHORITY(UC)
SUBJECT: ALARACT 202/2007
TEXT:
UNCLASSIFIED//
THIS MESSAGE HAS BEEN SENT BY THE PENTAGON TELECOMMUNICATIONS CENTER ON BEHALF OF DA
WASHINGTON DC//DAMO-AOC//
REF: DEPARTMENT OF THE ARMY REGULATION 710-2, SUPPLY POLICY BELOW THE NATIONAL LEVEL 1.
(U) THE PURPOSE OF THIS MESSAGE IS TO ISSUE DEPARTMENT OF THE ARMY GUIDANCE FOR
MAINTENANCE STOCK POLICY FOR UNITS OPERATING WITH STANDARD ARMY MAINTENANCE SYSTEMENHANCED (SAMS-E).
2. (U) THE ENHANCED VERSION OF THE SAMS-E CONSISTS OF BOTH SAMS-1E AND SAMS-2E
APPLICATIONS. SAMS-E SUPPORTS COMBAT SERVICE SUPPORT TABLE OF ORGANIZATION AND
EQUIPMENT AND FIELD AND BELOW-DEPOT SUSTAINMENT MAINTENANCE ACTIVITIES, COMBINING THE
FUNCTIONALITY OF UNIT LEVEL SYSTEM-GROUND AND SAMS INTO A SINGLE STANDARD ARMY
MANAGEMENT INFORMATION SYSTEM.
3. (U) FIELD AND BELOW DEPOT SUSTAINMENT MAINTENANCE ACTIVITIES ARE AUTHORIZED A LIMITED
AMOUNT OF REPAIR PARTS AND EXPENDABLE SUPPLIES REQUIRED FOR EFFECTIVE MAINTENANCE
OPERATIONS. THESE REPAIR PARTS AND SUPPLIES ARE ISSUED FROM A USING UNIT ACCOUNT AND ARE
USED TO MAINTAIN READINESS AND FACILITATE THE RAPID REPAIR OF UNIT EQUIPMENT. THESE REPAIR
PARTS AND SUPPLIES ARE NOT A SUBSTITUTE FOR AN AUTHORIZED STOCKAGE LIST.
4. (U) THE TYPES OF MAINTENANCE RELATED SUPPLIES AUTHORIZED FOR FIELD AND BELOW DEPOT
SUSTAINMENT MAINTENANCE ACTIVITIES ARE: SHOP STOCK, BENCH STOCK, COMBAT REPAIR TEAM
STOCK, AND ON BOARD SPARES. DIFFERENT MANAGEMENT POLICY APPLIES TO EACH TYPE.
5. (U) SHOP STOCKS ARE CLASS 2, 3P, 4, AND 9 REPAIR PARTS AND SUPPLIES USED BY FIELD AND BELOW
DEPOT SUSTAINMENT MAINTENANCE ACTIVITIES. THEY ARE USED TO ACCOMPLISH MAINTENANCE
SERVICES, UNSCHEDULED MAINTENANCE, AND PROGRAMMED REPAIR. SHOP STOCKS ALSO INCLUDE
ITEMS SPECIFIED AS INITIAL STOCKAGE FOR NEWLY INTRODUCED END ITEMS.
5.A. SHOP STOCKS ARE AUTHORIZED FOR THE FOLLOWING:
5.A.1. FIELD AND BELOW DEPOT SUSTAINMENT MAINTENANCE ACTIVITIES NOT CO-LOCATED WITH A
SUPPLY SUPPORT ACTIVITY (SSA).
5.A.1.A. CO-LOCATED WITH AN SSA IS DEFINED AS LOCATED SUCH THAT DELIVERY OF MAJOR
ASSEMBLIES CAN BE EASILY ACCOMPLISHED WITH THE USE OF A FORKLIFT. UNDER CO-LOCATION
CONDITIONS, SUPPLIES MUST BE MADE ACCESSIBLE, WITHIN MINUTES OF THE SUPPLY REQUIREMENT,
THROUGH INFORMAL SUPPLY PROCEDURES AND LOCAL STANDARD OPERATING PROCEDURES. A
FORWARD SUPPORT COMPANY (FSC) NORMALLY OPERATES WITH THE BATTALION SUPPORTED. FSC'S
ARE AUTHORIZED SHOP STOCK.
5.A.1.B. UNITS THAT ARE CO-LOCATED NEXT TO THE DISTRIBUTION COMPANY THAT RUNS THE SSA ARE
NOT AUTHORIZED SHOP STOCK BUT ARE AUTHORIZED COMBAT REPAIR TEAM (CRT) STOCK AS DEFINED
IN THIS MESSAGE.
5.A.2. BELOW-DEPOT SUSTAINMENT MAINTENANCE ACTIVITIES PERFORMING REPAIR OF ITEMS FOR
THE ARMY SUPPLY SYSTEM (REPAIR AND RETURN TO STOCK) ARE AUTHORIZED SHOP STOCK.
5.A.3. DIAGNOSTIC REQUIREMENTS.
6. (U) SHOP STOCKS WILL BE LIMITED IN DEPTH TO 15 DAYS OF SUPPLY AND WILL NOT EXCEED THE
AUTHORIZATION RANGE (NUMBER OF LINES/DIFFERENT ITEMS) AND DEMAND CRITERIA
(UNIT/ACTIVITY TYPE/AUTHORIZATION LIMIT/DEMAND CRITERIA/ACTIVE/RESERVE/NG) LISTED BELOW
FOR DEMAND AND NON-DEMAND SUPPORTED ITEMS. FIELD AND SUSTAINMENT MAINTENANCE UNITS
MUST BE ABLE TO TRANSPORT THEIR SHOP STOCKS USING ORGANIC TRANSPORTATION.
SHOP STOCK AUTHORIZATION AND DEMAND CRITERIA HEAVY BRIGADE-MANEUVER
BATTALION/FSC/300/6:3/2:1 HEAVY BRIGADE-FIRES BATTALION/FSC/300/6:3/2:1 HEAVY BRIGADERECONNAISSANCE/SURVEILLANCE/400/6:3/2:1
RECONNAISSANCE, SURVEILLANCE, TARGET ACQUISITION (RSTA) BATTALION/FSC/400/6:3/2:1H
BRIGADE SUPPORT BATTALION (BSB), MAINTENANCE CO (HEAVY)/400/6:3/2:1 ** IF NOT CO-LOCATED
INFANTRY BRIGADE-MANEUVER BATTALION FSC/200/6:3/2:1 INFANTRY BRIGADE-FIRES BATTALION
FSC/200/6:3/2:1 INFANTRY BRIGADE-RSTA BATTALION FSC/300/6:3/2:1 BSB MAINTENANCE CO
(INFANTRY)/300/6:3/2:1 ** IF NOT CO-LOCATED STRYKER BRIGADE-MANEUVER BATTALION,
CRT/250/6:3/2:1 STRYKER BRIGADE-FIRES BATTALION, CRT/250/6:3/2:1 STRYKER BRIGADE RSTA
BATTALION CRT300/6:3/2:1 BSB MAINTENANCE CO (STRYKER)/400/6:3/2:1 ** IF NOT CO-LOCATED
AVIATION BATTALION AVIATION MAINTENANCE CO/750/3:1/2:1 AVIATION BRIGADE AVIATION
SUPPORT BATTALION/1000/3:1/2:1 AVIATION BRIGADE/FORWARD SUPPORT BATTALION/300/3:1/2:1
FIRES BRIGADE FSC/400/6:3/3:1 COMBAT SUPPORT BATTALION (MANUEVER ENHANCEMENT)
ENGINEER BATTALION FSC/400/6:3/3:1 AIR TRAFFIC CONTROL UNIT/500/3:1/2:1 TACTICAL SIGNAL
UNIT/800/3:1/2:1 STRATEGIC SIGNAL UNIT/800/3:1/2:1 MILITARY INTELLIGENCE UNIT/200/3:1/2:1
PATRIOT BATTERY/450/3:1/2:1 WATERCRAFT UNIT/500/3:1/2:1 MEDICAL UNIT/750/3:1/2:1 SPACE
MISSILE DEFENSE COMMAND UNITS/300/3:1/2:1 TABLES OF DISTRIBUTION AND ALLOWANCES
MAINTENANCE ACTIVITY/NO LIMIT/2:1 ARMY DEPOT/NO LIMIT/3:1/N/A OTHER
BRIGADES/UNITS/300/6:3/2:1
NOTE: THE AUTHORIZATION RANGE APPLIES TO EACH INDIVIDUAL UNIT IDENTIFICATION CODE.
7. (U) SHOP STOCK LISTS WILL BE PREPARED FOR THE UNIT COMMANDER'S APPROVAL.
7.A. SHOP STOCK WILL BE REVIEWED AND INVENTORIED SEMIANNUALLY.
7.B. A REVIEW CONTROL PERIOD IS 365 DAYS. STOCKS WILL NOT BE REDUCED FOR THE FIRST FULL
CONTROL PERIOD. STOCKS MAY BE INCREASED AFTER THE FIRST FULL REVIEW PERIOD. ITEMS WILL BE
DELETED FROM SHOP STOCK WHEN THEY FAIL TO HAVE AT LEAST ONE DEMAND IN THE LAST CONTROL
PERIOD.
7.C. RESULTS OF THE INVENTORY WILL BE DOCUMENTED AND RETAINED, AT LEAST UNTIL THE NEXT
SCHEDULED INVENTORY. CAUSATIVE RESEARCH WILL BE CONDUCTED AND DOCUMENTED FOR LOSSES
OF CONTROLLED ITEMS, SMALL ARMS PARTS WITH A CONTROLLED ITEM INVENTORY CODE (CIIC) OTHER
THAN "U," AND FOR ANY OTHER LOSSES GREATER THAN $1,000 IN EXTENDED LINE ITEM VALUE.
RECORDS WILL BE UPDATED ACCORDINGLY. IF THE DISCREPANCIES CAN BE ATTRIBUTED TO
NEGLIGENCE, OR THERE IS EVIDENCE THAT NEGLIGENCE MAY BE INVOLVED, ACTION WILL BE
CONDUCTED PER AR 735-5, POLICIES AND PROCEDURES FOR PROPERTY ACCOUNTABILITY.
7.D. THE SHOP STOCK AND RELATED RECORDS WILL BE KEPT IN AN AREA CONVENIENT TO UNIT
MAINTENANCE OPERATIONS. COMMANDERS MAY CENTRALLY LOCATE THE SHOP STOCKS FOR SEVERAL
SUBORDINATE UNITS. HOWEVER, THE STOCKS AND THE RECORDS WILL BE KEPT SEPARATELY BY UNIT.
7.E. REPLENISHMENT OF STOCK WILL BE BASED ON A REQUIREMENTS OBJECTIVE/REORDER POINT.
REPLENISHMENT REQUESTS WILL NORMALLY USE URGENCY OF NEED DESIGNATOR (UND) "C." THE
WORK REQUEST PRIORITY MAY BE USED TO REQUEST THE QUANTITY REQUIRED TO COMPLETE THE JOB
WHEN STOCK IS AT ZERO BALANCE. USING THE WORK REQUEST PRIORITY TO REQUEST THE QUANTITY
FOR THE WORK ORDER AND STOCK REPLENISHMENT IS NOT AUTHORIZED UNLESS UND "C" IS USED.
7.F. TURN IN EXCESS STOCKS WITHIN 10 DAYS OF REVIEW.
8. (U) DO NOT DELETE REPAIR PARTS FROM THE SHOP STOCK WHEN THE FOLLOWING CONDITIONS
EXIST AND CAN BE SUBSTANTIATED:
8.A. SUPPORTING EQUIPMENT THAT HAS NOT BEEN OPERATED DURING MOST OF THE RECENT
CONTROL PERIOD.
8.B. SUPPORTING SEASONAL REQUIREMENTS AND DEMANDS ARE ANTICIPATED.
8.C. REQUIREMENTS PECULIAR TO NONSTANDARD EQUIPMENT.
8.D. INITIAL PROVISIONING ITEMS FOR THE FIRST 2 YEARS.
8.E. NONDEMAND SUPPORTED SHOP STOCK LINES MAY BE STOCKED AND WILL BE ANNOTATED AS
NONDEMAND SUPPORTED ON THE USING UNIT ACCOUNT OR AUTOMATED SYSTEM BUT ARE LIMITED
TO NO MORE THAN 10 PERCENT (SEASONAL ITEMS) OF THE DEMAND-SUPPORTED LINES. THE
FOLLOWING ARE EXAMPLES OF NONDEMAND SUPPORTED SHOP STOCK:
8.E.1. ITEMS TO SUPPORT CRITICAL LOW-DENSITY EQUIPMENT WITH HIGH-PERFORMANCE CRITERIA
(THAT IS, STRATEGIC COMMUNICATIONS SYSTEM, RADAR SYSTEM, STRATEGIC MISSILE SYSTEM,
TACTICAL MISSILE SYSTEM (OLD TERM IMPL), AND SO ON). THESE ITEMS MUST BE LISTED IN THE
EQUIPMENT TECHNICAL MANUAL TO QUALIFY AS NONDEMAND SUPPORTED SHOP STOCK UNDER THIS
CATEGORY.
8.E.2. NON-ARMY STANDARD EQUIPMENT, INCLUDING COMMERCIAL OFF-THE-SHELF AND
GOVERNMENT OFF-THE-SHELF EQUIPMENT WHERE LIMITED SPARES ARE REQUIRED TO MAINTAIN
REQUIRED CAPABILITY.
8.E.3. INITIAL STOCKAGE IN SUPPORT OF A NEWLY ESTABLISHED (SUSTAINMENT MAINTENANCE) REPAIR
PROGRAM.
8.E.4. CRITICAL COMMUNICATIONS SPARES KIT IN SUPPORT OF CRITICAL LOW-DENSITY EQUIPMENT.
9. (U) SPECIAL INSTRUCTIONS FOR SHOP STOCK:
9.A. UNINSTALLED CONTROLLED CRYPTOGRAPHIC ITEM REPAIR PARTS MUST BE TRACKED ARMYWIDE
AND CANNOT BE STOCKED IN MAINTENANCE ACTIVITY SHOP STOCK. THESE MAY BE STOCKED IN THE
SUPPORTING SSA.
9.B. COMMERCIAL DESIGN EQUIPMENT ITEMS AND QUANTITIES ARE BASED ON DEMAND EXPERIENCE.
THE MANUFACTURER'S RECOMMENDED LIST MAY BE USED TO DETERMINE INITIAL STOCKAGE.
9.C. REPAIR PARTS SUPPORTING NUCLEAR WEAPONS AND RELATED MATERIEL ARE PRESCRIBED IN
APPLICABLE TECHNICAL MANUALS. CHANGES TO STOCKED QUANTITIES MUST BE DIRECTED BY THE
ARMY COMMAND OR ARMY SERVICE COMPONENT COMMAND.
10. (U) BENCH STOCKS ARE LOW-COST, HIGH-USE, CONSUMABLE CLASS 2, 3 (PACKAGED), 4 AND 9 (LESS
COMPONENTS) ITEMS USED BY MAINTENANCE PERSONNEL AT AN UNPREDICTABLE RATE. BENCH
STOCKS CONSIST OF COMMON HARDWARE, RESISTORS, TRANSISTORS, CAPACITORS, WIRE, TUBING,
HOSE, ROPES, WEBBING, THREAD, WELDING RODS, SANDPAPER, GASKET MATERIEL, SHEET METAL,
SEALS, OILS, GREASE AND REPAIR KITS. ONLY SMALL-ARMS REPAIR PARTS CODED CIIC "U" ARE
AUTHORIZED FOR BENCH STOCK. CONTROLLED ITEMS WILL BE INVENTORIED IN ACCORDANCE WITH AR
710-2, TABLE 2-2, PARAGRAPH i.
10.A. BENCH STOCKS ARE AUTHORIZED FOR ALL MAINTENANCE ACTIVITIES. APPROVAL OF THE BENCH
STOCK LIST BY THE MAINTENANCE OFFICER IS REQUIRED SEMIANNUALLY.
10.B. TO QUALIFY FOR BENCH STOCK, AN ITEM MUST MEET ALL THE CRITERIA LISTED IN 10.B.1
THROUGH 10.B.5 BELOW:
10.B.1. CIIC = "U," OR " J," ("J" CANNOT BE SMALL-ARMS REPAIR PARTS).
10.B.2. EXPENDABLE (ARC = "X").
10.B.3. NONREPAIRABLE (RC = "Z").
10.B.4. STOCK FUNDED (SECOND POSITION OF THE MATERIEL CATEGORY = "2").
10.B.5. SUPPLY CLASS IS 2, 3 (PACKAGED), 4 OR 9.
10.C. THE AUTHORIZED STOCKAGE LEVEL WILL BE 30 DAYS FOR ALL UNITS. REPLENISHMENT REQUESTS
WILL USE UND "C." THE WORK REQUEST PRIORITY MAY BE USED TO REQUEST THE QUANTITY REQUIRED
TO COMPLETE THE JOB WHEN STOCK IS AT ZERO BALANCE.
10.D. BENCH STOCK LISTS AND BENCH STOCK REPLENISHMENT TAGS WILL BE REVIEWED
SEMIANNUALLY (ANNUALLY FOR ARMY MATERIEL COMMAND DEPOTS).
10.E. BENCH STOCK FOR AVIATION PECULIAR ITEMS SHOULD BE PROVIDED SEGREGATED STORAGE (BIN
DIVIDERS), BY MANUFACTURER, CONTRACT, LOT NUMBER, SOURCE, AND DATE PACKED, WHEN
PHYSICAL CAPABILITIES EXIST.
11. (U) COMBAT REPAIR TEAM STOCKS ARE A TAILORED AMOUNT OF REPAIR PARTS AUTHORIZED FOR
USE BY FIELD MAINTENANCE TEAMS THAT HAVE A MISSION TO PROVIDE ONSITE MAINTENANCE
SUPPORT REMOTE FROM THEIR ASSIGNED UNIT ON AN ON-CALL BASIS TO DEPLOYED CUSTOMERS.
11.A. THE FOLLOWING PROCEDURES ARE AUTHORIZED FOR USE FOR CRT STOCK BY FIELD
MAINTENANCE TEAMS.
11.A.1. CRT STOCK IS PERMITTED FOR EACH FIELD MAINTENANCE TEAM ESTABLISHED.
11.A.2. THE COMPANY COMMANDER IS THE APPROVAL AUTHORITY FOR WHICH TEAMS WILL BE
PERMITTED CRT STOCK AND THE ITEMS THEY WILL EACH BE AUTHORIZED TO STOCK.
11.A.3. FIELD MAINTENANCE TEAMS AUTHORIZED CRT STOCK WILL BE ASSIGNED A UNIQUE WORK
CENTER CODE AND SHOP SECTION CODE UNDER THE PERSONNEL TAB (FOR EXAMPLE, CRT1, CRT2) IN
THE SUPPORT SAMS-E LOCATED AT THE PARENT MAINTENANCE OR FSC.
11.A.4. ITEMS AUTHORIZED FOR STOCKAGE AND STOCKAGE LEVEL WILL BE LISTED IN THE SHOP SUPPLY
MANAGEMENT FILE BY WORK CENTER AND BY FIELD MAINTENANCE TEAM. CRT STOCK WILL BE 100
PERCENT DEPLOYABLE IN THE FIRST LIFT (THAT IS, THE TEAM MAY NOT STOCK MORE THAN THEY CAN
CARRY IN ORGANIC VEHICLES IN THE FIELD MAINTENANCE TEAM).
11.A.5. UNSERVICEABLE RECOVERABLES MAINTAINED IN CRT STOCK WILL BE TURNED IN TO THE
SUPPORTING SSA WITHIN 10 DAYS OF A SERVICEABLE BEING ISSUED.
11.A.6. CRT STOCK LISTINGS WILL BE REVIEWED AT LEAST ONCE SEMIANNUALLY. APPROVED LISTINGS
WILL BE SIGNED BY THE COMPANY COMMANDER, AND A COPY OF THAT SIGNED LISTING WILL BE
MAINTAINED BY THE MAINTENANCE OFFICER.
11.A.7. COPIES OF EACH BENCH STOCK LIST REPLENISHMENT REVIEW LIST AHN-024 USED TO REPLENISH
CRT STOCK FOR 180 DAYS WILL BE MAINTAINED IN THE MAINTENANCE CONTROL OFFICE FOR USE IN
RECORDING DEMANDS FOR CRT STOCK ITEMS AND ADJUSTING STOCKAGE LEVELS AS APPROPRIATE
(DURING SEMI-ANNUAL REVIEWS). ONCE THE CRT STOCK LISTING IS REVIEWED AND APPROVED BY THE
COMPANY COMMANDER SEMIANNUALLY, COPIES OF AHN-024 FROM THE PREVIOUS 6 MONTHS WILL
BE MAINTAINED UNTIL THE NEXT SCHEDULED REVIEW; ALL OTHERS MAY BE DISCARDED (THE CONTROL
PERIOD FOR DETERMINING STOCKAGE LEVELS IS 180 DAYS).
12. (U) ON-BOARD SPARES ARE THOSE REPAIR PARTS STORED ON AN END ITEM AND USED BY A CREW
MEMBER TO AFFECT IMMEDIATE REPAIRS. EXAMPLES ARE SPARE TRACK SHOES, ROADWHEELS,
SPROCKETS, SPARE TIRES, AND SO ON. DETAILED STOCK RECORD ACCOUNTING IS NOT REQUIRED FOR
ON-BOARD SPARES; THEY WILL BE CONSIDERED CONSUMED WHEN APPLIED ON THE END ITEM IN THEIR
STORAGE POSITION.
13. (U) COMBAT SPARES IS A TERM USED TO CONNOTE ALL FOUR TYPES OF STOCKS DEFINED IN THIS
MESSAGE, FOUND IN A BRIGADE COMBAT TEAM (BCT). ONLY BCT'S HAVE "COMBAT SPARES."
14. (U) POC'S FOR THIS MESSAGE ARE MR. ROBERT THURSTON AT DSN 222-9824, COMM (703) 6929834, OR E-MAIL: ROBERT.THURSTON@US.ARMY.MIL; AND MS. SHARON LYONS AT DSN 222-9563,
COMM (703) 692-9563, OR E-MAIL: SHARON.LYONS@US.ARMY.MIL.
15. (U) THIS MESSAGE WILL EXPIRE ON 10 SEP 2017.