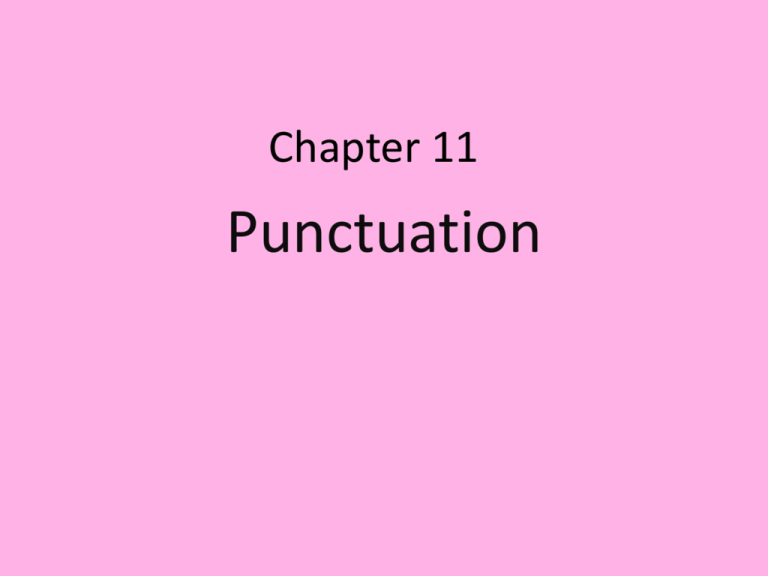 Chapter 11
Punctuation
Periods & Other End Marks
• Periods, question marks, and exclamation
points are known as end marks because they
are used to indicate the end of a sentence.
• Periods have other uses as well.
Periods
• Use a period at the end of a declarative
sentence.
– A declarative sentence makes a statement.
Ms. Walsh loves to read.
Ms. Walsh hopes her students succeed in
school.
• Use a period at the end of almost every
imperative sentence.
– An imperative sentence gives a command.
– Some sentences expressing emotion end with
exclamation points.
Stop asking me if you can go get a drink.
Stop! Don't eat that!
Use a period at the end of an indirect question.
– An indirect question reports what a person asked
without using the person's exact words.
Indirect question: The teacher asked if we had
all done our homework.
Direct question: Ms. Walsh asked, "Did you all
do your homework?"
Question Marks
• Use a question mark at the end of an
interrogative sentence.
– An interrogative sentence asks a question.
Do you like the book we are reading?
Have you seen the movie?
You're from Brookfield, aren't you?
Exclamation Points
• Use an exclamation point to end an
exclamatory sentence.
– An exclamatory sentence expresses strong feeling.
What a difficult test!
I think I am dying of boredom!
Exclamation Points
Use an exclamation point after an interjection or
any other exclamatory expression.
Wow! Tell me more!
Oh! I have a great idea!
Other Uses for Periods
Use a period at the end of most abbreviations or
after an initial.
Abbreviations:
sec.
min.
St.
in.
lb.
Thurs.
Feb.
Initials:
R.N.
B.A.
P.M.
M.D.
Abbreviations without periods:
CIA
VCR
CA
mph
cm
mm
Use a period after each number or letter in an
outline or list.
Outline
Uses for Codes
I. Use in wartime
A. World War I
B. World War II
II. Industrial uses
A. To protect new methods
B. To protect consumers' privacy
List
Communication Codes
1. Braille
2. American Sign Language
3. Egyptian hieroglyphics
4. Mayan hieroglyphics
Let's Practice!
What punctuation mark is missing?
Did you ask your parents if it was
alright to stay at my house
Stop eating all the cookies
I am so excited for the weekend
You went to school in Ohio, didn't you
I can't wait to see my grandparents
this weekend
I bought a 20 lb turkey for
Thanksgiving.
My mom is a RN at a doctor's office.
Do not drive over 70 mph on
the highway.
Don't forget, we have a meeting
on Thurs at 9 AM.