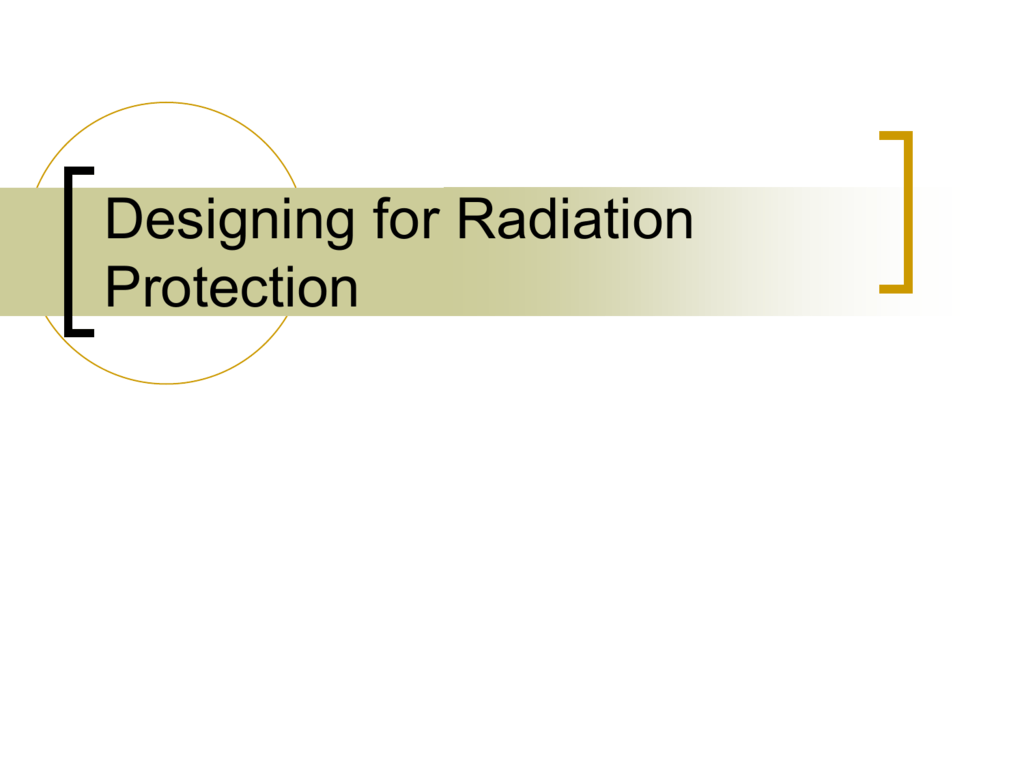 Designing for Radiation
Protection
Design Standards for Radiation
Protection – Leakage Radiation
LEAKAGE RADIATION
may not EXCEED
TUBE HOUSING
100mR / hr or 1 mGy/hr
@ 1 meter
Control Panel

Must have an indicator when the x-ray
tube is energized. Sometimes it will be
a visible light or audible signal or both
SID – Source to Image
Distance

Indicator must be accurate to within
2% of the desired SID
Source-to-Skin Distance

SSD is used to describe to distance
between the tube and patient during
fluoroscopy

SSD must not be less than 38 cm in
fluoro rooms and 30 cm for mobile
fluoro
Collimation or PBL



Positive-Beam Limitation = PBL
Detects the size of the IR used and
automatically collimates to size of the
IR at standard SIDs
Used to be required by law between
1974 – 1994 but no longer required.
PBL still remains standard in
equipment design
Filtration

General-purpose tubes
(above 70 kVp) and
the fluoroscopic
beam
must be filtered
at least 2.5 mm Al
Reproducibility & Linearity

Reproducibility = consistent exposures

Linearity = any mA station X msec will
produce the same mAs
Exposure switch



In diagnostic rooms the switch must be
fixed to prevent the ability to make an
exposure in the room
Mobile switch must be at least 6 ft long
and the dead-man type
Fluoroscopic exposure control should
be the dead-man type as well
Radiography Room Design –
Factors Affecting Barrier Thickness




Distance – between radiation
source and barrier
Occupancy – the use of the area
being protected (rarely occupied
vs nursing station)
Control area – occupied by
radiation workers or patients
Uncontrolled area – occupied by
anyone
MONITORING WORK AREAS

CONTROLLED AREA – Used by
occupationally exposed personnel
(monitored)

100mrem or 1mSv / week

UNCONTROLLED AREA – PUBLIC
2 mrem or 0.02 mSv / week

ROOM SHIELDING

PRIMARY SHIELD = Any wall
or portable wall that the
primary beam could possibly
be directed at

1/16 Pb or eq. & 7 Feet High
4 inches of Concrete will do!

Pg. 574
ROOM SHIELDING





SECONDARY – NO PRIMARY BEAM
1/32 LEAD
CONTROL BOOTH – never point the
beam at the control panel
BEAM SCATTERS 2X BEFORE
HITTING
LEAD WINDOW – 1.5 mm LEAD EQ
Bucky Slot Cover & Protective
Curtain
What is the
minimum
Pb eq. required ?

Image Intensifier is a primary
barrier = 2 mm Pb equivalent
Bucky cover and Curtain:
Minimum of 0.25 mm/Pb
CUMLATIVE TIMER FOR FLUORO
SIGNALS AFTER 5 MINUTES OF
FLUORO
TO MAKE SURE THE RADIOLOGIST
IS AWARE OF THE BEAM-ON TIME
Exposure Calculations

Exposure = Exposure rate X mAs

Exposure rate varies by kVp selection
and distance
Exposure Calculations

At 75 kVp the exposure rate is 2.6 mR/mAs





What is the exposure?
AP Abdomen = 25 mAs
LPO L-spine = 32 mAs
PA Caldwell = 200 mA X 0.10 sec
AP Pelvis = 200 mA X 0.20 sec
Exposure Calculations

2.6 mR X 25mAs = 65 mR/mAs



LPO L-spine = 32 mAs
PA Caldwell = 200 mA X 0.10 sec
AP Pelvis = 200 mA X 0.20 sec
Be Safe!
Image gently!