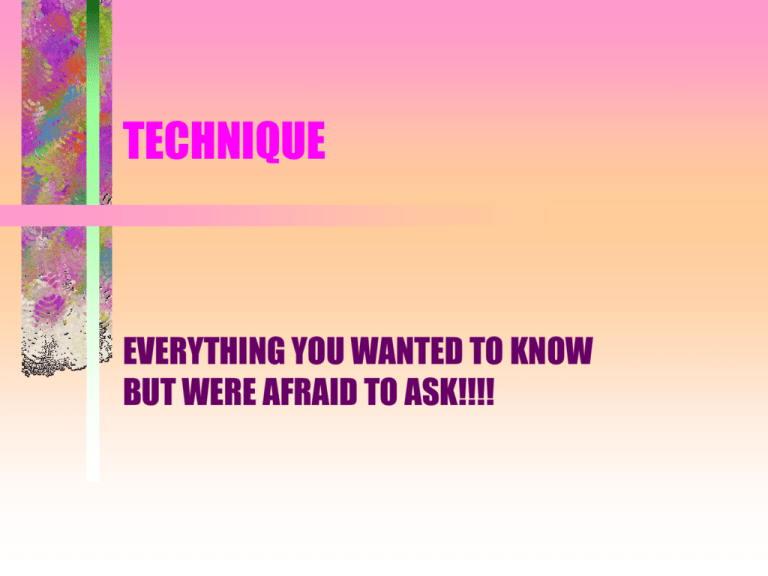 TECHNIQUE
EVERYTHING YOU WANTED TO KNOW
BUT WERE AFRAID TO ASK!!!!
Chapter 4 Fauber-Review Density
:CONTROLLING FACTORS/INFLUENCING
FACTORS: pg 63
•m
•A
•s
•
•
•
•
•
•
•
•
•
•
•
•
•
kVp
Body Habitus
SID/OID
Screen
Grids
Collimation
Thickness of the part
Anode heel
Reciprocity Law
Tube filtration
Compensating filters
Film Processing
Digital Processing
Chapter 4 Fauber-Review CONTRAST:
controlling/influencing factors pg 63
•k
•V
•p
•
•
•
•
•
•
•
Grids
Collimation
OID
Anatomic part
Tube filtration
Contrast medium
Digital imaging
Contrast and digital imaging
• kVp still important but….
• Contrast can be manipulated post
processing
• Minimizing scatter important since DR is
sensitive to scatter
TECHNIQUE REVIEW:
SID,OID,COLLIMATION,ANATOMIC PART,
ANODE HEEL, GENERATOR OUTPUT,TUBE
FILTRATION , COMPENSATING FILTERS
FILM PROCESSING
RECIPROCITY LAW
• DENSITY ON THE FILM SHOULD BE THE SAME
FOR ANY COMBINATION OF mAs as long as the
product of the mAs is equal!!!
• WHAAAAAT????
• 30 mAs
– 300mA x .1 = 30 mAs
– 200 mA x .15 =30 mAs
– 500mA X .06 = 30 mAs
Same
product
It makes a difference
• DIGITAL
• EXPOSURE ERRORS OF 50% CAN BE ADJUSTED
DIGITALLY
• THINK ABOUT THAT!
LET'S MOVE ON TO BUSHONG NOW
CHAPTER 15
PG 244
LET'S REVIEW
•
•
•
•
•
TABLE 15-1 – REMEMBER THIS?
WHAT IS A FALLING LOAD GENERATOR?
DIRECT SQUARE LAW?
DOES FOCAL SPOT IMPACT TECHNIQUE?
LET'S MOVE ON TO PATIENT FACTORS, PG 251
Exposure Technique charts
What should be on a technique chart?
Can the same chart be used for all tubes?
Types of charts – pg 260-265
• Variable kVp, Fixed mAs– short contrast/more pt exposure
• Fixed kVp, Variable mAs
– Prefered, longer contrast less patient exposure
• High kVp chart
– For exams using 100 kVp or higher
• Automatic exposure-PATIENT POSITIONING --VERY IMPORTANT
–
–
–
–
kVp important
OD important
Collimation important
Accessary selection
– Anatomically programmed radiography (APR)
What do we do in these cases?
• Casts/splints
• Body habitus
• Pathology
– Is it always necessary to compensate?
– NOTE BOX 15-1 ON PAGE 253
• Soft tissue
Understanding chest x-ray
technical factors
• Inherently, the composition of the chest is
high subject contrast.
• Black lungs. White bones
Understanding chest x-ray
technical factors
• Therefore to offset the short scale contrast,
low mAs is used and high kVp is needed to
add the long scale needed to see all
anatomy
CHART DEVELOPMENT-pge 263 in
FAUBER
– Comparative anatomy
– Proportional anatomy
Abd. 76 kVp, 20 mAs…What do we
adjust for the following?
• Rose Aehle
• A thin but healthy
person
• A Football linebacker
or Santa Claus
• A frail, tiny,elderly
person
IT MAKES A DIFFERENCE
• mAs change of 30% or higher before a
change is noted
• Changes in kVp in increments of 4 will
produce a change in overall density and
contrast especially in the lower kVp
ranges.
• For every one inch of OID, SID needs to be
adjusted 7 inches
TRUE SCENARIO
• 80 YR OLD WHEELCHAIR BOUND MALE
• CANNOT GET OUT OF WHEELCHAIR
• SHOULDER IN NEUTRAL POSITION BUT A FRACTURE IS
SUSPECTED
• TUBE DOES NOT EXPOSE AT 40"SID
• CAN EXPOSE AT 72" SID BUT WALL BUCKY DOES NOT MOVE
DOWN LOW ENOUGH TO PUT BEHIND THE PATIENT.
• WHAT POSITION AND TECHNIQUE SHOULD YOU USE? REFER TO
TECHNIQUE CHART FOR THE ROOM THAT WAS A HANDOUT.