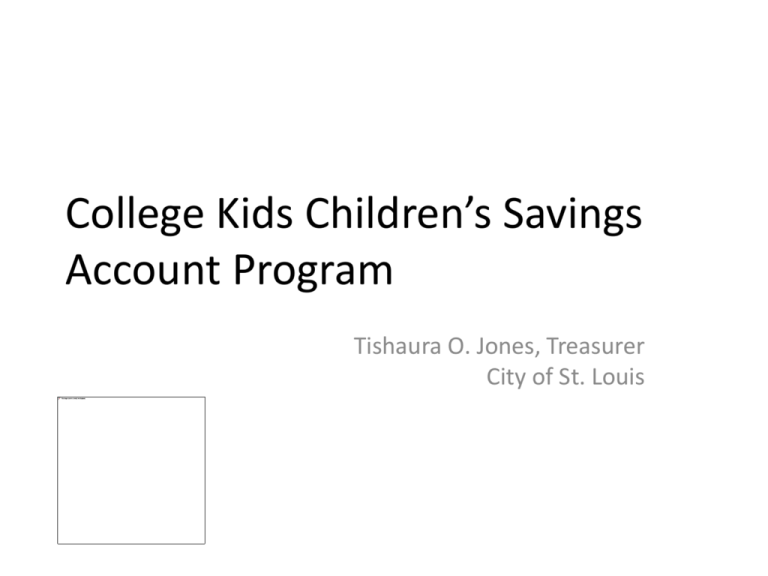 College Kids Children's Savings
Account Program
Tishaura O. Jones, Treasurer
City of St. Louis
College Kids Accounts
Universal
• Children's savings account (CSA)
opened for every kindergartner in
SLPS and City charter schools
• CSA is opened at 1st Financial
Federal Credit Union with St.
Louis City Treasurer's Office
(STLTO) tax ID and without
student social security numbers
• Parents are able to "opt out" of
the program but do not need to
"opt in"
– Accounts will be opened
universally based on enrollment
data submitted to the state
Restricted to Postsecondary Expenses
• Treasurer designated as custodian
and each individual student as
beneficiary
– Parents unable to independently
make withdrawals
• Funds are deposited and earned
separately
– Program funds: incentives and
matches, processed through the
College Kids program
– Private, Non-program funds: family
and student contributions,
deposited with the credit union
College Kids Program
Earnings and Growth
• Initial $50 deposit "seeded"
by the STLTO
• Opportunity to earn an
additional $200 in the first
year through participation
and savings
– $1 Weekly Perfect Attendance
– Steady Saver 1:1 match for
first $100 saved
– Up to $50 for Financial
Education
Accessing and Contributing
• Participants can view
account balances and
incentives earned through
VistaShare Outcomes
Tracker portal website or
app
• Deposits can be made at
participating shared branch
locations or through online
banking
Account Withdrawals
• Requests for disbursements
must be made through the
College Kids program and
are paid to third party
(university, bookstore, etc.)
• Parents can request up to 3
emergency withdrawals of
Non-Program funds
• Unused, Non-program
funds will be transferred
from custodian to
beneficiary at age 21, per
the Missouri Transfer to
Minors Law
• Program funds are to be
used for qualifying
expenses:
– Tuition, mandatory fees,
books, supplies, and
equipment
– Accommodations for special
educational needs
– Application fees and fees for
the ACT, SAT, and AP college
entrance and placement
exams
•
Unused Program funds are
returned to College Kids
Impact
• Children of low-to-moderate income families with $500 or less
saved for college are 3 times more likely to enroll and 4 times more
likely to graduate from college than those with no savings
• Mentally designating savings for school leads to the formation of a
"college saver identity"
– child has identified saving as a strategy to attain the future of college
attendance
• Assets have positive social, psychological, and civic effects that are
independent of the effects of income
• Model: K2C San Francisco—over 2,600 families have saved over $1
million dollars since 2010
• Connect unbanked St. Louis families with healthy and safe financial
products and services
Partners
Washington
University
1st Financial
Federal Credit
Union
Center for Social
Development
VistaShare
City of St.
Louis
Treasurer's
Office
Wells Fargo
St. Louis
Charter
Schools
1:1 Fund
St. Louis
Public Schools
District
Campaign for Every Kids Future
Treasurer Jones with President
Bill Clinton and other
commitment makers at the
Clinton Global Initiative America
in June 2015
Collaboration between over a dozen
partners nationwide dedicated to the
growth of children's savings. The
mission is to ensure that at least 1.4
million children have a savings
account in their name by 2020.
Resources
1.
Assets and Education Initiative. (2013). Building Expectations, Delivering Results: Asset-Based
Financial Aid and the Future of Higher Education. In W. Elliott (Ed.), Biannual report on the assets
and education field. Lawrence, KS: Assets and Education Initiative (AEDI).
2.
Elliott, W., Destin, M., & Friedline, T. (2011). Taking stock of ten years of research on the
relationship between assets and children's educational outcomes: Implications for theory, policy,
and intervention. Children and Youth Services Review, 33(11), 2312-2328.
3.
Elliott, W. (2013). Small-dollar children's savings accounts and children's college outcomes. Children
and Youth Services Review, 35(3), 572-585.
4.
Sherraden, M. (1991). Assets and the poor: A new American welfare policy. Armonk, NY: M.E.
Sharpe.
5.
Economic Modeling Specialists Intl. (2014). Where value meets values: The economic impact of
community colleges.
6.
St. Louis Graduates. (2012). One student at a time: Advancing the goal of degree completion in the
St. Louis region.
7.
St. Louis Regional Chamber & Growth Association. (n.d.). Talent: The future of metro St. Louis is the
talent economy.
8.
St. Louis Regional College Access Pipeline Project. (2011). Getting ready, getting in and getting
through. St. Louis.