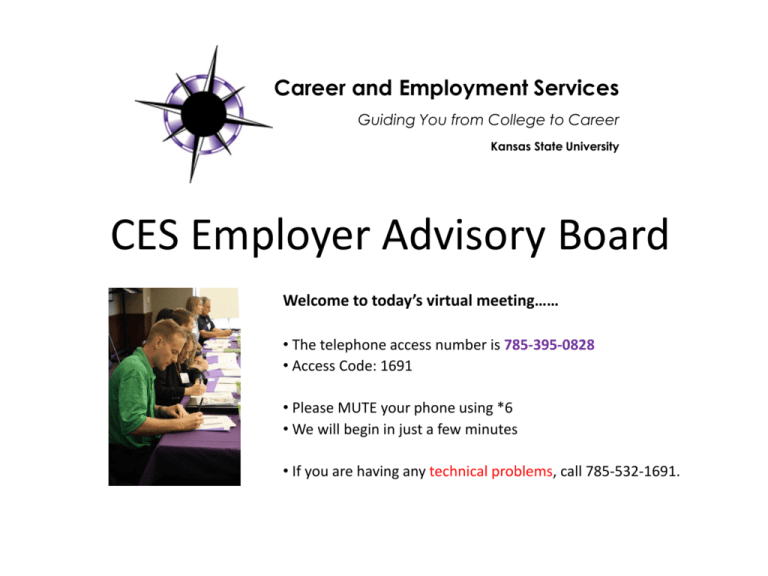 Career and Employment Services
Guiding You from College to Career
Kansas State University
CES Employer Advisory Board
Welcome to today's virtual meeting……
• The telephone access number is 785-395-0828
• Access Code: 1691
• Please MUTE your phone using *6
• We will begin in just a few minutes
• If you are having any technical problems, call 785-532-1691.
Today's agenda
10:00-10:15am
10:15-10:30am
10:30-11:00am
11:00-11:45am
11:45-12:00pm
Welcome and overview
Highlights of Fall 2010
What's up for 2011?
Webinar presentation
Recruiting Trends 2010-2011
Dr. Phil Gardner, MSU CERI
Wrap-up
Webinar toolbar
Employer attendees
Laci
Adams
Cargill
laci_adams@cargill.com
Elise
Alft
Perceptive Software, HR Generalist
elise.alft@perceptivesoftware.com
Mallory
Ayers
GTM Sportswear, HR Generalist
mallory.ayers@igtm.com
Don
Becker
Commerce Bank, AVP Student Banking
don.becker@commercebank.com
Joe
Burke
Hy-Vee, Retail Recruiting Specialist
jburke@hy-vee.com
Cynthia
Cason
IRS, Program Manager
cynthia.p.cason@irs.gov
Larry
Doll
Manhattan-Ogden USD 383, Director of Human Resources
larryd@manhattan.k12.ks.us
Andrante Etheridge
Koch Industries, Recruiting Manager
andrante.etheridge@kochind.com
Bret
Fischer
State Street Corporation, Talent Acquisition Consultant
bfischer@statestreet.com
Terra
Garden
Black & Veatch, Recruiter
gardentl@bv.com
Clark
Ingram
GTM Sportswear, Vice President of Human Resources
clark.ingram@igtm.com
Sarah
Martin
Garmin International, College Relations Recruiter
sarah.martin@garmin.com
Ke'Lan
Mitchell
Internal Revenue Service, Recruiter
kelan.mitchell2@irs.gov
Chesla
Morgan
ConocoPhillips, University Advisor
chesla.morgan@conocophillips.com
Jaime
Newman
Spirit AeroSystems, College Recruiter
jaime.j.coronadonewman@spiritaero.com
Brady
Nolan
Cerner, Recruiter
brady.nolan@cerner.com
John
OHara
ConocoPhillips, Supervisor Revenue/Regulatory Accounting
oharajm@conocophillips.com
Connie
Pfaff-Eickhoff
GTM Sportswear
connie.pfaff-eickhof@igtm.com
Julie
Shapiro
Burns & McDonnell, College Relations Specialist
jshapiro@burnsmcd.com
Jennifer
Vines
ExxonMobil, Project Services Area Supervisor
jennifer.vines@exxonmobil.com
Kellie
Wilson
Bartlett and Company, Recruiter
k.wilson@bartlett-grain.com
Johnny
Witt
IRS, Director
johnny.witt@irs.gov
Give us a shout
• Your company motto or tagline
K-State attendees
Mary Ellen Barkley, CES Asst Dir, Ag & Human Ecology
Jacqui Gatson, CES Asst Dir, Engineering & STEM
Dana Nordyke, CES Career Development Coordinator
Karl Kandt, CES Asst Dir, Arts & Sciences
LaToya Farris, CES Asst Dir, Education & Internships
Kerri Keller, CES Director
Angela Hayes, Alumni Career Services Consultant
Mitzi Richards, Sr Director of Corporate Relations
Dr. Pat Bosco, Vice President of Student Life
Dr. Phil Gardner, Director CERI
mebark@ksu.edu
jcooper3@ksu.edu
nordyke@ksu.edu
kkandt@ksu.edu
latoyaf@ksu.edu
kdkeller@ksu.edu
ahayes@k-state.com
mitzir@found.ksu.edu
bosco@ksu.edu
gardnerp@msu.edu
Fall 2010 highlights
Fall 2010 highlights
•
•
•
•
Students
Employers
Faculty/staff
Alumni
Top employers 2009-10
Top Corporate Employers
Top Nonprofit/Govt Employers
ADM - ARCHER DANIELS MIDLAND*
BLUE VALLEY USD 229*
ARUP CONSULTING ENGINEERS
GARDNER-EDGERTON USD 231*
BLACK & VEATCH*
GEARY COUNTY USD 475*
BLUEVILLE NURSERY
KVC BEHAVIORAL HEALTHCARE
BURNS & MCDONNELL*
KS DEPT OF SOCIAL REHAB SVCS
CARGILL*
MANHATTAN-OGDEN USD 383*
CENTRAL NATIONAL BANK
MERCY REGIONAL HEALTH CENTER
CERNER CORORATION*
PEACE CORPS*
COMMERCE BANK
RILEY COUNTY POLICE DEPT
CONOCOPHILLIPS*
SHAWNEE MISSION USD 512*
CONAGRA
TOPEKA USD 501
DUNCAN AVIATION
US DEPT OF AGRICULTURE
EXXONMOBIL*
US AIR FORCE*
GTM SPORTSWEAR*
US ARMY*
FARMERS INSURANCE
WICHITA USD 259*
HALLIBURTON
HENDERSON ENGINEERS INC*
KOCH INDUSTRIES*
PEPSICO / FRITO-LAY / QUAKER FOODS
SCHLUMBERGER
TARGET
WAL-MART
Based on bachelor degree hires only – 5 or more graduates
* Indicates employer in top 20 previous year
Thanks Corporate Partners!
What's up for 2011?
• This summer I predicted a
_____ recruiting outlook.
• Currently it's _____ .
__ HOT __
__ LUKEWARM__
__ COLD __
• It has been most
impacted by _____ .
Featured presentation
Dr. Phil Gardner, Director Collegiate Employment Research Institute
Recruiting Trends 2010-2011
Future dates to note
Spring 2011
•
Agri-Industry Career Fair – January 26, 2011 (NDI January 27)
•
Engineering Career Fair – February 8, 2011 (NDI February 9)
•
Business &Hospitality Career Fair – February 22, 2011 (NDI February 23)
•
Education On-Campus Interviews – March 1, 2011
•
Common Good Career Fair – March 2, 2011 (NDI March 3)
Summer 2011
•
CES Employer Advisory Board Meeting – Friday, July 22, 2011
Fall 2011
•
Part-Time Opportunities Career Fair – August 25, 2011
•
All University Career Fair – September 20 & 20, 2011 (NDI September 21 &22)
•
On-Campus Interviews - Beginning October 3, 2011
•
Education Career Fair – November 8, 2011
Career and Employment Services
Guiding You from College to Career
Kansas State University
Thank you!