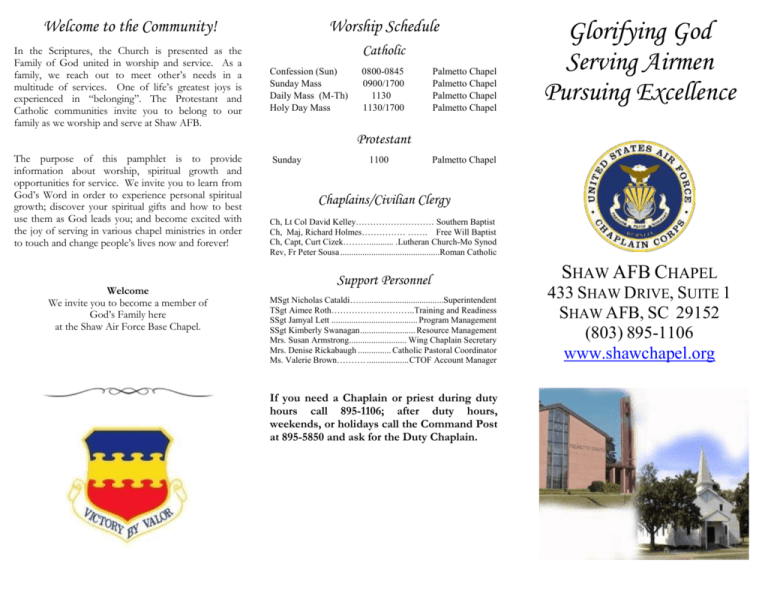 Welcome to the Community!
Worship Schedule
In the Scriptures, the Church is presented as the
Family of God united in worship and service. As a
family, we reach out to meet other's needs in a
multitude of services. One of life's greatest joys is
experienced in "belonging". The Protestant and
Catholic communities invite you to belong to our
family as we worship and serve at Shaw AFB.
Catholic
Confession (Sun)
Sunday Mass
Daily Mass (M-Th)
Holy Day Mass
0800-0845
0900/1700
1130
1130/1700
Palmetto Chapel
Palmetto Chapel
Palmetto Chapel
Palmetto Chapel
Glorifying God
Serving Airmen
Pursuing Excellence
Protestant
The purpose of this pamphlet is to provide
information about worship, spiritual growth and
opportunities for service. We invite you to learn from
God's Word in order to experience personal spiritual
growth; discover your spiritual gifts and how to best
use them as God leads you; and become excited with
the joy of serving in various chapel ministries in order
to touch and change people's lives now and forever!
Welcome
We invite you to become a member of
God's Family here
at the Shaw Air Force Base Chapel.
Sunday
1100
Palmetto Chapel
Chaplains/Civilian Clergy
Ch, Lt Col David Kelley……………………… Southern Baptist
Ch, Maj, Richard Holmes…………… ……. Free Will Baptist
Ch, Capt, Curt Cizek………........... .Lutheran Church-Mo Synod
Rev, Fr Peter Sousa .............................................Roman Catholic
Support Personnel
MSgt Nicholas Cataldi……...................................Superintendent
TSgt Aimee Roth………………………..Training and Readiness
SSgt Jamyal Lett ....................................... Program Management
SSgt Kimberly Swanagan ......................... Resource Management
Mrs. Susan Armstrong.......................... Wing Chaplain Secretary
Mrs. Denise Rickabaugh ............... Catholic Pastoral Coordinator
Ms. Valerie Brown………. ................... CTOF Account Manager
If you need a Chaplain or priest during duty
hours call 895-1106; after duty hours,
weekends, or holidays call the Command Post
at 895-5850 and ask for the Duty Chaplain.
SHAW AFB CHAPEL
433 SHAW DRIVE, SUITE 1
SHAW AFB, SC 29152
(803) 895-1106
www.shawchapel.org
Protestant Community
Serving the Wing at Large
Worship
Shaw Chapel Singles
The Protestant Community offers a worship experience
with a blended music style. The purpose of the Sunday,
1100 Protestant Worship Service is to provide an exciting,
friendly, worship environment for Airmen and their
families while building a healthy worship community.
Children's church is also provided at this service.
Focused on single, college age through young career
Airmen, this program promotes relationships,
networking, and spiritual growth. Activities include
dorm dinners, regularly scheduled retreats, service
projects and trips to various regional activities. Under the
guidance of the chapel staff, this outreach is led by
Airmen with a heart for ministry to their fellow Airmen.
Protestant Men of the Chapel (PMOC)
You are invited to join the men of the chapel on the 2nd
Saturday of each month at 0830 for breakfast, fellowship
and study at the Carolina Skies Golf Course. PMOC has a
two-fold focus of spiritual growth through issue-specific
Bible study and equipping men to be great leaders in our
community.
Deployed/Remote Family & Welcome Home
Dinner
4th Monday, 1800 – Carolina Skies Club. All family
members of deployed/remote service members, and all
who recently returned/reunited from deployment are
invited for a great time of encouragement, eating, and
fellowship. Best thing – it's absolutely free!
Protestant Women of the Chapel (PWOC)
PWOC offers three opportunities for women to grow
spiritually and build community relationships. One study
is conducted on the 1st /3rd Tuesdays @ 1830. A study is
also offered every Tuesday night at 1830. If daytime is
better, we invite you to join the study on Wednesdays @
0930-at the Shaw Community Center. PWOC is open to
all women in the Shaw AFB community. PWOC
emphasizes building women of faith through themed
Bible studies and rewarding fellowship opportunities.
Marriage Preparation
Marriage is a solemn covenant and requires dedicated
preparation. Couples requesting premarital instruction
must contact a Protestant Chaplain a minimum of 3
months prior to their planned wedding date. Use of chapel
facilities for weddings is authorized for all DoD ID
holders and must be requested at least 6 months in
advance. Call the chapel at 895-1106 for information.
Baptism
Baptism is a significant step in the journey of faith. Our
diverse staff of Protestant Chaplains offers baptismal
preparation and baptism for infants as well as adults. If
you or a family member are interested in experiencing the
rite/ordinance of baptism, please contact the chapel and
ask to speak with a Protestant chaplain.
Other Worship/Faith Opportunities
(Call for referrals)
Jewish
Islam
Buddhist
(803) 773-2122
(803) 254-7242
(803) 772-7552
Catholic Community
Worship
Catholic Mass is offered on Sunday at 0900 and 1700.
Daily Mass is at 1130, Monday –Thursday. Confession is
available Sunday 0815 or by appointment. Check the
bulletin or the Shaw Chapel WEB site for Holy Day or
other scheduled Seasonal prayer services and events.
Baptismal Preparation
Baptism is the first Sacrament of Christian initiation.
Preparation is essential. Parents and Godparents must
attend a Baptismal preparation class before having their
child baptized. Classes are held on the 1st Wednesday of
every month at 1300.
Marriage Preparation
Marriage is a sacrament by which a man and a woman
enter into a sacred covenant blessed by God. Couples
planning a marriage should contact the Catholic
Chaplain/Priest 6 months prior to the wedding. This
allows sufficient time for preparation. Catholic couples
who are civilly married should also contact the Catholic
Chaplain/Priest to have their marriage blessed so they
can fully participate in their Catholic faith.
Religious Education (RE)
RE is for children in grades K-9th grade. Classes are held
at 1030 Sunday morning at the Education Center from
September to May. There is a Sunday afternoon youth
group for those in high school.
Rite of Christian Initiate of Adults (RCIA)
The RCIA prepares adults who are interested in
becoming members of the Catholic Church. Primarily for
those who are unbaptized, it can assist baptized nonCatholics and returning Catholics in learning about
Catholicism and preparing for Confirmation. Meetings
are on Wednesday nights from August to May.
Ministries/Parish Organizations
Parishioners are invited to participate in the
ministries/organizations of Our Lady of the Skies: Altar
Servers, Youth Group, Council of Catholic Women, the
Knights of Columbus, prison ministry, and ministry to
the homeless.