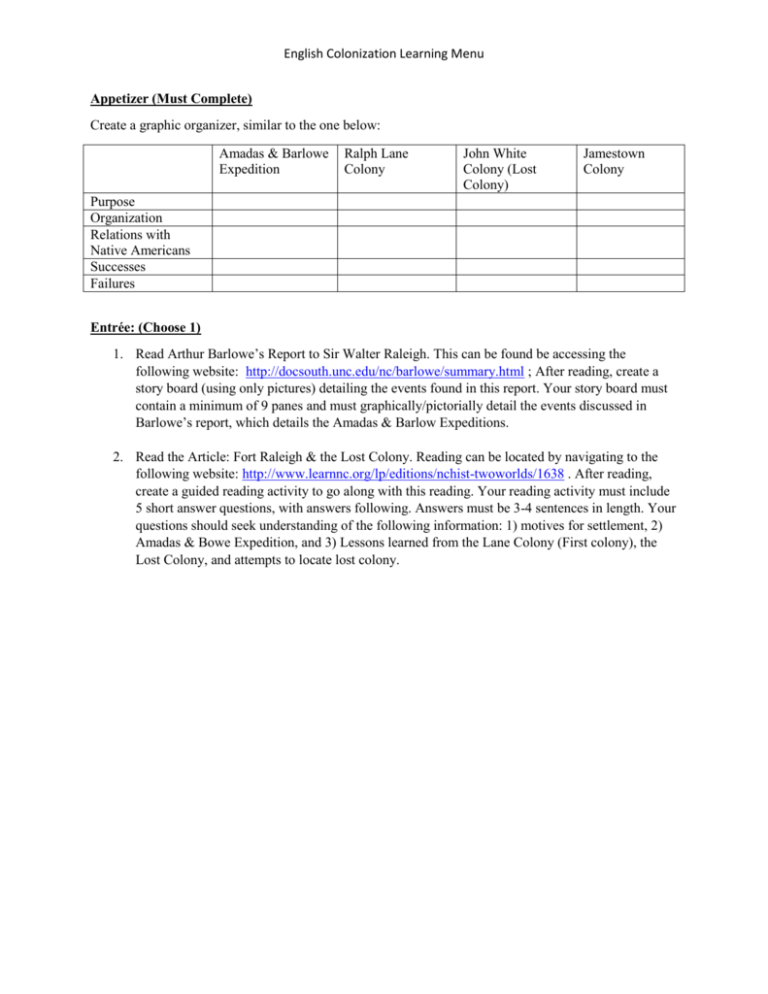 English Colonization Learning Menu
Appetizer (Must Complete)
Create a graphic organizer, similar to the one below:
Amadas & Barlowe
Expedition
Ralph Lane
Colony
John White
Colony (Lost
Colony)
Jamestown
Colony
Purpose
Organization
Relations with
Native Americans
Successes
Failures
Entrée: (Choose 1)
1. Read Arthur Barlowe's Report to Sir Walter Raleigh. This can be found be accessing the
following website: http://docsouth.unc.edu/nc/barlowe/summary.html ; After reading, create a
story board (using only pictures) detailing the events found in this report. Your story board must
contain a minimum of 9 panes and must graphically/pictorially detail the events discussed in
Barlowe's report, which details the Amadas & Barlow Expeditions.
2. Read the Article: Fort Raleigh & the Lost Colony. Reading can be located by navigating to the
following website: http://www.learnnc.org/lp/editions/nchist-twoworlds/1638 . After reading,
create a guided reading activity to go along with this reading. Your reading activity must include
5 short answer questions, with answers following. Answers must be 3-4 sentences in length. Your
questions should seek understanding of the following information: 1) motives for settlement, 2)
Amadas & Bowe Expedition, and 3) Lessons learned from the Lane Colony (First colony), the
Lost Colony, and attempts to locate lost colony.
English Colonization Learning Menu
Side Dishes(Choose 2)
3. Create a flow chart which detailing the events involved in Ralph Lane's attempt to colonize North
Carolina. Use pp. 62-65 to create your flow chart. Include a minimum of 15 events in your flow
chat. Be sure to discuss Voyages that led to founding of colony, Roanoke Island, Troubles
colonists faced, events leading to abandonment of the colony, and achievements of the colony.
Remember a flow chart looks similar to below:
Event 1  Event 2  Event 3
4. You are Sir Walter Raleigh. You are developing a plan which details your plans for a second
colony. You must present this pan to the Queen of England. Develop a one page outline which
details your plans for a second colony. Include the following Information
a. Date of voyage to new land
b. Location of Settlement:
c. Leaders Participating in Voyage /Captains of Voyage
d. Types of Colonists involved in settling the colony
e. Possible Problems that colonists could encounter & details of how to deal with said
problems
f. Intended Outcome of Voyage:
5.
Using pp. 76-78 Create a timeline of events detailing the settlement of Jamestown. Include the
following dates/events on your timeline:
g.
h.
i.
j.
k.
l.
m.
n.
o.
p.
q.
r.
s.
1600s
December 1606
April 26, 1607
January 1608
1608
Fall 1608
1609
1610
Winter 1610
1614
1618
1619 ( events)
July 1619
Dessert: (Must Complete, We all like Ice Cream, cake, or pie!!)
6.
Each group member must see Mr. Martin for a 13 Colonies Map. When you receive a map, you
will complete the following:
t. Label each colony
u. Color code each region of the colonies:
i. New England Colonies
ii. Middle Colonies
iii. Southern Colonies
v. Create your legend to identify the regions.