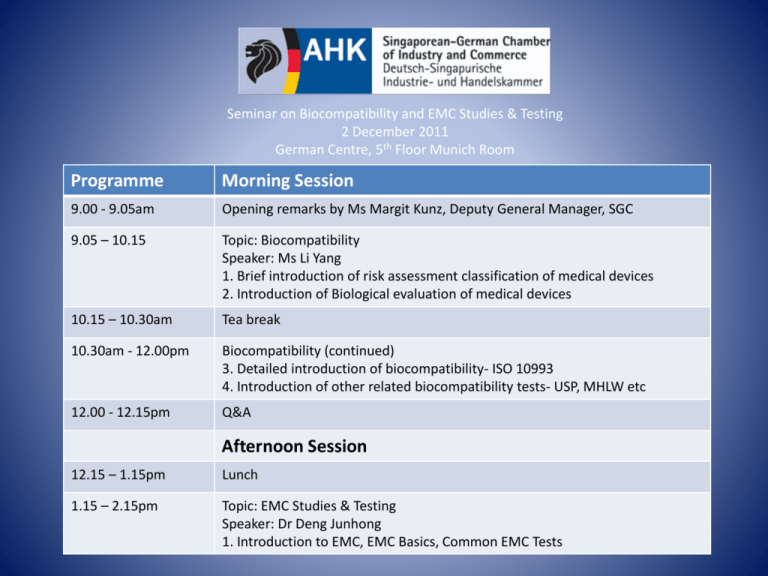 Seminar on Biocompatibility and EMC Studies & Testing
2 December 2011
German Centre, 5th Floor Munich Room
Programme
Morning Session
9.00 - 9.05am
Opening remarks by Ms Margit Kunz, Deputy General Manager, SGC
9.05 – 10.15
Topic: Biocompatibility
Speaker: Ms Li Yang
1. Brief introduction of risk assessment classification of medical devices
2. Introduction of Biological evaluation of medical devices
10.15 – 10.30am
Tea break
10.30am - 12.00pm
Biocompatibility (continued)
3. Detailed introduction of biocompatibility- ISO 10993
4. Introduction of other related biocompatibility tests- USP, MHLW etc
12.00 - 12.15pm
Q&A
Afternoon Session
12.15 – 1.15pm
Lunch
1.15 – 2.15pm
Topic: EMC Studies & Testing
Speaker: Dr Deng Junhong
1. Introduction to EMC, EMC Basics, Common EMC Tests
2.15 – 2.30pm
Tea break
2.30 – 3.45pm
EMC Studies & Testing (continued)
2. General EMC Requirements and Tests for Medical Electrical Equipment
IEC/EN 60601-1-2
EMC Testing for Medical Electrical Equipment
3.45- 4.00pm
Q&A
4pm
Closing & Networking
Speakers' profile
Ms Li Yang is currently the Product Manager in Chemical Centre taking care of biocompatibility testing
services in TÜV SÜD PSB. Ms Li Yang holds a Master Degree of Science (Biology) from National
University of Singapore and Master of Business Administration from University of Birmingham, United
Kingdom. Ms Li Yang has 14 years of working experiences in the area of biomedical product
development and commercialization.
Dr Deng Junhong is the global EMC director of TÜV SÜD Product Service and the vice president
(Electrical and Electronics) of TÜV SÜD PSB, his expertise is mainly in EMC consultancy, EMC design,
EMC testing and certification. Additionally, he is an committee member of IEEE Singapore EMC society,
an IEEE senior member, a member of IECEE CTL EMC Expert Task Force, a member of Singapore
EMC standards technical committee and an iNARTE certified EMC engineer. Prior to joining TÜV SÜD
PSB in 1998, Dr. Deng was an lecturer with East China Jiaotong University in 1987 – 1995 and a senior
R&D engineer with Mitsubishi Electric in 1996-1998. Dr. Deng published bunch of research papers in
EMC fields and gave numbers of paper presentations at International EMC conferences. He also gave
technical talks in various conferences and seminars on EMC regulations, EMC testing techniques, EMC
standards, etc. and served in the committees of a few international conferences.