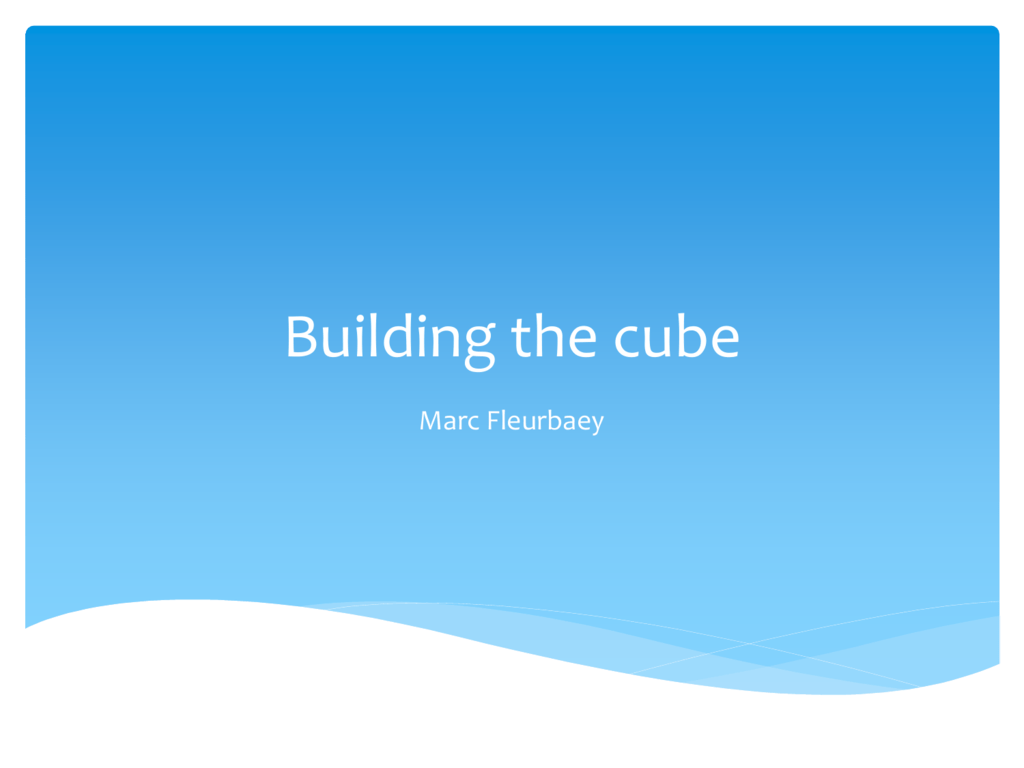 Building the cube
Marc Fleurbaey
Deconstructing the cube
Marc Fleurbaey
GOOD NEWS AND BAD NEWS
• Bad news: there is no simple micro criterion to decide
the shape of the cube; it all depends on wider
impacts on the population
• Good news: we know how to evaluate the situation of
a population (or at least there are some ways)
WE NEED A SWF (ADLER)
• Health affects well-being directly, but also indirectly
via capacities: focusing on health effects exclusively
misses many benefits
• Rate of coverage affects poor-rich access
• Population covered affects health and consumption
• Services covered too
• Mode of funding should be part of the project
• The health budget affects consumption of other
goods
SOLIDARITY MORE THAN INSURANCE
(ADLER, VOORHOEVE)
• In general, the distribution of individual health and
consumption is known ex ante, no macro-social risk
(except for longevity and pandemics)
• The health system affects the distribution of health and
consumption  evaluate with a SWF
• Peace of mind due to insurance does improve people's
situation, even from the ex post standpoint
• A perfect insurance model might not provide a good
guideline (Dworkin): People don't want to insure when
harm reduces their marginal utility (frequent with health?)
INDIVIDUAL WELL-BEING
• 3 dimensions of individual well-being:
longevity, health, consumption
• There is no way to trade-off these dimensions without
relying on population values and preferences
• QALYs and similar measures are too restrictive
(additive form)
• How to elicit preferences?
1) Behavior; 2) Stated preferences; 3) Life satisfaction
PREFERENCES
Hard questions about:
 Low longevity (is it better to die as an infant than as a
child?)
 Severe pain: incommensurably worse?
 Unusual trade-offs: not too complex, but too simple
Would you prefer to live longer but poorer (by how much)?
Would you prefer a lower health but more income?
What about preference heterogeneity?
 Equivalence approach (Health Economics 2013 –joint with
S. Luchini, C. Muller, E. Schokkaert)
SWF
Some priority to the worse-off
 Degree of priority hard to specify
 Sometimes the Rawlsian absolute priority is ok
(taxation)
 For health policy this is dubious
Change in population? Probably a good start to study a
cohort
 Ignores new lives created (not clear what the impact on
total human population is)
RELATION TO CEA
• CEA:
• Unidimensional measure of longevity-health gains
• Can be weighted (O. Norheim: longevity-health weights)
• Fixed cut-off or fixed budget
• SWF (CBA):
• More democratic measure of benefits
• More end-state measure of benefits
• Weighted by social priority (poor)
• Includes non-health benefits (may be essential to convince)
• Trade-off between longevity-health benefits and other
"consumptions"
Conclusion:
What are the difficulties?
1. Eliciting preferences on
longevity-health-consumption
2. Predicting the impact of expanded health care on
population longevity-health-consumption (with
feedback effects on growth)
Can one do without the SWF?
 A. Wagstaff:
 Provide the health care people need
 At a cost they can afford
 Focus on most urgent priorities (build-up process)
 CEA can help but why not go beyond?