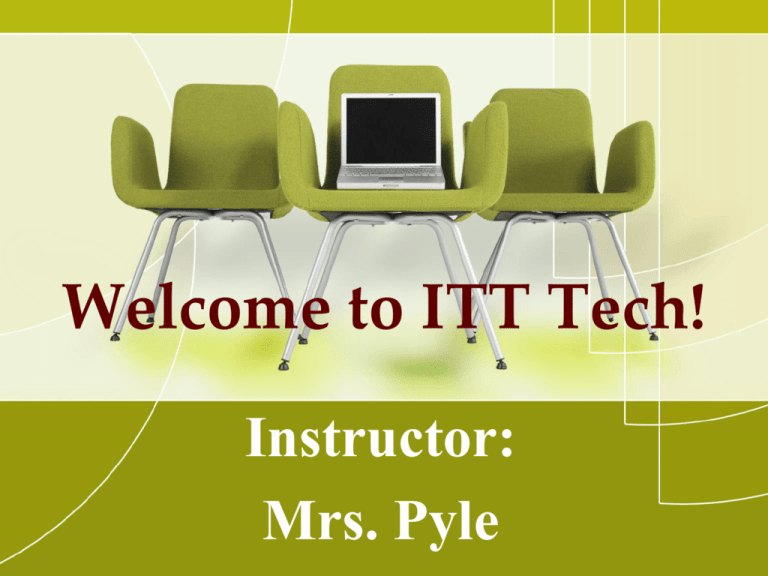 Welcome to ITT Tech!
Instructor:
Mrs. Pyle
Meet Mrs. Pyle!
• You're in good hands
– Grew up in Brownwood, TX
– Howard Payne University
– Baylor University
– 60 hours of Math credits!
– Working on Master's in Educational
Leadership at HPU
Work History
• La Vega ISD
• Eagle Academy of Waco
– Know as Premier High School
• Waco ISD
– Bill Logue Juvenile Justice Center
• Writer!
– www.LessonPlanet.com
• Personal Tutor
– Upgrade Waco
– Therapy Group
MRS. PYLE'S
FAVORITE THINGS
Romeo
JayCee
Video Games!
HOW TO BE SUCCESSFUL AT
ITT TECH!
How to be successful at ITT Tech
• Come to Class On Time!
• Turn in Assignments, Papers, and Projects
On Time!
• Your Group NEEDS YOU!
– Stay in contact with Group members
– Use cell phones, texts, or your ITT
Email Account
Classroom Etiquette
• Arrive on-time
– If unable to do so, then don't be loud or disruptive
coming in
• Dismissal
– You are expected to stay the full time
– Leaving early is disruptive
– Your Group Needs You
• If you must leave early,
– Tell the Instructor, so we can get your homework
– Tell your Group! Make arrangements with them!
Absences
•
•
•
•
Notify the Instructor through their preference
Email: Jpyle@itt-tech.edu
Check Easy Campus
Grade Report
– Returned Work
– Homework
– Notes
Absences
– 3 Absences in a Row = Dropped from the Class
– Example 1
• Come Week 1, 2, 3, 4, 5, Miss 6, 7, Come 8, 9,
Miss 10, 11, Come for the Final
• If you've missed 4 classes, you have missed 33%
of the class!
• Will you be prepared?
– Example 2
• Come Week 1, 2, 5, 8, 9, and 12
• Miss Week 3,4 6, 7, 10, 11
• That's 6 classes for 50%!
Absences
• Please note:
– Many of your classes will do the work during
the class
– The best way to get your work done, is to
come to class
– Make coming to class a priority
Classroom Etiquette
• Talking in Class
– Whisper when talking to another student
– If you finish early, take a break, help other students
• Cell Phones
– Put them on vibrate during the class
– DO NOT answer the phone in class
– DO NOT have a conversation in the middle of the
classroom
– Take the call outside
Classroom Etiquette
• Courtesy
– Be responsible and courteous to other students
during discussions
– Give others the same respect that you expect
them to give you
– Stay on Topic during Discussions
– Do not use offensive language
• Your are training to be professionals
Classroom Etiquette
• Recordings
– It is against ITT Policy to make audio or video recordings
of your instructor
• Food and Drink
– No Food or Drinks in the Classrooms or Labs
– Food and Drink can be taken to the Student Commons
Area
• Smoking
– DO NOT smoke by the Picnic Tables or near the doors
– DO smoke by the Smoke Shack
Assignments
• Staple any work or printouts to the
Assignment page
• Graded Assignments – Are returned
graded by the next week
• Exception – Written papers are
proofread by the LRC staff, it may
take 2 weeks before it is returned
Corrections (For Math Classes)
• Do corrections on a separate sheet
• Staple to the original Assignment
• Half-Credit back
QUESTIONS?