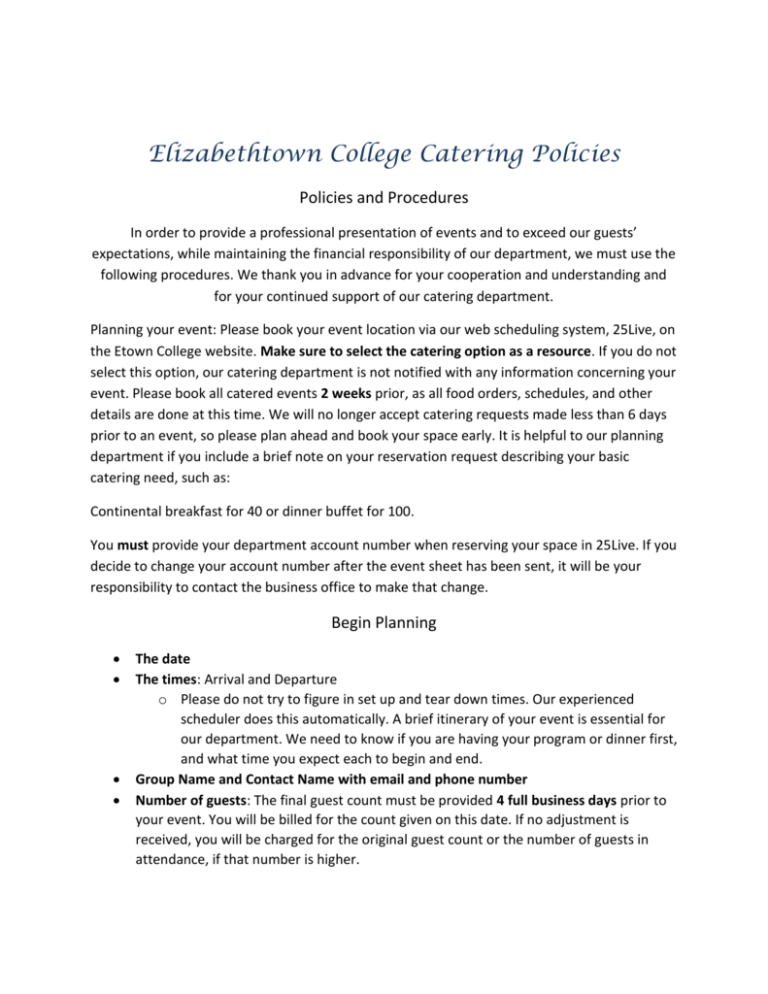 Elizabethtown College Catering Policies
Policies and Procedures
In order to provide a professional presentation of events and to exceed our guests'
expectations, while maintaining the financial responsibility of our department, we must use the
following procedures. We thank you in advance for your cooperation and understanding and
for your continued support of our catering department.
Planning your event: Please book your event location via our web scheduling system, 25Live, on
the Etown College website. Make sure to select the catering option as a resource. If you do not
select this option, our catering department is not notified with any information concerning your
event. Please book all catered events 2 weeks prior, as all food orders, schedules, and other
details are done at this time. We will no longer accept catering requests made less than 6 days
prior to an event, so please plan ahead and book your space early. It is helpful to our planning
department if you include a brief note on your reservation request describing your basic
catering need, such as:
Continental breakfast for 40 or dinner buffet for 100.
You must provide your department account number when reserving your space in 25Live. If you
decide to change your account number after the event sheet has been sent, it will be your
responsibility to contact the business office to make that change.
Begin Planning




The date
The times: Arrival and Departure
o Please do not try to figure in set up and tear down times. Our experienced
scheduler does this automatically. A brief itinerary of your event is essential for
our department. We need to know if you are having your program or dinner first,
and what time you expect each to begin and end.
Group Name and Contact Name with email and phone number
Number of guests: The final guest count must be provided 4 full business days prior to
your event. You will be billed for the count given on this date. If no adjustment is
received, you will be charged for the original guest count or the number of guests in
attendance, if that number is higher.




Guest Minimum: Please note for parties less than 20, there will be an additional service
charge. Minimum service charge will be $20. Charges will vary based on required
staffing and length of event.
Location: Please be sure to book the appropriate location for your event. Feel free to
contact the catering manager prior to booking your event for suggestions.
Meal Type: Buffet, Served meal, or break
o Served meals in some locations are more labor intensive and there may be an
additional charge, depending on the details of the event. Examples are events
that take place in Leffler Chapel, the Young Center, Alumni House, and Hoover
110. Buffets are strongly suggested for these areas
Budget: The amount you have in your budget, per person, for each event.
Payment and Meal Exchanges


Account number must be provided when booking your event. You will receive a copy of
your statement prior via the business office from the event, and any count changes will
be reflected in the final billing at the end of the week in which your event took place. (If
you are planning an event for an off campus client or for your own personal event,
policies and pricing are much different. Please contact the catering manager directly to
plan any events that do not pertain to the college.)
If using meal exchanges, please select your menu from the meal exchange menu
options. If you choose from off that menu, the balance due will be billed to your
account.
o Please only 1 meal exchange per person. Value toward non-meal exchange
menus will be $6.
o Names and ID numbers must be emailed to the catering manager prior to your
event. You may only use meal exchanges for student meal events.
o Meal exchanges are for STUDENT GROUP USE ONLY. The purpose is to provide
groups that are student-based with an opportunity to use their meal plan to help
provide a meal for a special event, since unlike other departments on campus,
they typically do not have a budget for this purpose.
o Student groups, you may NOT collect meal exchanges from anyone and use them
to pay for your event. The person providing the meal exchange by giving their
name and ID must also be attending the event. Students please bring your ID to
these events.
o Meal exchanges CANNOT be exchanged for any cash value from the dining
services department for any reason, including fundraisers. (If you are planning a
benefit and wish to obtain support from Dining Services, a detailed letter must
be emailed to our director, Eric Turzai. He will review the information and
respond to you directly.)
o You may not use meal exchanges to purchase food items from any off campus
vendor
Details


Menu: Please review our latest menus available online at www.etown.edu/dineserv and
have your decisions or questions in mind.
o Keep in mind that when selecting split entrées for served dinners, you will be
limited to no more than 2 entrées. You will need to provide each guest with a
marked place card as to their previously selected entrée. This card should be
presented to the guest on arrival at the function and placed on the table so the
servers may read it.
o Prices are subject to change without notice. However, prices in effect at the time
your event sheet was prepared will be honored.
 Included with each event will be china or black plastic ware, depending
on the menu requirements.
 Linens are included in the price for each event to cover all tables for food
presentation, display tables, and dining tables.
 A charge of $5 per tablecloth may be added for addition linen to cover
conference tables, etc.
 Servers are included in the price of each event. The ratio per guest will be
at the catering manager's discretion. There may be additional labor fees
if our staff must remain past the 2 hour service time due to meetings, etc.
There are many times that people suggest we simply leave, however, we
are not permitted to leave catering items in a space until the next day, so
staff must stay until the event is over. For events that will exceed 4 hours,
please let the catering manager know in advance so we can plan
accordingly.
 All menus are priced per person.
 Any leftover food and beverage is property of the catering department
and will be picked up by the catering staff, unless other arrangements
have been made with the catering manager in advance. Please do not
remove items and take them home. Please do not remove any catering
supplies or equipment. If supplies, such as linen, napkins, trays, flatware,
plates, etc. removed, your department will be charged to cover the
replacement costs.
We are very concerned with the health and safety of our campus and have strict health
regulations that don't permit food to be out after certain time frames. Food may not be



left out for longer than 2 hours, regardless of the length of your event. So please keep
that in mind while planning your event.
Other needs to consider that we can assist you with:
o Tables for other items, such as pamphlets, registration, awards, etc.
o ITS needs, such as screens, smart card, flip charts, overhead, etc. Please contact
ITS as well as copy the catering manager. Some spaces have the screens and
projectors built in. For example, Susquehanna room has all of the above and the
catering manager will handle those details.
o Centerpieces or decorations. They are not included in our pricing, but we are
happy to order them for you at an additional cost. Any centerpieces that we do
have, you are welcome to use at no additional charge for our on campus events.
o Our standard linen colors are champagne or white. If you have another request,
you must let us know when booking the event. Typically we can accommodate,
but there will be an additional charge.
o Special set-up requirements. (Susquehanna, Hoover 110, M&M Mars are set
with round tables of 8, and it is campus policy that Hoover 110 remains
unchanged.)
Now that the event is planned, the catering manager will prepare an event sheet for you
and send it to you via email. Please send a return email acknowledging receipt of the
event sheet and note any changes or questions.
o Please take a few minutes to review the event sheet and make sure all the
details are correct to the specifications you requested. If they are not correct,
contact the catering manager immediately. (Ex: time, guest count, location, date,
special dietary requests, account number)
Upon arrival at your event, either the catering manager or other catering staff will be
there to assist you with all of your catering needs and to answer any questions or
address last minute concerns. If at this time, there are changes, we will do our best to
accommodate you, but sometimes there may be circumstances beyond our control.
Policies






Four business days prior to the event, we must have your final guest count. This count
will be used for preparation, as well as final billing.
It is essential that if you do NOT receive an event sheet at least one week prior to your
event, that you contact the catering manager to assure that there has not been an
oversight.
Elizabethtown College will not be liable for damage to, or loss of, personal property.
Cancellation policy: We must be notified at least one week prior to your scheduled
event. If the event is cancelled on a shorter notice, you may be billed for the event. The
catering manager will review and make a decision concerning billing.
o There are exceptions due to weather, etc.
All food and beverage must be supplied by the Elizabethtown College Catering
Department, due to our strict health regulations. For consideration of any exceptions,
you must contact the catering manager to discuss all details. Outside caterers are not
permitted at any time. Special exceptions, such as pizza delivery for an event, food truck
vendors for student events, will be considered if the food vendor can provide the
required health inspection certificate and food sales license.
Beer and wine may only be served at the Alumni House, Susquehanna/Swatara Rooms,
Writer's House, and the President's House. Each event will be handled on an individual
basis following the Elizabethtown College Alcohol Policy and must be previously
approved by the President of Elizabethtown College. Please send him an email prior to
your event to request his approval through Sheryl Cyphert at cyphersr@etown.edu.
Please refer to the alcohol policy prior to planning your event. Alcoholic beverages are
prohibited for student events.
Alcohol Policy for College Facilities
Elizabethtown College Sponsored Events
Elizabethtown College does not permit the service of alcoholic beverages in any college facility
except the President's House, Alumni House, Writer's House, and the Susquehanna/Swatara
Rooms in Myer Hall. In those facilities only, the Executive Committee of the Board of Trustees
has authorized such service under carefully regulated conditions administered under the direct
supervision of the President. The President is accountable for ensuring that alcohol use in these
facilities is appropriate, moderate, and respectful of all who do not choose to drink. To ensure
that those expectations are fulfilled, the following guidelines have been established to govern
the practice of serving alcohol at college-sponsored events.
1. All events must be scheduled by, or have the written approval of the President, which
will be based on a description of the purpose, character, and particulars of the event,
submitted at least two weeks prior to the event.
2. Events may be scheduled at the end of the work day, the evening, or on weekends.
Events involving alcohol will not ordinarily be scheduled at lunchtime or during the
regular work day.
3. Alcoholic beverages are permitted to be served as follows:
a. President's House- Beer, wine, champagne, spirits
b. Alumni House- Beer, wine, champagne
c. Writer's House- Beer, wine, champagne
d. Susquehanna/Swatara- Beer, wine, champagne
4. All events must offer alternative, non-alcoholic beverages for those who choose not to
use alcohol and must also serve food in quantities sufficient to ensure that alcohol use is
not the primary focus or function of the event.
5. All food and beverages will be provided by Dining Services. Event sponsors may not
provide their own or outside food and beverages, except in rare circumstances
authorized by the President and Dining Services. No cash bars will be allowed, and event
sponsors may not charge participants for alcoholic beverages or for participation in the
event.
6. Alcohol may be served for no more than two hours, except with special authorization of
the President in unusual circumstances. Only college employees who are RAMP certified
for the service of alcohol are permitted to serve alcoholic beverages.
7. No one under legal drinking age is permitted to be served or to consume alcoholic
beverages. Proper identification will be required. All events shall be designed for
participants of legal drinking age, and no underage persons shall be invited or allowed
to participate, except for those special occasions when it is appropriate to host a small
number of students to meet important guests of the college. These circumstances must
be reviewed by the President in advance as part of the approval process.
8. No student organizations are permitted to sponsor events at which alcohol is served,
and alcohol may not be served at events primarily for students, except in rare
circumstances, expressly authorized by the President, when all student participants are
of legal drinking age (Ex: President's graduation picnic for seniors, OT congratulatory
function for master's students).
9. Alcohol may only be consumed on the premises and may not be taken off-premises or
conveyed to others off-premises. Adjacent locations (Ex: front yards or the small back
terrace off Susquehanna) are considered off-premises. Allowed premises include:
a. President's House- Inside the house, side yard, and back yard
b. Alumni House- Inside the house, terrace, back yard, and back parking lot
c. Writer's House- Inside the house and back yard
d. Susquehanna/Swatara- Inside the building
10. Anyone who is visibly intoxicated, or who is behaving improperly, will not be served
alcoholic beverages and must leave the premises upon request of the staff.
11. Dining services is fully authorized to enforce these rules by all reasonable means,
including the use of campus security, if necessary. Any group, organization, or
participant that violates the rules will not be permitted to organize or participate in any
function involving alcohol for at least one year thereafter, and may be subject to college
disciplinary action.
Permit to Sell or Serve Food on Elizabethtown College Campus
1. I am requesting to Sell Food____________ Serve Food_____________
2. Organization_______________________
3. Responsible Person and phone number
_____________________________________________________________
4. Name of the event food will be sold or served at______________________
5. Location of proposed sale/serving__________________________________
6. Date and Time frame____________________________________________
7. Food and Beverages to be offered__________________________________
8. How will the foods be kept hot or cold? ____________________________
9. How will the foods and beverages be protected during transportation, display and
during serving time, from
contamination?________________________________________________
10. What are your plans for hand washing?_____________________________
11. Date Submitted to Catering Manager _______________________________
(Kathy Christopher, christophek@etown.edu)
Approved_______________________ Date__________________________
Temporary Food Service Policy
To insure the safety and well-being of the campus community and our guests the following is
required before permitting the sale or serving of any food or beverage items that have not been
prepared by Elizabethtown College Dining Services.
1. A completed "Permit to Sell or Serve" form must be sent to the catering manager for
approval no less than 2 weeks prior to the event date. Forms that have not been
entirely completed will not be approved.
2. All proper guidelines for safe transportation, storage and display must be followed.
Speak with the Catering Manager if you are unsure.
3. If the food and beverage is being provided by a commercial vendor, we must receive a
copy of that vendor's health inspection and food and beverage sales license and proof a
minimum of 1 million dollar liability insurance coverage.
4. It is necessary that all food products be prepared, held and handled in as safe and
sanitary manner. Temperature control and physical contamination are of the utmost
importance. Please follow the sanitation guidelines. All surfaces must be sanitized,
hands must be washed, gloves must be worn. Please speak with Catering Manager for
further details.
a. Provide refrigeration or adequate freezer packs or ice in coolers with proper drainage.
Cold potentially hazardous foods must be held at 41*F or below.
b. Provide proper method to hold potentially hazardous hot foods at 135*F or higher.
c. Catering department will not lend catering equipment to be used for food storage or
preparations.
d. If using charcoal grills at the Quads, make sure to follow the Fire Safety regulations
under the Safety Policy from Human Resources.
e. You are NOT permitted to bring your own grills to cook from on campus.
f. Avoid handling food items with bare hands, use gloves when necessary and proper hand
washing methods. You must have sanitizer, if running water is not available.
g. Prepare all foods as close to the actual time needed as possible.
h. Make sure to have proper sanitized serving utensils.
i.
All food and beverage items must be stored no less than 6 inches from the ground.
j.
Make sure to keep all food preparation and serving surfaces clean and sanitized.
k. Do not leave any waste at event site. Do not dump ice, hot water or food and beverage
waste on the ground. Dispose of all trash properly.
l.
Failure to follow any of the guidelines will prevent the approval of any future "permits
to sell or serve food".
Liability Waiver
Permission for Exception of First Right of Refusal of Food Service
Date of Event______________
Department Name or Student Club___________________
Reason for Request________________________
Contact Name, Phone number and email
______________________________________________________________________________
______________________________________________________________________________
As of (date)_________________, (contact and department or club name)_________________,
has been informed of Elizabethtown College Dining Services Policies. As a Representative of
Elizabethtown College Dining Services I hereby release Elizabethtown College Dining Services
of any claims which occur from the preparation and consumption of any food not prepared in
Elizabethtown College's approved kitchens. These liabilities will include but are not limited
to any health hazards resulting from improper or inappropriate handling, storage and display
of any food items.
Representative of Department or Student Group___________________________________
Representative of Elizabethtown College Dining Services ____________________________
Event has been:
AApproved
P
e
r
k
y
P
Not Approved
y
P
i
c
k
u
p
i
Special Dietary
Accommodations
for Catered
O
Events c
p
k
Elizabethtown College Catering is committed to meeting the needs
t of guests who have special
u
dietary restrictions (such as a food allergy or intolerance) and recognizes that many of our guests
may also adhere to a vegetarian, vegan or other health care diet.i
p
Elizabethtown College Catering Services coordinators are ableoto safely and reasonably guide the
organizer of your event; making menu selections which can accommodate their guests. In most
O
p
t
n
(
A
instances, food allergies and intolerances can be self-managed at events, however, it should be
noted that:







Elizabethtown College Catering will assume no liability for any adverse reactions that
may occur in our dining facilities.
Our menu items may contain allergens, may have come in contact with items containing
allergens, and there is always a risk of cross contamination in food handling.
There is a potential that food manufacturers may change their formulation or manner of
processing without our knowledge.
With advance notice, we can generally accommodate guests who must avoid the most
common food allergens, as well as gluten.
Our staff may not be able to accommodate individual dietary preferences the day of the
event.
We do not label all allergens at catered functions.
We are unable to accommodate for therapeutic diets (e.g. diabetic diet, cardiac diet, renal
diet, etc.).