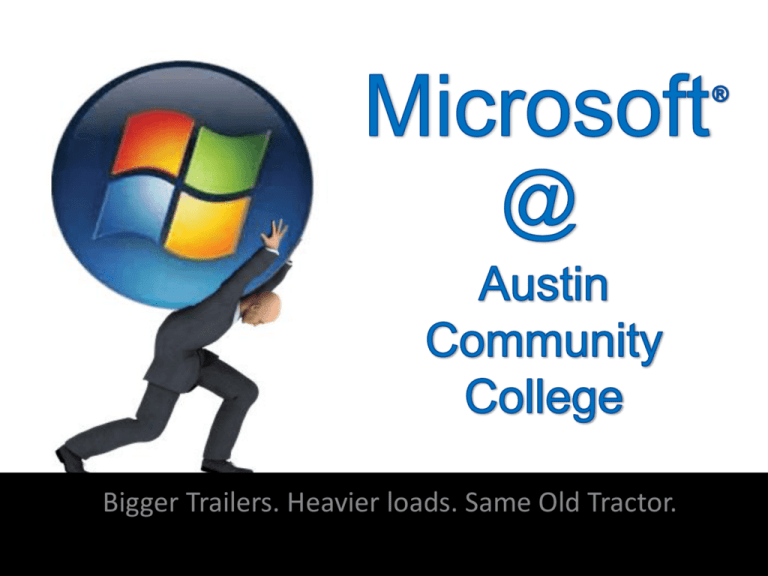 Bigger Trailers. Heavier loads. Same Old Tractor.
Once upon a time
At a campus not too
far away
There was a Mac
Surrounded by HUNDREDS of
PC's!
Happily running Microsoft
Operating Systems
Like DOS 6.2 or Windows 3.1
Then, along came
ACCNet
And Richard Fonté said it was good.
When ACCNet went live…
ACC ordered lots of DELLS
Running Windows 95
®
Next came a server
Dude, it's a DELL!
What OS does it run?
Microsof NT 4
And who gets hired to admin it?
<drumroll>
A command line challenged, GUI-Dependent tech that used to
teach art and woodworking for 13 years.
Computers
And Servers
Linux - 3%
AIX - 2%
Mac - 12%
Windows - 81%
Novell - 2%
"We are a Microsoft Shop."
- Bill Carter
And yet…
Can you spot the Microsoft System Admins?
A brief history of Microsoft in the Information Technology Deptartment
Lou Herman
leaves
Austin Community College
and is survived by
Bill Carter
as AVP for
Information Technology
2000
2007
ACC File Server
NT 4.0 Server
Inherited the Infonet
domain
Acquisition of Dell Servers
to host the following
Apprentice mentor for CIS
student learning Exchange
Server 2000
Compass/ESL Domain
Deployment. Batch scores
to Datatel.
Business Dept. request for
file storage.
Start of HBC Domain
Server 2000 AD DC
Deployed Symantec Corp.
7.5 Antivirus
HBCFILESRV
ACCADC/ACCBDC – ADDC
ACCITFS01 – File Server
IT-IMAGE – Image Storage
ITSRVS01 – Symantec
ITSRVS02 – MS Update
ITMS-WWW – WWW3
iCal - Calendar
IT34357 – Remedy
Honeywell1
Honeywell2
PowerWeb – Fortis
Records – Fortis
ITMSSQL1 – SQL Server
Test2008 - 2008
Compass/ESL Domain
design
Adult Basic Education
request for application
server.
Hired by ACCNet to
administer servers
Update and take over
administration for
Mathmatica
Install and deploy
Access-A-File (Yech)
09/2000: Server
support
transferred to Rick
Saylor under
Systems.
Move to SVC
10/2001
Creation of new Active
Directory primary and
backup domain controllers:
ACC.Austincc.Edu
Move Remedy to new
server
Deployment of Windows
Update Server: ITSRVS02
IT-Image goes online for the
creating and deploying of
unified images over a
network, Ghost being
primary tool. Upload service
for workstations
investigations.
Bill Carter Exits
Gary Weseman takes
interim position
Microsoft Support Services.
2007
2010
System moves to IP KVM
switches. Rewired server
room racks.
Compass goes Internet.
Compass Domain is
decommissioned.
HBC Domain Users are
migrated to ACC domain
Deployed ACCITFS01 for
college-wide file storage
using ACC SAN and Fiber
Channel technology. Begin
migration of data off HBC
file server to ACCITFS01
First VMWare
servers deployed
Testing and implementation
of MicroMain, iCal and
QuickAddress Pro.
Prepped, racked and
installed Server 2003 on 2
systems for Honeywell
controls.
Domain usage grows to
include public access in
some cases. Adoption of
Desktop lockdown GPO's
were developed to deter
users from non-approved
computer usage.
HBC Domain taken offline.
OIE Rolls out 3 SAS Servers:
SAS Metadata, SAS Web
SAS SQL
VMs become popular:
Entrinsik, Resource 25
Datatel UI, Sage Fundraising
ClassClimate, Student Zen
Hardware to VM:
QAS, ITMSSQL1, iCal,
Shadow, Snap Survey,
ACCITFS01, IT-IMAGE
All Active Directory Domain
servers upgraded to
Windows 2008R2.
Stan Gunn New
AVP of IT hired
08/2008
Services take over Admin of
Continuing Ed. Domain
Round Rock Campus goes
online. All PCs to have
Windows 7 Installed and
joined to the ACC domain.
Windows Deployment
Service implemented on ITIMAGE. PXE network boot
ported to all campuses.
Microsoft Distributed File
Service adopted as primary
source for all network data
storage sharing allowing for
optimal High Availability
Bob Carnaghi Hired
to replace
Andrew Dickerman
Services Dept.
fully populated
Microsoft Support Services.
What do we currently have in place here at ACC?
Internet!
Primary Domain Controller
Backup Domain Controller
Management and Security Policies
Distributed File System
(DFS)
SQL Server
File Storage and Management
Clients
Application Servers
Hard or Virtual
Exchange Server
Image Deployment Service
Windows Update Server
Internet Informational
Server
Key Management Service
Microsoft Support Services.
• SQL support
• Image Retention
• Exchange support
• User management
• Image management
• Desktop deployment
• Remote data servicing
• Print server management
• Quotas and file restrictions
• Storage space management
• Windows patch management
• High Availability maintenance
• Backup and Restoration service
• Distributed File Service support
• Maintenance of Active Directory
• Application platform management
• Security management (Virus protection)
• Securing Active Directory through domain policies
And as administrators for a
Microsoft Shop some of
the things we do are:
Microsoft Support Services.
Not to mention environment and application support
for a few Microsoft Windows based server apps.
Support Services.
MicrosoftMicrosoft
Support Services.
And Yes
We even do a little
Microsoft Support Services.
Some projects Bob and I are working on top of day to day duties
•
•
•
•
•
•
•
•
Moving all current domain users and departments to Distributed File Service
Upgrading the Windows servers to 2008R2 where possible.
Reconfiguring the primary file server ACCITFS01 to make space more available.
Continued migration of the Continuing Education department to the ACC domain.
Fine tuning Windows Deployment to better meet the needs of end users
Server upgrades for Facilities and Dispatch.
Ongoing patch management to servers
Research on new desktop security software (We will not continue with Symantec
next year).
• Research into the deployment of O.S. Streaming for virtual desktop use
Microsoft Support Services.
And we actually have a
roadmap for the
FUTURE GROWTH
of the
ACC COLLEGE-WIDE
Windows user base support!
Which is…
Microsoft Support Services.
Server Group
DC - ADC
DC - BDC
DC - DDC
DC - EDC
DC - RRC
Operation
Projects, directions and plans for the future
Active
Directory
D.C. at
each
campus
•
•
•
Securing the servers.
Structure for domain group policies.
Integration of future child domains
Resource
Management
Campus
Servers
•
•
•
Replicated SAN at HBC and SVC = High Availability
Quota and File Filtering
Projection for future data space needs
Desktop
Deployment
OS Streaming
•
•
Thin-client for Lab, Kiosk and Dept. Useage
Mac OS Support
Desktop
Security
Update
Mirrors
•
•
•
Dell Patch Management for Server/Workstation
Event Log-file Resource for all servers.
Reporting trends.
ACCITFSRRC
ACCITFS02
ACCITFS01
Fiber Channel
SAN
ACC DFS
IT-Image - WDS
ITSVCS01 - SEP
ITSVCS02 - WUS
ITSVCS03 - ESET
ACCITKEY
Asset, Security
Patch Management
ACC IT APPS
HW
VM
Platform and
Application Support
????????????
Microsoft Support Services.
Under "Normal" circumstances, responsibilities
would be farmed out to appropriately trained
administrators. This would allow for focus and
attention to details to what ever responsibility
they are assigned to… such as…
Microsoft Support Services.
Active Directory Administration
• Creation and management of directory
infrastructure
• Monitor and reporting associated with the
reliability and security of the domain
• Domain Controller Management
• Policy monitoring and compliance
• Communication and coordination
• Secure remote administration of the DCs
and member servers managed by the
Infrastructure Group
• Manage group policy at root of domain and
for Domain Controllers OU
• Creation, testing, and management of GPOs
intended to be used by multiple OU Admins
• Manage the Users and Computers
Containers
• Install and manage security reporting tools
used to monitor changes to the Active
Directory
• Delegate monitored data and elevated
privileges to others as needed
• Create and maintain the test domain as a
reasonable approximation of the production
domain
• Coordinate and configure alarm distribution
to OU Admins for OU-related events
• Plan and manage all migrations and
upgrades related to the AD or the DCs
• Verify new software deployments and GPO
policies work by testing them in the Primus
test domain as appropriate
• Ensure overall security and integrity of their
managed OU hierarchy
• Account management
• The OU administrator will designate which
administrators have "account operator"
access to the Windows user accounts for
users in their department.
• Group Policy Object (GPO) administration,
troubleshooting, and management
• Publishing resource objects from their OU
hierarchy in the Active Directory as
applicable
• Manage Group Policy Object (GPO) links in
OU hierarchy
• Coordinate activities of Member Server
owners
• Policy Compliance
• Contact information.
• Verify new software deployments and GPO
policies work by testing them in the Primus
test domain as appropriate.
• Communication and coordination
• Host and maintain server (i.e., IIS,
business specific service, etc.)
• Patching/software upgrades
• Volume/partition space management
• Hardware migration Software licenses
for all member server(s) added to their
OU hierarchy
• hardware maintenance for all nonInfrastructure-managed member servers
• Operating system maintenance for all
non-Infrastructure-managed member
servers
• Maintain level of member server system
security by applying Service Packs and
security patches
• Department application, file service,
workstation and printer support
• Create printer objects and access
control lists.
• Backup/recovery
• Full disaster recovery plan and practice
Microsoft Support Services.
Desktop
Management
•
•
•
•
•
•
•
•
•
•
•
•
•
•
Planning deployment strategies.
Manage Windows Deployment Servers
Secure access through Active Directory
Test and maintain boot images.
Failover and Disaster recovery policies
Testing for Windows compatibility for all
supported ACC applications.
Packaging and distribution of application
packages as options during a bare metal
Windows installation.
Incorporating new drivers as new hardware
becomes common.
Updating images as major Windows and
program security patches are released.
New distributable images
Troubleshooting deployment problems.
Resource monitoring, maintenance and
upgrades strategies for servers.
Communication with workstation support
for warrantee and model end of life.
Training of personnel in the use of product.
Resource
Management
• Take request for new domain share request
• Maintaining high availability of file
• Research cross platform remedies for access
of shared resources.
• Creation of Distributed File service nodes
and management of file sharing.
• Quota management based on limits
determined by the Technology and IT
departments.
• File filtering for acceptable use
• Monitoring and maintaining log files of
resources.
• Replication of files
• Backup strategies and management.
• Restoration of files upon requests
• Archiving of department folders upon
request.
• Proactive malware/spyware/virus threat
protection
• System hardware monitoring and planning
for system hardware replacement and
migration.
• Printer management and services
Asset, Security and
Patch Management
• Deployment and management of multiple
Microsoft Key Management servers.
• Monitoring current licensing of Microsoft
Volume License product
• Dell asset compliance with Microsoft
licensing.
• Research and deploy Endpoint protection
using management console provided by
Antivirus security software.
• Virus remediation through console
management.
• High availability and disaster recovery of
servers.
• Asset management of servers and patch
management to firmware
• Maintaining and monitoring Windows
Update services.
• Notification of major updates so new image
deployment can be tested.
• Checking security updates to understand
what they do and Filtering updates as
needed for both desktop and server
platforms.
Microsoft Support Services.
Microsoft Support Services.
There is no question here.
To properly maintain a Microsoft
environment on both server,
network and workstation level
efficiently, a support backbone
must be in place
Microsoft Support Services.
Truth is I could use
at least three more
BOBs!!!
But seeing that cloning is illegal,
We could most certainly settle for
A few more positions, like…
Microsoft Support Services.
Job Title: Microsoft Domain Administrator
Job Title: Microsoft Resource Administrator
Job Title: Microsoft Server and Desktop Deployment Administrator (Me! Me! Me!)
Job Title: Microsoft Asset, Patch and Security Administrator
Job Title: Microsoft Platform & Application Administrator
Microsoft Support Services.
Because if we don't,
many things will be
overlooked
and Windows
will look like:
Microsoft Support Services.
Microsoft Support Services.
Full of holes
Microsoft Support Services.
Microsoft Support Services.