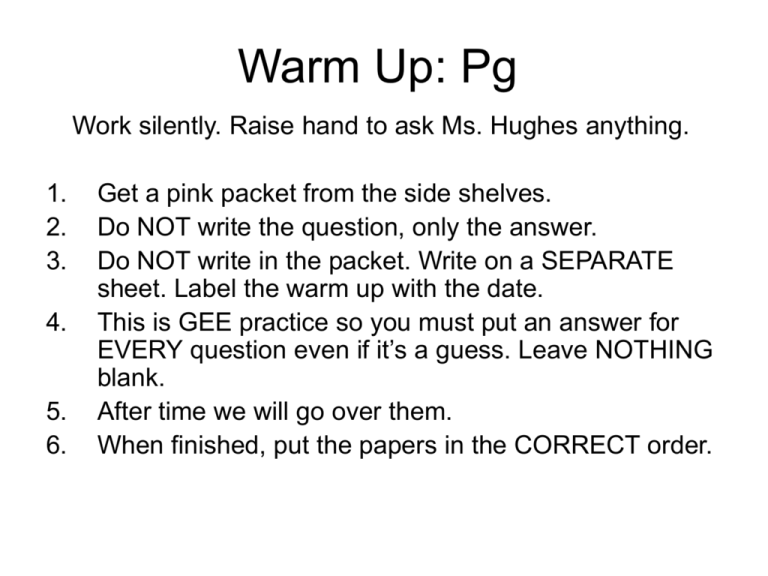 Warm Up: Pg
Work silently. Raise hand to ask Ms. Hughes anything.
1.
2.
3.
4.
5.
6.
Get a pink packet from the side shelves.
Do NOT write the question, only the answer.
Do NOT write in the packet. Write on a SEPARATE
sheet. Label the warm up with the date.
This is GEE practice so you must put an answer for
EVERY question even if it's a guess. Leave NOTHING
blank.
After time we will go over them.
When finished, put the papers in the CORRECT order.
Announcements
• Unit 6 test this Friday (3/12)
• If you have not taken 5 chemistry tests yet this
semester, see me after to arrange a make up
• Retake GLEs for GRADE BOOST
THIRD QUARTER END THIS FRIDAY!!!
Mystery Element
• Named for the sons of the Earth
goddess in Greek mythology
• Very strong and very light
• Used in surgical pins and artificial hips
• 10,000lbs of it are used to make a
Boeing 747
Take 1
1st: Grandmasters
•
•
•
•
•
Over 90%
Tracy Cao
Over 80%
Markeva Clark
Myrran Riley
2nd: Grandmasters
• Over 80%
• Cherri Rhea
4th: Grandmasters
• High Scorer
• Chris Wilkerson
Chemistry Résumé
•What's a résumé?
- To track your success in Unit 1
- It will show you how well you did
on each GLE
•What's a GLE?
The BIG GOAL:
80% Mastery
of ALL GLEs
Why 80% Mastery?
•
•
•
•
•
Graduate high school
Pass the GEE Science Exam
Graduate college
Solve your own problems
$$$
If I didn't get mastery, is that it?
No!
1.
2.
3.
4.
Get 20 min tutoring
Retake the GLEs you didn't master
Raise your grade
Increase future opportunities!
What to do???
• For those who took the Unit 5 test, PICK
UP YOUR TRACKING SHEET FROM
THE FRONT!!!
• Get calculators from the bin. Return them
when finished
• Complete ALL parts of tracking sheet
• Raise hand to ask questions
• Those without a test to track, raise hand
so Ms Hughes can conference with you
Benchmark #2
• Use a #2 pencil
• Bubble in your name and write your FULL
name
• Write the short answer on a SEPARATE
SHEET OF PAPER with your name on it
• Leave NOTHING blank
• You will get a 100% on a QUIZ GRADE if
you follow these directions
Done with Unit 5…
Unit 6:
Solutions!
Test this Friday
What happens if you have a good
recipe but use rotten ingredients?
We practiced making conclusions
based on graphs and data tables
• The data in those graphs and tables is our
evidence, our experimental results
• We base conclusions on that evidence…
…but what if we have bad
evidence?
• Evidence is VERY important
• BUT evidence must be good to be useful
• What do we mean by good?
5 Rules of evidence
1.
2.
3.
4.
5.
Reviewed?
Error?
Accepted?
Controlled?
Tested?
Do NOT just accept evidence,
instead REACT
Reviewed?
• Should be peer reviewed or published
• Peer reviewed- read and critiqued by other
scientists
• Published- in a scientific journal
Error?
• Should have a small known or small
potential rate of error
Accepted?
• Should be generally accepted by the
scientific community
Controlled?
• Should change only one independent
variable at a time
• Experiment includes:
– Independent variable
– Dependent variable
– Constant
– Control group
– Multiple trials
Tested?
• Should have been tested or be testable
– Specific and concrete
Example: Millikan's oil drop
experiment
1.
2.
3.
4.
5.
Reviewed?
Error?
Accepted?
Controlled?
Tested?
On your own…
• Review Redi's experiment with flies
• On a separate sheet of paper apply the 5
rules of evidence
• Given your evaluation using the five rules,
is this good evidence?
• Challenge: how could this evidence be
improved?
Done Early?
• Start on homework
• Conferences
• Make up work
– intermolecular forces worksheet and foldable
• Work quietly, be respectful
Sum up
• What did we learn today?
• HW:
– Come up with your own creative way to
remember the 5 Rules of Evidence
• Top Ten:
– How'd we do?