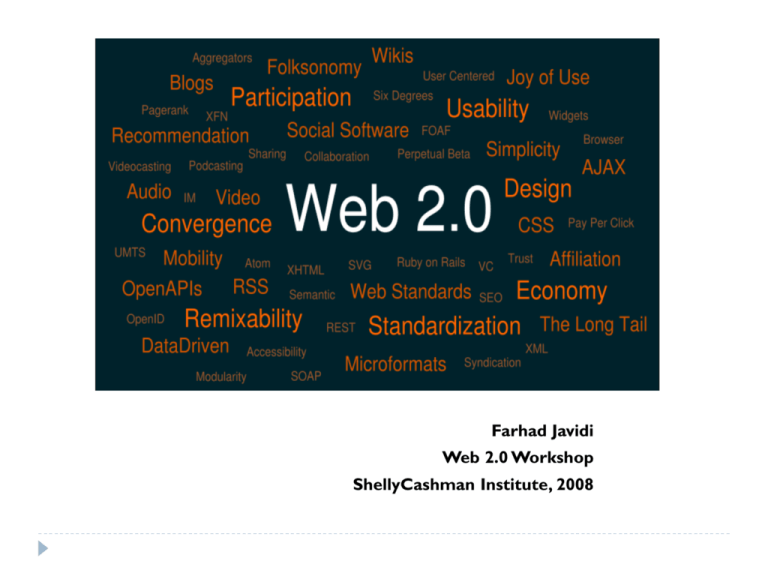 Farhad Javidi
Web 2.0 Workshop
ShellyCashman Institute, 2008
Farhad Javidi
Chair, Simulation & Game Development program
Chair, Simulation, Modeling and Visualization Center
Chair, eLearning Course Quality Committee
Central Piedmont Community College
Charlotte, North Carolina
[email protected]
704-330-6398
1975
2008
Less than 5,000 hours reading
Over 10,000 hours playing video games
20,000 hours watching TV
Computer games, email, the Internet,
cell phones and instant messaging are
integral parts of their lives
They expect things to work properly
and work fast.
They get bored if not challenged properly,
but when challenged, they excel in creative
and innovative ways.
They learn by doing, not by reading the
instruction manual or listening to lectures.
We can use technology to...
• provide students with more opportunities to
practice the language;
• allow studentss the freedom and
independence they miss in the traditional
classroom;
• learn more about students' interests and
learning styles;
Karen Stephenson states:
"Experience has long been considered the best
teacher of knowledge. Since we cannot
experience everything, other people's
experiences, and hence other people become
the surrogate for knowledge. 'I store my
knowledge in my friends' is an axiom for
collecting knowledge through collecting
people."
Chaos is a new reality for knowledge workers.
The Internet contains a trillion links on 100 billion Web pages
There are over 1 billion people connected to the Web
7 million pages being created daily
There were only a handful of people blogging in 1999
There are over 50 million blogs today
and 50 new ones created every minute
Will Richardson from weblogg-ed.com
Lin
k
They were PERSON OF A YEAR
2006
PERSON
of the
YEAR
Blogs
Collective Intelligence
Peer-to-Peer Networking
RSS Podcasts
Mash-ups
Wikis
Web Services
Social Networking
Ajax
Flash
Silverlight
What is Web 2.0?
According to Tim O'Reilly:
"Web 2.0 is the business revolution in the computer industry
caused by the move to the Internet as platform, and an attempt
to understand the rules for success on that new platform."
According to John Chambers, CEO, Cisco Systems:
Next wave of corporate productivity gains should be paced by
Web 2.0 driven collaboration tools that use the network as the
platform to enable users to connect 'any device to any content
over any combination of networks'
Web 2.0
Internet is the platform
Content available on any device
Users add data
Delivery Devices
Key Technologies of Web 2.0
RIA – Rich Internet Application
Buzzwords: Ajax Flash/Flex Silverlight
How to bring the experience from the desktop to the browser
from both graphical and user interface views
SOA – Service Oriented Architecture
Buzzwords: Feeds RSS Web Services Mash-ups
To leverage the functionality among applications
Social Web – End-user is Participant
Buzzwords: Wiki Blog Podcast Social Networking
End-user is integral part of the data of the application
Web 2.0 Jobs
According to Connecticut-based labor demand research
company Skillproof, the number of job openings for IT
professionals in the United States increased by 45.2%
from 2004 to end of year 2007, with open-standards and
Web 2.0 development skills topping the list of job
openings. Even as the number of IT jobs has declined
from mid-2007 through early 2008, open-computing
skills remain proportionately hot.
Web 2.0 at CPCC
Plone  CMS, DMSEL (DELTA / UHAL)
Pylon  Syllabi System
YouTube
GoogleVideo
Gmail
Google Sites
iGoogle
Google Maps
Google search Appliances
BlackBoard
Moodle
SecondLife
WikiMedia
Skype
Gcast
Blogger
And more …
Statistics…
Web 2.0 for Sale
Google buys YouTube for $1.65 billion
Disney acquires Club Penguin for $700 million
Yahoo buys Flickr for $1 billion
Microsoft offers to buy Yahoo! for $44 billion
Microsoft, Yahoo and Google offer to buy portion of
Facebook for $10 billion
Total Registered Users - 2007
America's Army game: over 20 million
Second Life: over 10 million
Habbo Hotel: over 9 million
Club Penguin: over 12 million
MySpace: Over 225 Million
Facebook: over 65 million
Xbox Live: over 7 million
WOW worldwide: over 10 million paid users
WOW only in China: over 4 million paid users
Worldwide Blog Growth (source: Technorati)
January 2004 – less than 2 million blogs
July 2004 – 3.5 million
January 2005 – 6 million
July 2005 – 12 million
January 2006 – 24 million
July 2006 – 50 million
October 2006 – 57 million
2008 Projection – over 150 million
United States Online Video Viewers
(sources: eMarketer; US Census Bureau via Business 2.0)
2003 – 52 million
(32% of U.S. Internet users; 19% of population)
2004 – 69 million
(41% of U.S. Internet users; 25% of population)
2005 – 89 million
(51% of U.S. Internet users; 32% of population)
2006 – 107 million
(60% of U.S. Internet users; 38% of population)
2007 projection – 123 million
(67% of U.S. Internet users; 43% of population)
2008 projection – 137 million
(73% of U.S. Internet users; 47% of population)
November 2007 Stats (Comscore.com)
More than 75 percent of U.S. Internet users watched a video
online
Averaging 3.25 hours of video per person during the month
138 million Americans viewed nearly 9.5 billion online videos
2.9 billion of which occurred at YouTube.com
76.2 million unique viewers
Facebook/MySpace Growth
(sources: MySpace, Blog Herald, Business Week)
Facebook
More than 100 million active users
An average of 250,000 new registrations per day since Jan. 2007
An average of 3% weekly growth since Jan. 2007
Active users doubling every 6 months
MySpace
More than 225 million monthly active users
85% of MySpace users are of voting age (18 or older)
1 in 4 Americans is on MySpace
In the UK it's as common to have a MySpace as to own a dog
On average 300,000 new people sign up to MySpace every day
50 Million mails per day (more than Yahoo, Hotmail, or Google)
How Much Annually?
WOW: $1.6 billion
Habbo Hotel: $15 million
Compare with:
Total US TV Business: $20 billion
Xbox 360 Sales: $10.4 million
Wii Sales: $10.4 million
November 2007 Stats (Comscore.com)
More than 75 percent of U.S. Internet users watched a video
online
Averaging 3.25 hours of video per person during the month
138 million Americans viewed nearly 9.5 billion online videos
2.9 billion of which occurred at YouTube.com
76.2 million unique viewers
More Stats …
Number of blogs now exceeds 100 million worldwide
doubling every 7 months
Wikipedia has more than 17 million registered users
Skype has over 136 million registered users
American Idol – 63 million votes (mobiles/Internet)
in final 4-hour round
Wikipedia - 211 million unique visitors, 8.3 million + total
articles (9/07), mainly from 75K+ active contributors, in 250+
languages with 2 million +articles in English, 649K+ in German,
149K+ articles in Chinese
Slide - 134 million unique viewers (6/07) with 30% reach in US
(6/07) 45 million + applications and 5 million + active users
Digg – 10 million unique visitors
MMOG: Massively Multiplayer Online Game
Players Chart (mmogchart.com)
WOW Active Subscriptions (mmogchart.com)
Non-US Markets Lead Usage
Penetration in Many Categories
Personalization + Targeting
Web site Ranks
2005
2007
yahoo.com
msn.com
google.com
ebay.com
amazon.com
microsoft.com
myspace.com
google.co.uk
aol.com
go.com
yahoo.com
google.com
msn.com
youtube.com
live.com
myspace.com
facebook.com
orkut.com
wikipedia.org
hi5.com
IBM Opens 'Virtual Healthcare Island' In Second Life
In the interactive experience, avatars create their
personal health records and watch it incorporate into
electronic medical record systems accessible at various
medical facilities. Users can then navigate among the
different island stations to see how their electronic health
records are used in a network that can only be accessed
by authorized health systems and family members.
Real-World Dollhouse Works With Virtual
Replica
Swiss building management company
Implenia has been running some
interesting experiments connecting the
virtual and the real involving a
Playmobil doll house, reports the
Guardian. The toy house is equipped
with various digital sensors that
correspond to a virtual replica in Second
Life, and the virtual version reflects
changes made to the real house -- such
as turning the thermostat up, or leaving a
door open.
Web 3.0
Web 3.0
Web 3.0 is a term used to describe the future of the World
Wide Web. Following the introduction of the phrase "Web 2.0"
as a description of the recent evolution of the Web, many
technologists, journalists, and industry leaders have used the
term "Web 3.0" to hypothesize about a future wave of Internet
innovation.
Web 3.0
" People keep asking what Web 3.0 is. I think maybe when
you've got an overlay of scalable vector graphics - everything
rippling and folding and looking misty - on Web 2.0 and
access to a semantic Web integrated across a huge space of
data, you'll have access to an unbelievable data resource. "
—Tim Berners-Lee, A 'more revolutionary' Web
Web 3.0
An evolutionary path to artificial intelligence
Transforming the Web into a database
Web-based applications and operating systems
Web 3.0 as an "Executable" Web Abstraction Layer
Evolution towards 3D
Possible convergence of Service-oriented architecture
10 megabits of bandwidth
Questions? Comments?