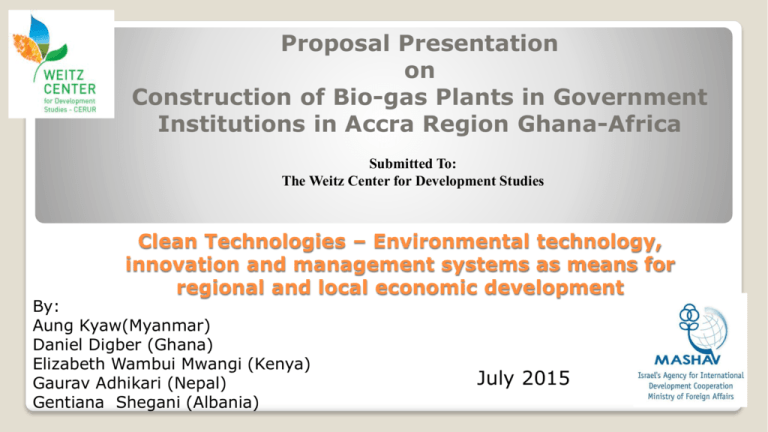 Proposal Presentation
on
Construction of Bio-gas Plants in Government
Institutions in Accra Region Ghana-Africa
Submitted To:
The Weitz Center for Development Studies
Clean Technologies – Environmental technology,
innovation and management systems as means for
regional and local economic development
By:
Aung Kyaw(Myanmar)
Daniel Digber (Ghana)
Elizabeth Wambui Mwangi (Kenya)
Gaurav Adhikari (Nepal)
Gentiana Shegani (Albania)
July 2015
Overview of the project
The scope: Turning sewer and organic
waste to bio-gas for cooking in
selected government schools
and hospitals.
Cooking
with LPG
Cooking with
fuel wood
Cooking
with biogas
Vision
To develop green energy from waste for a cleaner
environment and sustainable development
To provide clean fuel by converting waste to
energy for government institutions at an affordable
cost and better environmental protection in the
Greater Accra region in Ghana by year 2017.
Background Information
Accra
• Project will be implemented in Ghana,
Accra region.
• Population of 24,900,000 and 2,400,000 in
Accra region
• GDP growth rate: 4% (2014)
• Human development index is 0.53 and a
life expectancy rate of 61.13 years (UNDP,
Human Development Report, 2014).
• High annual growth rate of 2.4% compared
to 1.6% for other lower-middle income
countries.
Energy Situation
• Installed capacity for power 2846.5
MW (hydro and thermal)
• Power gap 10% nationally and larger
in Accra region due to high population
and industrial use)
Challenges in power production
• Falling water levels
• economic development
• population increase and
• cost of fuel for thermal generation.
Government has been subsidising the
institutions, Government directive has
resulted to increase in cost in the use of
wood fuel and LPG gas
Strategies
Objectives

Implement green technologies in 5 public

and treatment of waste water and sludge for
hospitals and 5 public schools in Accra and
gardening and upscale the project to 5 public
reduce the use of wood fuel and LPG cost by 50%
schools and 5 public institutions in Accra Ghana
by 2017.

Increase demand of biogas to 40% of institutions
by 2017.

Promote clean technology in educational
institutions and hospitals by improving

Educate the institutions and communities on use
of bio-gas from waste water against the culture
in Accra city by 2017.

Pilot production of bio-gas from organic waste
and traditions.

Influence policies and procedures on waste water
and bio-gas through training and awareness
compliance to environmental regulation
creation and collaboration with government and
guidelines by 20%.
other stakeholders.
Improve the quality of human life in government
institutions by reducing the amount of money
spent in the hospital and man hours lost due to
health complications.

Creating awareness on waste disposal and re-use
of waste in development of bio-gas and use of
the by product.
SWOT ANALYSIS
Strength
Weakness
1. Constant supply of feed stock waste (septic sanitation)
1. Low internal capacity: (Need training)
2. Enough land for the project
2. Low Institutions budget for investing in the
3. Predictable raw material
4. Reduction of cost for fuel
5. Savings on wood fuel and water re-use for gardening
6. Low cost supply of fuel
7. No transport cost (On-site production)
8. Innovation on waste management
9. Compliance to National Protection Agency (Reduce litigations and improper
waste disposal)
10. One time investment
11. Low competition (no innovations on alternative energy)
12. Low maintenance cost
13. Involvement of stakeholders and Information sharing (National, local and
development partners)
14. Change community perspective of waste and waste management
15. Provide opportunity for collaboration with government, financial institutions
and other stakeholders
16. Environment protection/prevent deforestation
project
3. The institutions adoption (New products going
against cultural norms
4. Institutions bureaucracies in start-up project
(Internal procedure may cause delays)
5. Inadequate data on amount of waste
produced.
6. No proper or clear communication among all
project stakeholders.
Opportunity
Threats
1. Introduction of new technologies services and ideas
in waste management and energy sector (New
innovation)
2. Clean environment
3. It creates demand for alternative sanitation and
energy projects
4. Improving the local economy (Employment of the
youth in the community)
5. Already an existing global clean technology initiatives
(Can attract support both resources and technology)
6. Existing market for renewable energies
7. New products for the institution (Sludge for fertilizer
or compost, water re-use in farming, farm output
and research knowledge)
8. Market leader in water & sanitation innovation in
sanitation
9. Appropriate climatic conditions for production and up
scaling in the country.
10.Reduce global warming & carbon foot print
11.Acceptability of new innovations to clean
environment, energy sources and costs
12.Existence of renewable energy policy
13.Existing trainable human resource capacity in the
institutions.
1. Traditions and culture
2. Bureaucracies in approvals
3. Biogas contains some gases as impurities, which are
corrosive to the metal parts of internal combustion
engines.
4. No existing policies procedure and regulations on
biogas production.
5. Lack of approved standardised bio-digester designs
for public acceptance
Logical framework
Project Summary
Goal
To
convert
waste to
Indicators
organic 5 public hospitals and 5 Certificates
bio-gas in public
schools
schools and hospitals in biogas
from
Assumption
of Available
using commissioning
and
funding
Greater Accra Region in sources in Greater Accra
support
and
partners
Region by 2017
To replace the use of Reduction of the use of 50%
reduction
L.P.G and use of wood wood fuel and LPG cost expenditure
fuel in five schools and by
50%
in
5
Accra Region in Ghana schools in Greater Accra
Region by 2017
on
public gas and wood fuel
five hospitals in Greater hospitals and 5 public
by 2017
government
institutional
organic
Ghana
Purpose
Means of
Verification
of Willingness
of
the
L.P.G beneficiary institution to
accept the project
Output




Activities






Developed policies on
bio-gas.
Trained manpower on
bio-gas operation and
maintenance.
Bio-gas
plant
constructed.
A
demonstration/
training for the school
children in beneficiary
school.

Desktop study and key
stakeholder engagement
e.g.
government,
development partners
Create
awareness
to
public on bio-gas.
Train
personnel
for
operation
and
maintenance of the biogas (Trainee provided by
the institution)
Tender for a contractor
for the bio-gas plant
construction.
Select and sign the
contract
Monitoring
and
evaluation of contractors
work.








Developed policies on
bio-gas by 2017
2 personnel trained on
bio-gas per institution by
2017
10 biogas constructed in
5 public hospitals and 5
public schools by 2017
Children
trained
in
beneficiary schools

5 meetings held with key
stakeholder
Brochures, fliers printed
and distributed
Training
material,
Attendance list
Tender
document
prepared and contracts
signed
Meetings
held
with
contractor






Policy documents on bio- 
gas.
Competence
of
the
trained personnel.

10 existing bio-gas plant.
Training curriculum for
the school children




Desktop study report.

Minutes of the meetings.
Expenditure documents
for awareness program 
and training materials.
Signed contract for the
construction
of
the 
project
Field and project status
reports.

Bio-gas policies are not
conflicting
with
other
existing policies
Institution willingness to
provide personnel for
training
Availability of land for
construction
and
financing of project.
Willingness
for
the
beneficiary schools to
allow training
Willingness
of
the
stakeholders
to
cooperate
No stigmatisation of the
project
by
the
community.
Personnel provided by
institution
have
the
requisite qualification for
training.
Contractor meets the
appropriate criteria for
corporation
and
deadlines as set in the
contract.
BUDGET FOR THE CONSTRUCTION OF BIOGAS FOR PUBLIC SCHOOLS AND HOSPITALS
Description
Unit Price ($)
Total Number Total Cost ($)
Human resource
Project Manager
800
24
19200
Administrative Officer
500
24
12000
Total
31200
Direct Project Cost
Administrative Cost
200
24
4800
Vehicle rental & fuel cost
200
50
10000
Desktop study, survey and data
collection
5000
1
5000
Training for selected artisans from
beneficiaries
5000
1
5000
Design and Costruction biogas plant
with its accessories
12400
10
124000
Stakeholder engagement and
policy development
5000
1
5000
Total
153800
Grand Total
185000
ACTION PLAN
Action
Responsibl
e Person
Completion
Date
Required
Resources
Potential Barriers Collaborators
Economic
Project Team 3 months
analysis, Field
assessment and
data collection
Logistics, funds
Existing data gaps
Awareness
Project Team 3 workshops
creation and
during the
public education
project period
Logistics, funding
Stakeholders who will provide information
Government Ministries & Departments
Lack of cooperation
(Ministry of Education, Ministry of Health,
form data providers
Ministry of Energy, Environmental
Protection Agency, Ministry of Works ,
Water Resources and Housing)
Lack of support and Government Ministries, Civil Society
interest from all
Organisations, Beneficiary Schools and
stakeholders
Hospitals, community
Budget
Community
perceptions, culture
and traditions.
Research,
design and
construction
Project
team,
external
consultants
2 years
Logistics, land,
funding,
construction
materials
Lack of corporation Beneficiary Schools & Hospitals
from beneficiary
Contractors
institutions
Funding agencies
Budget
Localizing the
national and
municipal
policies for biogas regulation.
Project
team,
external
consultants
2 workshops to
be organised
during the
implementation
of the project
Logistics,
Lack of corporation Relevant Government Ministries &
conference venue, from relevant
Departments, Civil Society Organisations,
available
public institutions
Beneficiary institutions
data/information
WORKPLAN FOR CONSTRUCTION OF BIOGAS PLANT IN SELECTED PUBLIC SCHOOLS AND HOSPITALS
Activities
Months 1 2 3 4 5 6 7 8 9 10 11 12 13 14 15 16 17 18 19 20 21 22 23 24
Desktop study, suirvey and data collection
Awareness creation
Development & preparation of training materials
Recruit artisans
Training for selected artisans
Request for bids/tender for design and construction of
biogas plants
Select and award contract for the construction of
biogas plants
Engage stakeholders on biogas policy & regulations
Commence construction of biogas plant
Commissioning of biogas plant
Policy document preparation
Stakeholder validation workshop
Evaluation and stakeholder validation workshop
Report preparation and handover
Project Hazards
Challenges
 Inability to meet deadlines due
to lack of resource and funding.
 Poor coordination can lead to
challenges in the project.
 Information availability from
collaborators or lack thereof can
slow the project down.
 Design and construction of biodigesters not meeting quality
specifications may pose as a
challenge to the project.
 No proper or clear
communication among all
project stakeholders.
 Low level of transparency in the
project.
 Lack of legal regulation for the
implementation of biogas.
Threats of corruption to the project.
• Bureaucracies in approvals of projects.
• Corrupted government officers.
• Overlapping of governmental intuitions.
• Lack of transparencies in contract.
• Loop holes in contract between organizations
and contractors.
• Bad management of funding.
• External interference in project.
• Hiding information/Disinformation
• Collusion and coercive by the government
officers
Solutions
Tools used to tackles corruption
• Develop engagement procedures.
• Stake holder agreements.
• Comprehensive engagement
procedures.
• Proper financials keeping.
• Strict adherence to statutory and
regulations and requirement
• Use of proper materials and equipment
Planning for these issues








Risk assessment and mitigation for
each pillar or issue
Commit resources for each mitigation
Follow procedures strictly
Proper planning for the project
Monitoring and evaluation.
Setting deadlines
Setting achievable output matched
with resources
External audit to audit accounts of the
project
Project Impact
Social and economic benefits
 eliminates the direct handling of faecal matter
 Direct savings are made on the cost of fuelwood or LPG for cooking.
 Eco-entrepreneurship is promoted through job creation
 Promotes societies acceptability of the biogas system as the best way in managing
waste.
Health
 Minimise the direct contact/handling of faecal matter which is a potential health hazard.
 Reduce bad odour (biogas) from the environment which can be a public nuisance.
 Reduce the risk of water-borne diseases transmitted through human excreta from
spreading.
 Reduce the use of wood fuel and charcoal which produces sooths and smoke which
when inhaled can pose health hazards to caterers and users
Policy
 It helps government to identify and implement policy initiatives in the promotion of
waste management and renewable energy.
 Identify market based instruments for service providers to make the design and
construction of biogas systems affordable.
Potential Sources of Budget
•
Development partners and government of Ghana
Future of the project
Sustainability
•
The project is aimed at introducing renewable energy in the energy mix in Government
institutions.
•
The conversion of waste to energy ensures sustainable use of the waste produced.
•
There is the conservation of forest through the minimisation of the use of fuelwood.
•
Reduction of carbon footprint of the schools and hospitals.
•
The on-site treatment of the faecal matter promotes sustainable waste management.
Biogas plant
Toda
Our Dream: A future with clean energy and
green environment......