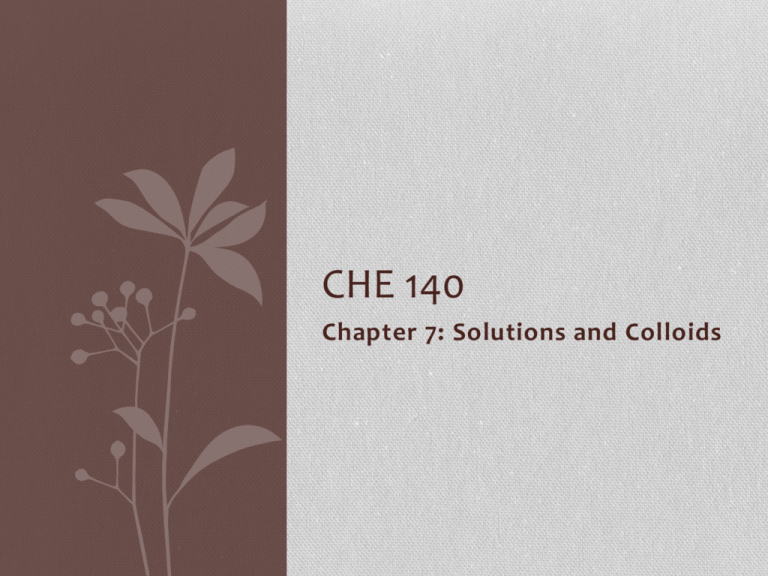 CHE 140
Chapter 7: Solutions and Colloids
CHAPTER OUTLINE
• CHAPTER OUTLINE
• 7.1 Physical States of Solutions
• 7.2 Solubility
• 7.3 The Solution Process
• 7.4 Solution Concentrations
• 7.5 Solution Preparation
• 7.6 Solution Stoichiometry
• 7.7 Solution Properties
• 7.8 Colloids
• 7.9 Dialysis
Solution Terminology
•solution - a homogeneous mixture of two or
more substances, the composition of which
may vary within definite limits.
•solute - the substance dissolved in a
solution.
•solvent - the dissolving medium in a solution.
•A solution is a solute dissolved in a solvent.
•In the example of the sugar-water mixture,
sugar-water is the solution, sugar is the
solute, and water is the solvent.
Suspension Terminology
•If clay is mixed with water, it will not
dissolve. Clay particles will be suspended in
the water. This is called a suspension.
•suspension - a heterogeneous mixture
•Colloids are large suspended particles.
They may be homogeneous, but they are
not true solutions because the large
particles are not dissolved.
•Examples : mayonnaise, ketchup, mustard
Electrolytes
•electrolyte - a substance whose water
solution conducts electricity
•Examples : acids, bases, salts
•nonelectrolytes - a substance whose
water solution does not conduct
electricity
Concentrations of Solutions
•The concentration of a solution depends on
the relative amounts of solute and solvent
present in a solution.
•The terms concentrate and dilute are
qualitative. This means they only give
"what" is present in a solution and not
"how much" is present.
Percent by Mass
• Percent by mass of a solute in solution is the
number of grams of solute dissolved in 100g of
solution.
•
mass of solute
• % by mass = --------------------------------- x100%
•
mass solute + solvent
• Find the percent by mass of a solution made by
dissolving 10g of sodium hydroxide in 90g of
water.
Molarity
• Molarity is the number of moles of solute in one
liter of solution.
•
moles of solute
• Molarity = ----------------------------•
liters of solution
• Find the molarity of a solution made by dissolving
20g of sodium hydroxide in 500mL of solution.
• How many moles of HCl are present in 0.8 L of 0.5
M HCl solution?
Molality
• molality (m) - an expression of moles of solute in a
kilogram of solvent
•
moles of solute
• molality = ------------------------------------•
mass of solvent (kg)
• A solution consists of 17.1g of sucrose (C 12H22O11)
dissolved in 125g of water. Find the molal
concentration of this solution.
• Determine the mass of copper(II) sulfate needed to
prepare a 0.25-m solution using 250mL of water.
• Assignment: Find m for 20g NaOH in 250ml solv
Types of Solutions
gas in gas
gas in liquid
gas in solid
liquid in gas
liquid in liquid
liquid in solid
solid in gas
solid in liquid
solid in solid
• air
• coke
• cake
• rain
• alcohol and water
• wet sponge
• smoke
• saltwater
• brass
Acids and Bases
• Acids, bases, and salts are electrolytes, substances
whose water solutions conduct electricity.
• They are uniquely related in that acids react with
bases to produce salts and water.
• The word salt is a derivative of the Latin word sal
which means vital compound.
• Roman soldiers were paid with salt, sal-ary. Salt
has long been used to flavor and preserve food and
as medicine.
The Nature of Acids
• Acids are present in many foods, especially fruit.
All foods which taste sour have some type of acid
in them. Some organic acids include;
•
ACID
FOOD
•
citric acid
lemons
•
malic acid
apples
•
lactic acid
milk
•
butyric acid
rancid butter
•
acetic acid
vinegar
Properties of Acids
• 1. Acids donate protons in the presence of bases.
•
HCl
monoprotic
•
H2SO4
diprotic
• H+ Cl- + Na+OH-  Na+Cl- + H+OH• 2. Acids contain ionizable hydrogen covalently
bonded to a nonmetallic element or polyatomic
species.
•
nonmetal......................HCl
•
polyatomic species...H3PO4
Properties of Acids
• 3. Acids taste sour. NEVER USE THE TASTE TEST!!!
• 4. Acids affect indicators.
•
litmus turns red
•
phenolphthalein remains clear
•
methyl orange turns red
• 5. Acids neutralize hydroxides.
• HCl + NaOH  NaCl + H2O
Properties of Acids
•6. Acids react with many metals.
•Zn(s) + H2SO4(aq)  ZnSO4(aq) + H2(g)
•7. Acids react with oxides of metals.
•CuO + H2SO4  CuSO4 + H2O
•8. Acids react with carbonates.
•CaCO3 + 2HCl  CaCl2 + H2O + CO2
The Nature of Bases
• Bases are often referred to as hydroxides. The
hydroxide ion, OH-, is responsible for most basic or
alkaline properties. The basicity of a substance is
also referred to as the alkalinity.
• Name some common household bases.
•
1. lye
4. soap
•
2. lime
5. antacids
•
3. laxatives
6. eggs
• base - a proton acceptor
Properties of Bases
• 1. Hydroxides of active metals supply hydroxide
ions, OH-.
• Na+OH-  Na+(aq) + OH-(aq)
• 2. Soluble hydroxides have a bitter taste. NEVER
USE THE TASTE TEST!!
• 3. Solutions of hydroxides feel slippery.
• 4. Soluble hydroxides affect indicators.
•
red litmus paper turns blue
•
phenolphthalein turns red
•
methyl orange turns yellow
Properties of Bases
• 5. Hydroxides neutralize acids.
• NaOH + HCl  NaCl + H2O
• 6. Hydroxides react with oxides of nonmetals.
• CO2 + 2NaOH  Na2CO3 + H2O
• 7. Certain hydroxides are amphoteric; i.e., they
take on acid properties in the presence of stronger
bases and take on basic properties in the presence
of strong acids.
• Example: Write the formula for aluminum
hydroxide which shows acidic properties.
Salts
• A salt is a compound composed of the positive ion
of an aqueous base and the negative ion of an
aqueous acid.
• We usually think of table salt, NaCl, when we hear
the word salt. There are actually many kinds of
salts.
• Our bodies obtain minerals in the form of salts.
For example, with your knowledge of the active
metal sodium, what would happen if you tried to
eat pure sodium metal?
• Eating NaCl is much safer!
Chemical Equivalents
• Chemical equivalents are the quantities of
substances that have the same combining capacity
in chemical reactions.
• Chemical equivalents are calculated by dividing
the molar mass by the total positive charge on the
first element in the formula of the compound.
Calculating Chemical Equivalents
•
molar mass
• 1 equiv = -----------------------------•
total positive charge
• Determine the chemical equivalents of each of the
following.
•
a. HCl ____________________
•
b. NaOH __________________
•
c. H2SO4 __________________
Normality
• Normality, (N), is an expression of gram
equivalents of solute per liter of solution.
• Before calculating normality, the chemical
equivalent must be calculated.
•
mass solute
1 equiv 1000 mL
• N= -------------------- X ---------------- X -----------•
vol. soln.
eq mass
L
Sample Problem
•Find the normality of 300mL of a solution
containing 55 grams of calcium chloride.
pH
• The pH of a solution is a numerical representation
of the degree of hydronium ion concentration.
• The term (from French pouvoir hydrogène,
"hydrogen power") is defined as the negative
logarithm of the concentration of H + ions
(protons).
• pH - the common logarithm of the reciprocal of the
hydronium ion concentration
•
1
• pH = log10 -----------[H3O+]
pH Scale
• The pH scale is a numerical scale which indicates
the acidity or basicity of a substance. A neutral
substance, one which has an equal concentration
of hydronium and hydroxide ions has a pH of 7
which is half way between 0 and 14.
•
acid
base
• 0---------------------- 7 --------------------- 14
Approximate pH of Some
Common Materials
•
MATERIAL
pH
•
gastric juice
2.0
•
lemons
2.3
•
vinegar
2.8
•
soft drinks
3.0
•
apples
3.1
•
tomatoes
4.2
•
bananas
4.6
•
bread
5.5
•
rainwater
6.2
•
milk
6.5
•
pure water
7.0
•
eggs
7.8
•
seawater
8.5
•
milk of magnesia
10.5
pH of Acids
•The concentrations of acids is usually given
in molarity, M. Since molarity is an
expression of Moles / L, the hydronium ion
concentration can readily be determined.
•Find the pH of a 0.001-M HCl solution.
pH of Bases
•
10-14
•[H3O+] = -----------•
[OH-]
•Find the pH of a 0.01 - M NaOH solution.
•Find the pH of a 0.001 - M Ca(OH)2 solution
Assignment
•Find the pH of the following.
•1. 0.01- M H2SO4
•2. 0.0001- M H2S
•3. 0.1 - M HCl
•4. 0.002 –M NaOH
Acid-Base Titration
•Titration is the progressive addition of an
acid to a base to achieve neutralization so
the concentration of an unknown solution
may be found.
•The point at which neutralization occurs is
known as the end point. Indicators are used
for determination of this point. The
previously discussed indicators will be used
in our titrations.
Titration Calculations
• VANA = VBNB
•
VA = volume of acid used in mL
•
NA = normality of acid used in N
•
VB = volume of base used in mL
•
NB = normality of base used in N
Sample Problem
•A student performed a titration and
determined 20mL of a 1.5-N HCl solution was
needed to neutralize 35mL of a NaOH
solution of unknown concentration.
Determine the normality of the unknown
solution.