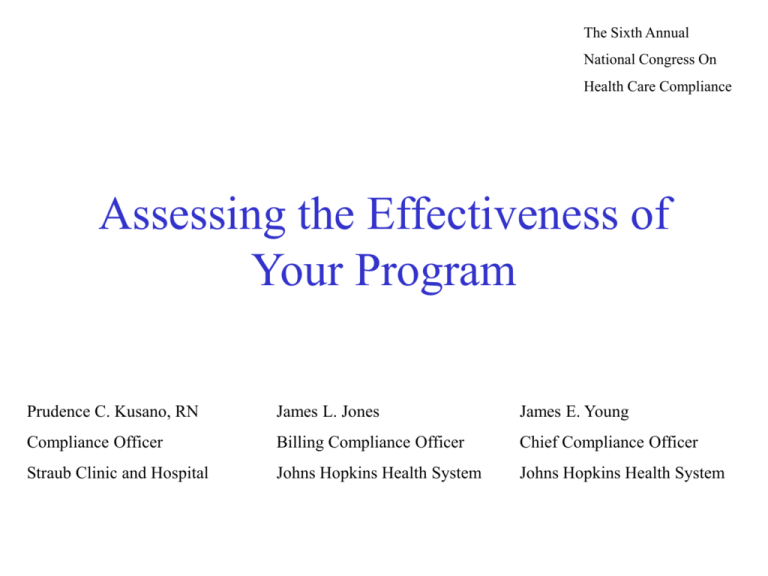 The Sixth Annual
National Congress On
Health Care Compliance
Assessing the Effectiveness of
Your Program
Prudence C. Kusano, RN
James L. Jones
James E. Young
Compliance Officer
Billing Compliance Officer
Chief Compliance Officer
Straub Clinic and Hospital
Johns Hopkins Health System
Johns Hopkins Health System
Compliance Officer or CORF
Operator ?????
Appeared
in the
February
2003 Issue
of Money
magazine
Presentation Objectives
• Brief Background on Our Respective
Institutions
• Defining Effectiveness
• Assessing Effectiveness
• Questions and Answers
ABOVE ALL ELSE → Keep it Interactive!!!
STRAUB CLINIC & HOSPITAL
Demographics
• Affiliate of Hawaii Pacific Health
• 159 Bed Acute Care Hospital
–
–
–
–
–
–
3 Bed Burn Unit
16 Bed Intensive Care Unit
32 Bed Telemetry Unit
108 Medical-Surgical Beds
Emergency Department
5 Operating Rooms
STRAUB CLINIC & HOSPITAL
More Demographics
•
•
•
•
•
•
160 Employed Physicians
9 Satellite Clinics
Main Specialty Clinic
% Medicare: 44%
Annual Clinic Visits: 630,200
Annual Admissions: 6,000
STRAUB CLINIC & HOSPITAL
Compliance Resources
• Compliance Officer-1.0 FTE
• Coding Auditing Staff
– 5 FTE for Professional Coding
– 2 FTE for DRG Coding
• Coding Staff
– 10 FTE Physician Liaisons
STRAUB CLINIC & HOSPITAL
Compliance Program
• Implemented January 1996 Using the OIG
Model Compliance Plan for Hospitals
• Settlement of $2.4M with 5-Year CIA,
August 1998
• CIA Revised in 2000
• Compliance Program Assessed Annually
Johns Hopkins Health System
Demographics
• Three Acute Care Hospitals – Two
Academic and One Community
• Just Under 1,500 Licensed Beds
• Providing Over 20 Clinical Specialties
• More than 3,300 Affiliated Physicians
• Over 14,700 Employees
• Home Care, DME, Primary Care Sites,
Risk-Based Contracting Orgs, TPA, etc.
Johns Hopkins Health System
More Demographics
•
•
•
•
•
890,200 Outpatient Visits Annually
73,900 Annual Discharges
25% of Gross Revenue from Medicare
18% of Gross Revenue from Medicaid
Maryland is an All-Payer State and Holds a
Waiver Exempting Maryland Hospitals
from PPS Reimbursement
Johns Hopkins Health System
Compliance Resources
• Compliance Officer – 1.0 FTE
• Billing Compliance Officer – 1.0 FTE
• Coding and Reimbursement Specialist – 1.0
FTE
• Compliance Auditors RN – 3.0 FTEs
• Compliance Auditor – 1.0 FTE
Johns Hopkins Health System
Compliance Program
•
•
•
•
Began Implementing End of 1998
Still Implementing
Program Completely Voluntary
Coordinate with Johns Hopkins University
Compliance Program Defined
A compliance program is a
formalized set of business practices
that are designed to prevent, detect
and respond to business conduct
that is inconsistent with Federal,
State and local laws and/or
company values.
Defining Effective
Webster's defines "effective" as producing a
decided, decisive, or desired result.
U.S. Sentencing Guidelines defines an "effective
[compliance] program" as a "program that has
been reasonably designed, implemented, and
enforced so that it generally will be effective in
preventing and detecting criminal conduct"
(§8A1.2(k)).
OIG Elements Necessary for
Effective Program
• Written Policies and
• Enforcement of
Procedures
Standards
• Formal Structure and • Auditing and
Appropriate Oversight
Monitoring
• Training and
• Appropriate Response
Education
to Allegations
• Lines of
Communication
Written Policies and Procedures
Activity
Measure of Effectiveness
In Collaboration with Subject
Matter Stakeholders, Draft Various
Compliance-Related Policies &
Procedures (e.g. Standards of
Conduct) for Appropriate Approval
and Implementation
DOCUMENTATION – Written
Policies & Procedures with
Executive Management Approval
and Sponsorship
Communicate Policies &
Procedures to all Employees within
the Organization Who have a Need
to Know
DOCUMENTATION – Post Policies
& Procedures on Organizational Web
Site; Where Appropriate, Mass Mail
Policies to all Affected Employees
Affirm Employee Understanding of DOCUMENTATION – Hold
Policies & Procedures
Training Sessions, Document
Attendance and Content, Employees
Sign Documents Indicating Receipt
and Agreement to Abide
Formal Structure & Oversight
Activity
Measure of Effectiveness
Highest Level of MGT Responsible
for Compliance Program Oversight
(Board, Board Committee, CEO)
DOCUMENTATION – Plan
Document, Regular Summary
Reports in Minutes
Compliance Officer has Appropriate
Authority and Experience
DOCMENTATION – Plan
Document, Resume, Documentation
of Disciplinary Activities,
Correspondence with Management
The Compliance Function is
Adequately Funded
Benchmarking – HCCA Annual
Survey of Health Care Compliance
Officers
Active and Broadly Constituted
Compliance Committee
DOCUMENTATION – Plan
Document, Membership Roster &
Participation, Meeting Minutes
Training & Education
Activity
Measure of Effectiveness
Develop and Implement an
Annual Compliance Training
Plan
DOCUMENTATION – Publish Reports to
Management Showing Actual Versus
Planned Training for a Given Time Period
Tailor Training Methods to Meet
the Needs of the Department and
its Employees.
DOCUMENTATION – Compare
Participation % (# Actually Trained/ # that
should have been Trained) of Various
Training Methods; Survey Employees
Collaborate with Departmental
Management in Designing the
Training Content and Materials
DOCUMENTATION – Maintain Training
Materials, Attendance Sign-In Sheets,
Employee Evaluation Forms, etc.; Make
Compliance Training a Part of Employee
Annual Evaluation
Objectively Assess Employee
Understanding of Subject Matter
DOCUMENTATION – Administer and
Grade Written Quizzes or Tests; Ideally Give
Pre-Training and Post-Training Tests and
Compare Results, Pre & Post-Training Audit
Results Trend
Lines of Communication
Activity
Measure of Effectiveness
Various Reporting Mechanisms
DOCUMENTATION – Publicity Materials,
Offered to Employees (hotline, e- Training Programs,
mail, drop box, fax, face-to-face,
etc)
Employee Awareness of
Reporting Mechanisms
DOCUMENTATION – Publicity Program,
Training Programs, Employee Surveys, Call
Volume after Publicity
Use of Reporting Mechanisms
DOCUMENTATION – Report Log
Recording all Reports from all Mechanisms,
Non-Retaliation and Anonymity Policy,
Policy Requiring Reporting of Incidents,
Annual Performance Evaluation
Requests for Information,
Compliance Clarification, etc.
DOCUMENTATION – Log of Questions
and Answers
Enforcement of Standards
Activity
Measure of Effectiveness
Existence of Disciplinary
Policy and Guidelines
DOCUMENTATION – Code of Conduct, HR
Policies and Procedures
Employee Awareness
DOCUMENTATION - Training Programs
(Mgrs & EEs), Employee Surveys
Enforcement
DOCUMENTATION – Disciplinary Reports /
Disciplinary Log, Minutes of Disciplinary
Committees, Correspondence with External
Authorities, Annual Performance Evaluations
Background Checks OIG/GSA Screening
DOCUMENTATION – Proof of Checks for
New Employees/Contractors, Proof of
Checks for Active EEs, Disposition of
Identified Exclusions, Policy Requiring
Disclosure by EEs
Auditing & Monitoring
Activity
Identify Departments or
Processes within the
Organization that Represent the
Greatest Potential Compliance
Risk
Measure of Effectiveness
DOCUMENTATION – Perform a
Benchmarking Analysis of Major Functions
(e.g. Patient Registration and Billing) to
Determine Potential Weaknesses in Internal
Controls
Develop and Implement an
DOCUMENTATION - Publish Reports
Annual Compliance Audit Plan Showing Actual Versus Planned Audits for a
Given Time Period
Conduct Audits as Planned
DOCUMENTATION – Document the Audit
Program, Maintain Audit Work Papers, Issue
Written Audit Reports, Establish Error Rates,
Correspondence Returning Overpayments
Conduct Follow-Up Audits
Where Appropriate
DOCUMENTATION - Confirming
Corrective Actions Taken and that it had the
Desired Results, Trend Analysis
Appropriate Response to
Allegations
Activity
Measure of Effectiveness
Mechanism to Respond to all
Identified Problems
DOCUMENTATION – Formal
Policy Requiring Investigation,
Corrective Action and Reporting
Compliance with Policy
DOCUMENTATION – Report Log
with Resolution, Report with
Corrective Actions, Minutes of
Board and Compliance Oversight
Committee, Correspondence with
Payers or Government Agencies
Follow-Up Reviews
DOCUMENTATION – Written
Reports, Trend Analysis, Evaluation
of Corrective Actions
"Effective" Ideal
Ideally an effective compliance program is a
program that transcends policies and procedures
and is part of the routine fabric of operations.