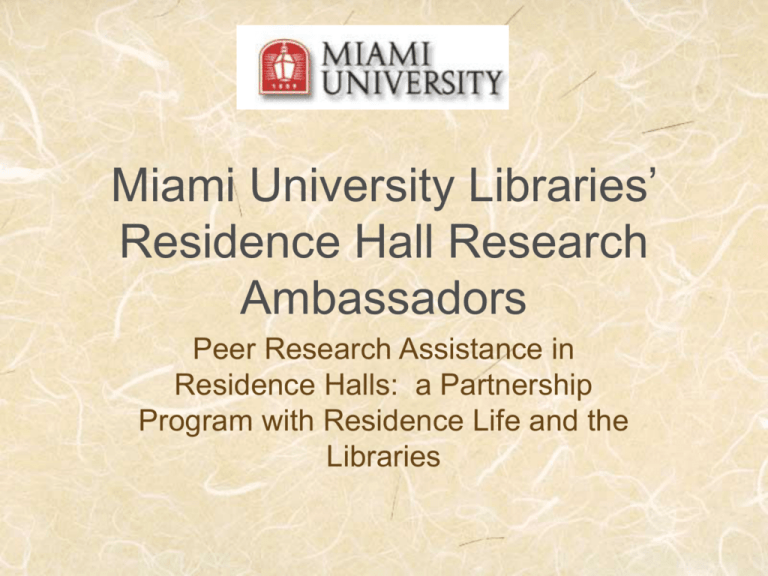 Miami University Libraries'
Residence Hall Research
Ambassadors
Peer Research Assistance in
Residence Halls: a Partnership
Program with Residence Life and the
Libraries
Just to Clarify--We are from THE Miami
University--the other one is here in Florida
Who Are the Partners?
Jenny Presnell
Information Services
Librarian
King Library
Nancy Moeckel
Life Sciences
Librarian
Brill Science Library
Additional Partners
Residence Life
Dr.Todd Holcomb, Director, Residence Life and
New Student Programming
Kay Thomas, First Year Advisor in Emerson Hall
Libraries
Belinda Barr, Head of Information Services
Jerome Conley, Coordinating Head of Special
Libraries
Joanne Goode, Head Science Librarian
Additional Key Players
Ambassadors
Jassmine Foust
Anne Gregory
Catherine Johnson
Chris Jones
The Research Ambassador
Program in a Nutshell
"This Program will
provide research
assistance to
students in their
residence halls,
when they need it,
from their peers…
The Research Ambassador
Program in a Nutshell
"…undergraduate
students will be hired
and trained as
Research Ambassadors
to provide basic
information and
research advice and to
connect students with
Librarians for further indepth assistance when
necessary."
The Current Library Climate
Remote access to
Indexes and databases
Full text
• Journals, books, reference tools
Many services online
• ILL, chat, email ref, online renewal
Current Research
What first year students know in High
School
Used library
• 29% weekly
• 29% 2 times a month
Tools Used
• 60% WWW
• 65% electronic index
Current Research
The article from jp that we talked about
might go here
Stats about use
Current Research
Dr. Karen Schilling presented research findings
at a library staff meeting
Increasing Expectations for Student Effort by Karen
M. Shilling and Karl L. Shilling. About Campus
May/June 1999
• Findings show the importance of setting high initial
expectations for academic effort
• "increasing expectations means heightening the
intellectual challenge of course, moving beyond
memorization to engaged critical analysis that creates
excitement for students"
Concerns
Many First Year Students believe that the Internet is the
only tool they need. But, there are many other
research tools they must add to their toolkit.
Everything looks like a nail if the only tool
you have is a hammer
Concerns
Many students believe that an Internet
search will find the answer to
everything.
Some services support this notion
•
•
•
•
Questia
NetLibrary
XanEdu
Ebrary
Concerns
Some students experience library
anxiety
• Easier to just avoid coming to the library
• So much available remotely
An idea begins to form…
Remote access is important,
Schilling and others' research, our
concerns…
Could specially trained students
help their peers with research in
their residence halls?
Can Peer Assistance Work for
Libraries?
Students may learn better from peers
Some more comfortable asking for help
from peers
Peer tutor model already successful
Related but Different Peer
Programs Already Exist
Some examples of successful Library peer
assistance programs
Peer Information Counselors
Libraries in residence halls--IU
Hall computer labs--BGSU
Peer interns--U Mass (Dartmouth))
Student Navigators in the Knowledge Commons -U of Cape Town)
Library Peer Assistant--SUNY Binghamton Roving
Peer Mentors in Library--U of Cincinnati
Our Reasoning
Peer programs demonstrate success already
Librarians can't cover services in the library
during the day and then cover a Residence
Hall in the evening
Training students as Ambassadors means
each Hall can eventually have evening
service, every evening
There will be some immediate assistance, as
well as a direct link to more in-depth
assistance
Let's Try It!
First Year students often come with few
research skills,and are too willing to rely
solely on the Internet, are adapting to life
away from home for perhaps the first time,
are peer pressured, yet may readily accept
help from their peers, may experience library
anxiety, there aren't enough Librarians
……for all these reasons and more, having a
peer assistant IN THE RESIDENCE HALL
seemed worth trying.
The Program Pilot
Determined which Residence Hall
Bertha M. Emerson Hall.
• Co-educational, first year residence hall.
• Nearby are Morris, Tappan, Scott, Minnich and
MacCracken.
The Program Pilot
Emerson Hall demographics
345 residents
• 300 males
• 45 females
1 First Year Advisor (resident)
• 1 graduate assistant advisor
• 11 undergraduate resident advisors
The Program Pilot
Some Demographics
Miami's Class of
2005--(3,450 selected
from 12,500 applicants)
37% ranked in top 10%
66% ranked in top 20%
25% earned ACT of 29 or
higher
25% combined SAT of 1300
or higher
9.6% Multicultural
•
•
•
•
•
African American
Asian
Pacific Islanders
Hispanic
Native American
Emerson Hall
GPA high school 3.2-3.5
ACT
• 23
SAT
• 1200
Majors
• Undecided, business,
education,fine arts
Multicultural
• 10%
The Program Takes Off
Hired the Ambassadors
• Created brochures to advertise the position
– 10 hours per week
– Learn while you earn
• Added job description to library website
– http://www.lib.muohio.edu/libinfo/employ/rh.html
The Program Takes Off
Trained the Ambassadors
• Blitz training to start
– 2, 2 hour sessions
• Weekly training and worksheets ongoing
– Meet weekly for training
– Worksheet completed on their own time
The Program Takes Off
Ambassador job duties
4 main categories:
• 1: Directional:
– answering basic directional questions, such as where
libraries, computer labs, media collections and other
resources are located and assisting with services
such as Check your Circulation Record and
Interlibrary Loan services.
The Program Takes Off
Ambassador job duties
4 main categories:
• 2: Instructional:
– teaching the use of MiamiLINK including: how to
connect to SHERLOCK, other catalogs, online
databases, online reference tools, and the Internet
and assisting with the use thereof.
The Program Takes Off
Ambassador job duties
4 main categories:
• 3: Referral:
– connecting your client with a Librarian for more indepth instruction of resources or in-depth assistance
with research
The Program Takes Off
Ambassador job duties
4 main categories:
• 4: Record keeping:
– maintaining accurate information regarding use of
this service, questions asked and similar statistics
The Program Takes Off
Service began Fall, 2001
• Lobby of Emerson
– Sunday 7-11pm, MTWR 8-11pm
– Total of 16 hours per week
• Question log
– Record date/time/question
• Advertising
– Flyers posted through out Emerson
• Signage
– Large poster near the duty desk
The Program Takes Off
Sample Questions Asked by Residents
•
•
•
•
•
•
What are the hours of the Health Center?
Can you help me find the English 111 tutorial?
What is the "twinkie defense"
How does an electric shaver work?
Need some books about euthanasia. Can you help?
Need some articles about consumer behavior in Colonial
America
• Have you seen a blonde girl go by here?
The Program Takes Off
Assessment
• Feedback weekly from Ambassadors
• Questionnaire responses from residents
The Program Takes Off
Types of Questions Asked
Directional
Instructional
Referral
The Program Takes Off
Where Emerson Residents Seek
Help
Internet
Library All
Friend or Classmate
Professor
Resident Assistant
Other
Head Resident
The Program Takes Off
Activity by Day
25
20
15
10
5
0
Sund ay
Monda y
Tue sday
Wed nesd ay
Thu rsday
The Program Takes Off
Activity by Month
35
30
25
20
15
10
5
0
Septembe r
Octo ber
Novembe r
Dece mber
What we have just described is the
program without any of the
"challenges or opportunities"
There were a few…
Challenges and Opportunities
Scheduling of Service
Duty hours
• Thursday night party night
• Holidays
• 3-days
Coordinating our schedules
• Classes, activities, meetings, training,
• Student teaching…
Challenges and Opportunities
Posters and advertising
Covered up
Replaced
Not noticed
Survey results show
• 1/2 didn't know about Service
Challenges and Opportunities
Phone
Critical for referral to librarians
•
•
•
•
Removed from lobby
Replaced and removed again
Still working on it
Cell phone might be solution
Alternatives
More use of chat (limited hours)
More use of email reference service (24 hr
response time)
Challenges and Opportunities
Better location in the Residence Hall needed
Lobby is busy
Students on their way in or out
Small and crowded
Spring Semester relocated to small living
room adjacent to lobby.
Optimal space in basement study lounge
Trying airport equipment
Waiting for wiring
Challenges and Opportunities
Safe storage for equipment
Ambassadors have to unpack and pack
equipment each time
Locked in office
• Locked out once or twice
What's Next this Spring
Spring semester 2002
More assessment
• Questionnaire during corridor meetings
– First one done
– Incorporate results in planning/revising program
More advertising
• More flyers
• More demonstrations
• More word of mouth
What's Next this Spring
Coordinate with specific assignments
Tailor advertising in the Hall to specific recurring
assignments
Tailor training schedule for Ambassadors
Offer special sessions
By topic
For those on academic probation
others
What's Next For the Program
Offer the service in more Residence Halls
Hire more ambassadors
Train more ambassadors
• Current ambassadors mentor new ones
• Current ambassadors participate in training
Create an Ambassador Listserv
Expand the Ambassador web page
• http://staff.lib.muohio.edu/~presnejl/ambass/ambass.html
Some costs
Equipment
2 laptops
• $5,228.70.
Other equipment
• Splitters
• Surge suppressors
Some costs
Time
Coordinators time
• Substantial
• Will only require more time as program expands
Student wages
4 students @ 10hrs/wk X 16 weeks
• $3,296.00 per semester
Promotions
• 10cent pay raise/yr
Expanding program will require more wages
Some benefits
Partnerships Strengthened
Residence Life learns about Library and services
Library learns about Residence Life
Understanding of each units goals as we all strive
to support the University's goals
Some benefits
Learning by all
RAs making use of library as a required academic
program
Library learns about FYE
Learn while you Earn Opportunities for
Ambassadors
Improved support of and response to the First
Year Experience needs
Some benefits
Most importantly
First year students acquire sound research
skills
Are connected to the library (information
specialists) early in their student careers
Some "out takes" or What's
been FUN about the program
Our ambassadors
Share some tidbits here
Anne's chocolate chip cookies
Pizza deliveries hard
Some lock outs
One ambassador not a morning person
Thank you for your time today
We are very happy to share this
program idea with you…..Any
questions?