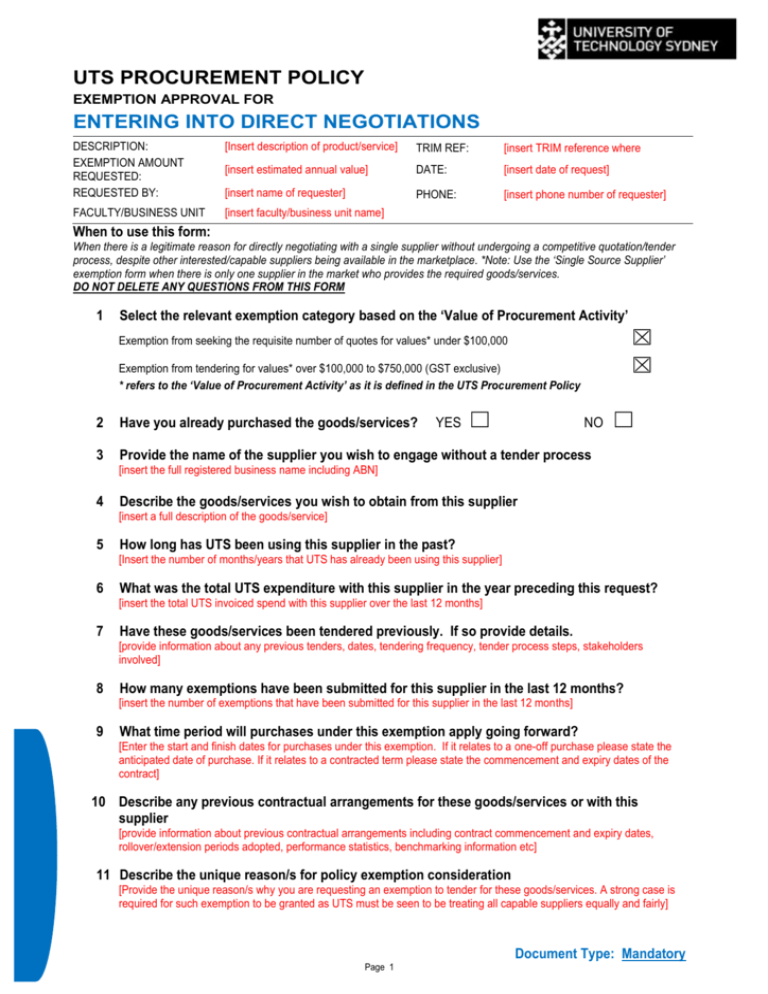 UTS PROCUREMENT POLICY
EXEMPTION APPROVAL FOR
ENTERING INTO DIRECT NEGOTIATIONS
DESCRIPTION:
EXEMPTION AMOUNT
REQUESTED:
REQUESTED BY:
[Insert description of product/service]
TRIM REF:
[insert estimated annual value]
DATE:
[insert TRIM reference where
applicable]
[insert date of request]
[insert name of requester]
PHONE:
[insert phone number of requester]
FACULTY/BUSINESS UNIT
[insert faculty/business unit name]
When to use this form:
When there is a legitimate reason for directly negotiating with a single supplier without undergoing a competitive quotation/tender
process, despite other interested/capable suppliers being available in the marketplace. *Note: Use the 'Single Source Supplier'
exemption form when there is only one supplier in the market who provides the required goods/services.
DO NOT DELETE ANY QUESTIONS FROM THIS FORM
1
Select the relevant exemption category based on the 'Value of Procurement Activity'
☒
☒
Exemption from seeking the requisite number of quotes for values* under $100,000
Exemption from tendering for values* over $100,000 to $750,000 (GST exclusive)
* refers to the 'Value of Procurement Activity' as it is defined in the UTS Procurement Policy
2
3
Have you already purchased the goods/services?
YES
☐
NO
☐
Provide the name of the supplier you wish to engage without a tender process
[insert the full registered business name including ABN]
4
Describe the goods/services you wish to obtain from this supplier
[insert a full description of the goods/service]
5
How long has UTS been using this supplier in the past?
[Insert the number of months/years that UTS has already been using this supplier]
6
What was the total UTS expenditure with this supplier in the year preceding this request?
[insert the total UTS invoiced spend with this supplier over the last 12 months]
7
Have these goods/services been tendered previously. If so provide details.
[provide information about any previous tenders, dates, tendering frequency, tender process steps, stakeholders
involved]
8
How many exemptions have been submitted for this supplier in the last 12 months?
[insert the number of exemptions that have been submitted for this supplier in the last 12 months]
9
What time period will purchases under this exemption apply going forward?
[Enter the start and finish dates for purchases under this exemption. If it relates to a one-off purchase please state the
anticipated date of purchase. If it relates to a contracted term please state the commencement and expiry dates of the
contract]
10 Describe any previous contractual arrangements for these goods/services or with this
supplier
[provide information about previous contractual arrangements including contract commencement and expiry dates,
rollover/extension periods adopted, performance statistics, benchmarking information etc]
11 Describe the unique reason/s for policy exemption consideration
[Provide the unique reason/s why you are requesting an exemption to tender for these goods/services. A strong case is
required for such exemption to be granted as UTS must be seen to be treating all capable suppliers equally and fairly]
Document Type: Mandatory
Page 1
FORMAL POLICY EXEMPTION – DIRECT NEGOTIATIONS
Click here to enter text.
Project Name/Ref:
Date:
Click here to enter
text.
12 Which of the following best describes your reason for seeking this exemption
☐
Where, in response to a formal approach to market, and in compliance with the UTS Procurement Policy, no
submissions (or no submissions that represented value for money) were received, or if none of the submissions
received met minimum specification requirements.
☐
Where, for reasons of extreme urgency bought about by unforeseen events, the goods, works or services
could not be obtained via the relevant process required under the UTS Procurement Policy
☐
For procurement activities made under exceptionally advantageous conditions that arise only in a very short
term, such as from unsolicited and innovative proposals, liquidation, bankruptcy or receivership, and which are
not routine procurement from regular suppliers
☐
For additional deliveries of works, goods and services by an initial supplier that are intended either as
replacement parts, extensions or continuing services for existing works, goods or services where a change of
supplier would compel UTS to procure the works, goods, or services that would not meet requirements for
compatibility with existing works, goods or services
☐
Where UTS procures a prototype work/good/service that is intended for limited trial or that is developed at UTS'
request in the course of, and for, a particular contract for research, experiment, study or original development
☐
☐
In the case of a contract awarded to the winner of a design contest, provided that the contest has been
organised in a manner consistent with UTS Policies and Procedures
Other (please state): [Describe your other reason here]
Important Note to Approvers: Approvers should exercise extra caution when approving 'Other' as a reason
13 Anticipated Engagement Cost
State the term of the contract to be used to engage this supplier:
Total cost of the supplier over the entire term of the contract:
If future related work is likely, state additional term:
Anticipated total cost for any additional term of the relationship (if applic):
TOTAL RELATIONSHIP COST:
Click here to enter text.
$Click here to enter text.
Click here to enter text.
$Click here to enter text.
Click here to enter text.
Additional Engagement Possible: Please advise the likelihood that the awarded supplier will need to be
retained beyond the contract period covered by the scope of this exemption. Provide clear details of any other
work/projects/purchases/dependencies that might require the awarded supplier to be retained for a longer period.
Return on Investment: State any return on investment likely as a result of this engagement (if applicable).
14 Describe how you intend to negotiate with this supplier
[As a general rule, never accept the first quote and never assume that a single source supplier is resistant to negotiating.
A single source supplier may not be aware that they are being considered as a single source supplier, so it is a good
idea to attempt to conceal this in order to optimise your negotiation power. Create the illusion of having several options
with no urgency to purchase. Other negotiation methods may be utilised depending on the situation]
15 Requester Declaration
I declare that the information that I have provided in this form is complete, true, and accurate in every detail:
________________________________________Signature
[Insert name and title of Requester]
Approval required according to the 'Value of Procurement Activity' as defined in the UTS Procurement Policy
Page 2
Project Name/Ref:
Goods and Services:
$0 to $10,000
$10,001 to $50,000
$50,001 to $100,000
$100,001 to $300,000
$300,001 to $750,000
$750,001+
16
Doc Date:
Click here to enter text.
(All figures are GST exclusive)
No exemption approval required
Dean/Director
CFO
CFO & DVC (Resources)
CFO & Vice-Chancellor
CFO & Finance Committee
Click here to enter text.
Capital Works:
(All figures are GST exclusive)
$0 to $10,000
No exemption approval required
$10,001 to $50,000
Dean/Director
$50,001 to $100,000
CFO
$100,001 to $1,000,000 CFO & DVC (Resources)
$1,000,001 to $2,000,000 CFO & Vice-Chancellor
$2,000,001+
CFO & Finance Committee
Approval for values between $00,000 to $00,000 (ex GST) [Insert applicable threshold]
Declaration of Approver: In approving this exemption I understand my obligations under the UTS Code of Conduct in
relation to any Conflict of Interest, and hereby declare I do not have any professional personal or family allegiance, bias,
inclination, obligation or loyalty which may affect my objectivity, independence or impartiality in approving this request.
Further, I do not have any personal financial interest in the goods/services being provided, nor to the best of my knowledge
do any of my relatives or friends:
Comments:
Date:
Dean/Director:
Comments:
Date:
Mark Leigh (CFO)
Comments:
Date:
Patrick Woods (DVC Resources)
Comments:
Date:
Attila Brungs (Vice Chancellor)
17
Exemption approval for values in excess of $750,000 (ex GST) or $2,000,000 for Capital Works
Exemption approval for values over $750,000 or $2,000,000 must be approved by the Finance Committee, as follows:
OPTION 1 – Approval via Finance Committee Meeting (held approx. every 2 months)
1)
Refer to the GSU webpage for 'Committee Contact' details, and note the date/s for upcoming meetings:
www.gsu.uts.edu.au/council/committees/finance.html
2)
The Committee Contact will provide a specific template to be completed for submission. This must be
completed and sent back to the Committee Contact within 10 business days prior to the scheduled meeting.
3)
The DVC and then the VC must approve the paper prior to it being submitted to the Committee Contact. Attach
this completed form to the 'paper'.
4)
The Committee Contact will ensure the request is included in the committee agenda, and following the meeting
will advise the outcome to the requester.
OPTION 2 - Approval via Finance Committee 'Flying Minute' (Urgent Requests Only)
1)
Gain approval from the DVC (Resources) that the approval is indeed 'urgent'.
2)
Refer to the GSU webpage for 'Committee Contact' details:
www.gsu.uts.edu.au/council/committees/finance.html
3)
Same process as 'Option 1' except the paper must include in its first page a justification of why the exemption
is urgent and the ramifications should approval be delayed until the next scheduled meeting. Poor planning is
not an acceptable reason.
Page 3
FORMAL POLICY EXEMPTION – DIRECT NEGOTIATIONS
Click here to enter text.
Project Name/Ref:
4)
Date:
Click here to enter
text.
The Committee Contact will coordinate distribution of the exemption request to committee members and advise
the outcome to the requester
After this form has been signed, please immediately send it to the Strategic Procurement office so that it
can be listed on the 'Procurement Policy Exemption Register'.
The form can be posted via UTS' internal mail system, or delivered personally to:
Strategic Procurement
Building 10, Level 6, 235 Jones Street, Broadway, NSW 2007
Alternatively the form can be scanned and emailed to: procurement@uts.edu.au
"Value of Procurement Activity" (extracted from the UTS Procurement Policy):
Means the value of a supply agreement over its entire term (including all contract extension options, and any potential flowon work). Where a supply agreement will not provide a commitment to expend funds (eg: a Standing Offer Agreement), the
expected expenditure level under the agreement should be used. For lower value goods/services, where an agreement is
not required, it means the value of a one-off purchase order or the cumulative value of purchases through a supplier over
any 12 month period.
Page 4
FORMAL POLICY EXEMPTION – DIRECT NEGOTIATIONS
Project Name/Ref: Click here to enter text.
Date:
Click here to enter text.
DECLARATION OF INTEREST (V1)
POLICY EXEMPTION – APPROVAL TO ENTER INTO DIRECT NEGOTIATIONS
THIS FORM MUST BE COMPLETED BY THE STAFF MEMBER WHO INITIATED THE SELECTION OF THIS SUPPLIER FOR USE BY UTS
I,
of
Please insert your full name
Please insert your position title and dept/divsn name
In relation to the proposed purchase described in this exemption request,
1.
declare that I agree to:
i.
ii.
iii.
iv.
2.
use my best judgement and be accountable for the achievement of objectives related to this purchase
demonstrate personal integrity and ethical behaviour;
neither accept nor seek to gain any unfair advantage, gift, gratuity or hospitality for myself, or my relative(s)
report to UTS Internal Audit if I witness any behaviour that conflicts with any UTS Policy or Procedure
to the best of my knowledge have no conflict of interest in relation to the subject being discussed other than:
Source of income Do you have a source of income or reward from any commercial party that could
potentially benefit either directly or indirectly from this purchase?
Office holder Are you an office holder in any company, trustee company or other body in which you hold
office (whether it is a public or private company) that is related directly or indirectly to this supplier?
Trusts, Shareholdings and other business interests Do you have any trusts, shareholdings,
investments or other business interests in any entity related to this supplier?
Agreements Do you have any contract, agreement or understanding entered into by you or a member of
your immediate family that gives rise to an obligation or an expectation of reward, such as an agreement
about future employment in relation to this purchase?
Other interests: Any other substantial financial or other interest held or accruing to you or a member of
your immediate family which you are aware which could reasonably raise an expectation of a conflict of
interest with your involvement in this purchase?
If Yes, please give details
 no  yes
 no  yes
 no  yes
 no  yes
 no  yes
This information is true and correct to the best of my knowledge. I declare that as far as I am aware none of these private
interests conflict with participation in this purchase. I undertake to advise UTS Internal Audit if a conflict or potential conflict arises
during any stage of the process, and to withdraw my involvement at that time if so required.
Signature of
Person making
Declaration
Signature and
Name of
Witness
Date of
Signature
Date of
Signature
Why is a declaration made?
The completion of this declaration is a safeguard for you and UTS. The purpose is to avoid any conflict of interest between your
private interests and your work duties.
The Code of Conduct provides guidance on how to avoid a conflict of interest. This includes:

standing down in any part of the process in which you may be compromised

not using your position to obtain a private benefit for yourself or someone else

not allowing your decisions to be improperly influenced by family or other personal relationships

not seeking or accepting gifts or favors for services performed in connection with your work

not selling or buying shares in a client company at a time when you possess information that could, if publicly disclosed,
affect the value of such shares

not engaging in outside employment or in the conduct of a business, trade or profession without written authority of UTS
Who sees the declaration?
Only those persons duly authorised by the Vice Chancellor having a bona fide reason may have access to this document. The
declaration will be kept on a confidential TRIM file at UTS.
How to complete the form
Answer all questions, noting those which are not applicable to you. You may attach additional pages if there is insufficient space
on this form for all the information required. Make reference to additional pages on this page. Each additional page must be
dated and signed by you.