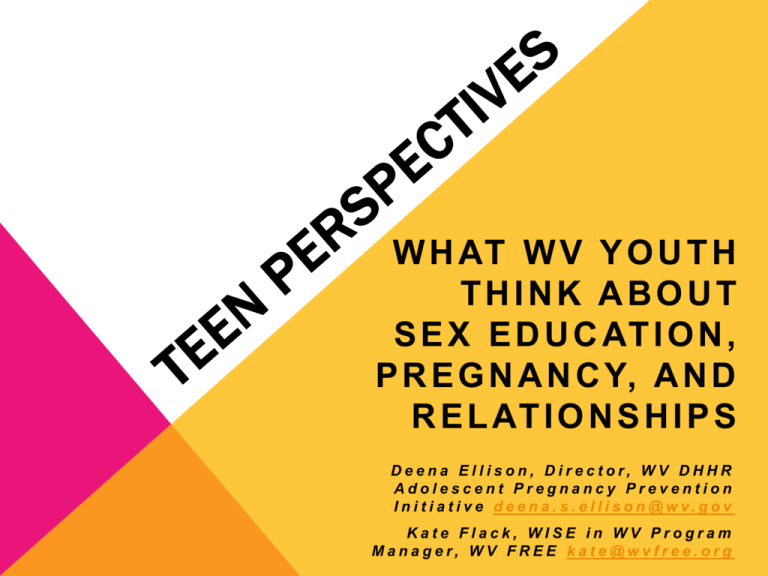 W H AT W V Y O U T H
THINK ABOUT
S E X E D U C AT I O N ,
P R E G N A N C Y, A N D
R E L AT I O N S H I P S
Deena El l i son, Di r ector, WV DHHR
Adolescent Pregnancy Prevention
I n i t i a t i v e d e e n a . s . e l l i s o n @ w v. g o v
Kate Flack, WISE in WV Program
Manager, WV FREE kate@wvfr ee. org
WHY ARE TEEN
PREGNANCY AND
REPRODUCTIVE
HEALTH EDUCATION
AREAS OF
INTEREST?
TEENS ARE HAVING SEX
FACTS
 Before the age of 13 4.9%
 By the 9th Grade- 25.3%
 By the 10th Grade- 27.5%
 By the 11th Grade- 43.6%
 By the 12th Grade- 58.1%
 Overall- 50.9%
WV (YRBS, 2011)
WV Teen Birth Rate (age 15-17)
Source: Kidscount.org/datacenter
Source: US Department of Health and Human
Services, Office on Adolescent Health
National Campaign to Prevent Teen and Unplanned Pregnancy,
The Public Costs of Teen Childbearing in West Virginia
Source: West Virginia Pregnancy Risk Assessment Monitoring
System, Unintended Pregnancy Rates by Age, 2009.
The CDC lists teen pregnancy
as a Winnable Battle!
WV 2011 YOUTH SEXUAL RISK BEHAVIORS
• 50.9% of girls and 47.4% of boys in WV high schools
have had sex
• 39.8% of WV high school males did not use a
condom the last time they had sex
• 74.5% of WV high school females did not use birth
control pills before the last time they had sex
• 12.0% of females and 16% of males in WV high
schools were never taught in school about AIDS or
HIV infection
Source: WV YRBS Survey Results 2011
THE ISSUE:
More Sex, Less Protection
We wanted to know what
teens thought.
TEEN PERSPECTIVE FOCUS GROUPS
• Focus group design
• Focused in 3 counties: Nicholas, Kanawha, McDowell
• Quizzes
WHY
Nicholas, Kanawha
and McDowell?
SO, WHAT DID THEY
HAVE TO SAY?
THE TALK: CONVERSATIONS WITH PARENTS
Discussions with Parents
1
0.95
0.9
0.85
0.8
0.75
0.7
0.65
0.6
0.55
0.5
Nicholas
Sissonville
Capital
McDowell
THE TALK: CONVERSATIONS WITH PARENTS
When asked about the types of conversations
around sexuality at home and what was said teens
replied:
• "Use a condom, don't get a girl pregnant"
• "We don't talk about that stuff at my house!"
• "Don't bring no babies home"
• "If you want to have sex, tell me so I can make sure
you are safe."
When asked who started the conversation, and was
their info correct? Many youth felt they could trust
the info their parents gave them simply because they
had experienced childbearing. However, not all
youth agreed.
• "I'm pretty sure they have accurate
information because they had me"
90% of students have had some type
conversation with their parents about sex.
Parents are often the conversation initiators.
We don't
talk about
that stuff
at my
house!
Did Parents Provide the Info You Needed?
1
0.9
0.8
No
0.7
0.6
Mostly, But Not
All Info Needed
0.5
0.4
Yes
0.3
0.2
0.1
0
Nicholas
Sissonville
Capital
McDowell
TOOLS TO TALK
When asked what could be provided to
help parents talk to teens about sex, teens
suggested:
•
"Pictures- I like pictures"
•
"A book would be nice for parents so they
could learn to talk with us and they won't
be jumping to conclusions"
•
"Parents don't want teens to have sex
PERIOD but if they had more information
and could be more comfortable with it, it
would be better for everyone."
•
"Whether parents want it to happen or
not it will. Make parents more
comfortable."
Why can't they
just talk to us,
why does it
have to be
complicated?
FACTS
PARENT FICTION
• "My teens don't want to hear
what I have to say about
relationships."

two thirds of teens report that
they wish they could talk to
their parents more about
relationships
• "My teenager knows she can
talk to me about anything!"

18 percent of teens do not feel
like they can discuss serious
health issues with either parent
• "It doesn't matter what I say,
my kid is going to do
whatever he wants anyway."

Nearly half of all teens say that
parents most influence their
decisions about sex
Knowledge is Power!
When it comes to sex…
Teens are naturally curious.
Parents are naturally terrified.
REPRO HEALTH 411: WHERE TEENS GET THEIR INFO
ON RELATIONSHIPS
•
TV
•
Friends
•
Family
•
"When you are surrounded by bad relationships
you learn the bad things about relationships."
•
"My friends who've been out there in the world"
Social Media
Facebook,
Instagram,
and Twitter
REPRO HEALTH 411: WHERE TEENS GET THEIR INFO
ON BIRTH CONTROL
• School – Health Class
• Parents/Family
• Peers
• School Clinic
• Wellness Center
• TV commercials
My dad
always said
use duct
tape.
Family
Planning
Clinics where
they give you
free birth
control.
REPRO HEALTH 411: WHERE TEENS GET THEIR INFO
ON PREGNANCY
• TV shows
• Friends
• Family
• Facebook
• School
• Pregnant or parenting
teenagers
I get my information
from my friends who
have had babies.
REPRO HEALTH 411: WHERE TEENS GET THEIR INFO
ON SEXUALLY TRANSMITTED INFECTIONS
Shoot man,
everybody talking
about that…
People that have
already had it if they
talk about it
• School
• Health Class
• Clinic
• Doctor
• Ex-girlfriend/boyfriend
• Internet
Ever had Sex Ed in School
1
0.9
0.8
0.7
0.6
0.5
0.4
0.3
0.2
0.1
0
Nicholas
Sissonville
Capital
McDowell
SEX ED IN SCHOOL
When asked if they had received sex education in school many
teens indicated they that had had NO sex education, while others
sited they received sex education, but with varying consistency:
• Only in health class for one semester one time during high school
• In middle school, about puberty only
• In 9th grade only, for one semester
• "From people (guest speakers) that came and spoke to us about sex
ed –– very good I learned a lot"
• "People came in our school for a week – we went during health class
– taught us about diseases, we acted out scenarios – I learned a lot"
• For one semester in the gym
• During parenting class
• One time per week throughout the school year for one year
SEX ED IN SCHOOL
When asked if they thought what they were
taught was ENOUGH, an overwhelming number
of teens said "no," other teens responded:
• "Yes, but we can always learn more"
• "You can never get too much"
When asked if the focus of their sex education
was on health, ethical issues or fear the
response was about even for each of the results.
• Health 25%
• Fear 25%
• Morals 25%
• A combination of all the above 25%
SEX ED IN SCHOOL
Students were asked, What don't they teach you that you
feel is important?
People need to
• "They don't teach you enough"
realize it's a part of
• "They don't give out condoms"
• "They don't teach how to talk to your parents
life and it happens to
or how your parents will react"
everyone.
 "People need to realize it's a part of life and it happens to
everyone. There are changes in life and we should talk
about them."
When asked what they would make different if they could
change sex education in schools. Students suggested:
• "Teach us how to put a condom on"
• "Give more information at a younger age so we can be
better prepared."
• "Teach us about all types of sex" (LGBTQ issues)
• "Be honest and teach us what we need to know!"
"I'm against sex ed in schools but I understand that some
students don't have adults at home to talk to."
"If you start at a younger age…we'll be more comfortable
when you need to tell us important things."
Who Teaches Sex Ed?
1
0.9
0.8
0.7
0.6
Health/PE Teacher
School Nurse
Outside Program
0.5
0.4
0.3
0.2
0.1
0
Nicholas
Sissonville
Capital
McDowell
OPINIONS ON TEEN PREGNANCY
When asked who's responsible if
someone chooses to become
pregnant, the majority of teens
indicated both were, but there were
a few thought the responsibility
wasn't equally shared.
• "Depends on which one is more
mature, but I guess the girl."
• "I believe the mother would take
more responsibility than the father."
OPINIONS ON TEEN PREGNANCY
What needs to be in place before you have a child?
• Money, Income, "Be financially prepared"
• "You must have a job!"
• Family Support
• College Degree
• House/Home/Place to live
• Work out any relationship issues
• Maturity and responsibility
• "Be with someone you want to spend the rest of your life with"
• Be stable and have a stable living situation
OPINIONS ON TEEN PREGNANCY
When asked what they knew about becoming a parent as a
teen, most all indicated it is very difficult and that their
priorities would have to change.
• "It is hard, because they can't go to school and get the education
they need."
• "A lot of my friends have had babies and it's been hard for them;
they didn't get to go to senior beach week or walk across the
stage with us."
• "Can't leave a baby at home while you're out partying."
OPINIONS ON TEEN PREGNANCY
When asked what teens thought about their peers having sex
but not being responsible about birth control, most indicated
that was an unacceptable choice:
• "I think if you know how to protect yourself, you should"
If you're going to choose to have
sex, you need to be responsible
and be a grown up - it's not a kid
thing.
I think it's pretty
irresponsible to have sex
and not be protected,
especially if you've already
had a kid.
OPINIONS ON TEEN PREGNANCY
When asked to discuss the possible benefits to teen pregnancy,
most youth didn't understand why a girl would want to get
pregnant, but thought it may be to keep the guy around, get free
food or housing, or to have someone to love them.
• "Have a baby tryin' to trap the dude and the dude wanna leave."
• "Watching TV, many girls think [having a baby] is so perfect, but
in real life most times the guy leaves."
• "They tryin a have a baby to make him stay, to get that money,
like money from the gov't, or from the dude if the baby needs
anything."
• "Some people get pregnant not for the money or the dude, but to
have someone to love them."
LGBTQ YOUTH IN SCHOOLS
•
While many teens felt LGBTQ teens were treated equally, some
disagreed
• "Depends on who it is."
• "Honestly I think they're treated like $#!+!"
• "I think it's like a social thing. I think the really really jocky &
redneck guys are anti-gay. I don't think it would be that hard for
people to be gay in this school."
• When asked how sexual orientation & gender identity could be
discussed in school, teens said:
• "I think that when they talk about how 'straight' people have sex
they need to talk about how 'gay, lesbian, or whatever' people
have sex so they can be protected from disease."
• "I think they should teach about it, cause not everybody's
straight."
• "Gay and lesbian people have sex – they need to know
protection"
What Teens Learn in Sex Ed
1
0.9
0.8
0.7
STIs
Contraception
How Pregnancy Occurs
LGBTQ issues
Role Play Scenarios
0.6
0.5
0.4
0.3
0.2
0.1
0
Nicholas
Sissonville
Capital
McDowell
"BEBOPPING": TEEN RELATIONSHIPS
 Bebopping common in certain groups – "I was with this girl last
week, with another this week"
 When guys brag about multiple sex partners their relationships
aren't very open
 I feel like, relationships just start. They do the typical dating
thing, then they have sex. They avoid talking about the
pregnancy thing. I don't know if they just don't feel comfortable
about it.
 "No communication – don't know number of partners and their
STI status"
 "I think that as a whole, the couples that abstain from sex are
overall longer lasting than the couples that don't."
ONE TEEN'S PERSPECTIVE ON BIRTH CONTROL
"Contraceptive literally translates to "against
life." It gets rid of a fertilized egg. I don't
really see difference between taking birth
control and having an abortion. I'm
completely against contraceptives. If you love
someone enough, you should wait. If you love
them even more, marry them."
FAMILY PLANNING ACCESS & PERCEPTIONS
 When asked who's responsibility is birth control, the majority of
teens said both partners.
 When asked to define family planning, many teens did not
understand the question but could relate to the concept.
"Family Planning is knowing when the right time is to have a
family."
"It means planning when you are going to get married and have
children."
"Knowing the time when you are ready."
"Understanding supporting your kids, waiting to have them when
you can."
"Family planning is planning when you're going to get married and
have kids. My mom had me really young, so I don't think she
planned me, but she swears up and down that she did."
A large percentage of teens knew where the
local family planning clinic was located. They
did know birth control was available there, but
did not know that services to teens were free
and confidential.
FOCUS GROUP CONCLUSIONS
Overall Themes
 Sex education needs to happen earlier (at least by middle
school) and more often
 Rationalized responsibility through comments like "if you're
old/mature enough to do X, you should be old/mature enough
to do Y"
 Pregnancy is feared more than STDs but prevention of both is
important
 Teens felt they weren't taught enough about consequences and
relationship dynamics
 Sex and reproductive health issues need to be discussed in a
more casual way – not by shaming teens or being judgmental
What is currently being implemented
What is currently being implemented
The Adolescent Pregnancy Prevention Initiative (APPI) operates under the
Office of Maternal Child and Family Health and is a focus area of their Family
Planning Program. APPI is a statewide initiative that influences and supports teens
as they explore and determine responsible sexual and reproductive options. APPI
covers all 55 counties. Additionally, APPI administers the Federal Personal
Responsibility Education Program (PREP) grant. Mission WV is a PREP grantee
(Cabell County). Other grantees are: Children's Home Society (Wood and
McDowell), KISRA (Kanawha) and MountainHeart (Wetzel).
The THINK (Teaching Health Instead of Nagging Kids) program under Mission WV
operates in 20 counties at 61 sites. Mission WV's THINK program is funded by
these grants:
• Teen Pregnancy Prevention (US DHHS Adolescent Health)
• Personal Responsibilities Education Program (WV DHHR)
• Competitive Abstinence Education (US DHHS – ACF)
Staff are fidelity-trained and use programs identified as evidence-based
curricula (EBC) recommended by the Center for Disease Control and
Prevention (CDC) for use in teen pregnancy prevention efforts.
Building Partnerships is our Goal!









WV Department of Education
WV Bureau for Public Health
 Department of Health and Human Resources
• Family Planning Program
• Adolescent Pregnancy Prevention Initiative
• Adolescent Health Initiative
Regional School Wellness Specialists
School Based Health Centers
Community Partners – PREP Grantees
• Mission WV
• Children's Home Society
• KISRA
• Mountain Heart
WV Free
Planned Parenthood
Family Resource Networks and Centers
Family Planning Providers
Kanawha,
Nicholas and
McDowell
County Schools
West Virginia Department of Health and Human Resources
Bureau For Public Health
Office of Maternal, Child and Family Health
Family Planning Program
Adolescent Pregnancy Prevention Initiative
Focus Groups made possible with
THANKS to these organizations!