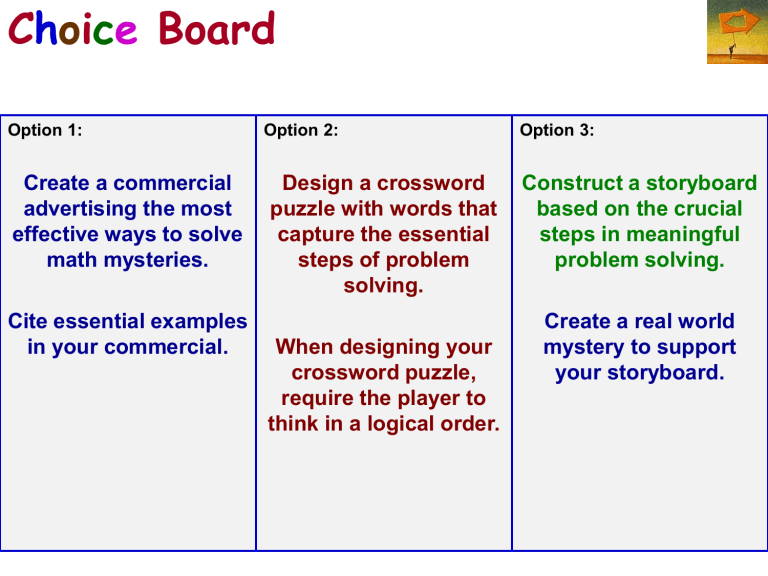 C h o i c e Board
Option 1: Option 2: Option 3:
Create a commercial advertising the most effective ways to solve math mysteries.
Design a crossword puzzle with words that capture the essential steps of problem solving.
Cite essential examples in your commercial.
When designing your crossword puzzle, require the player to think in a logical order.
Construct a storyboard based on the crucial steps in meaningful problem solving.
Create a real world mystery to support your storyboard.
Musical/Rhythmic
Sing it
Create a beat
Rap it
Make a cheer
Create a jingle
Hum it
Identify sounds
React to sounds
Listen to sounds
Connect to music
Write a poem
Verbal/Linguistic
Read it
Spell it
Write it
Listen to it
Tell it
Recall it
Use
"
you
"
words
Apply it
Chunk information
Say it
Use mnemonics
Body/Kinesthetic
Role play
Walkabout
Dance
Lip sync
Skits/charades/mimes
Construction
Math manipulatives
Sign language
Sports
Activity centers
Body language
Intrapersonal
Metacognition
Use self-talk
Work independently
Solve in your own way
Understand self
Journal it
Rehearse it
Use prior knowledge
Connect it
Have ownership
Logical/Mathematical
Make a pattern
Chart it
Sequence it
Create a mnemonic
Analyze it
Think abstractly
Think critically
Use numbers
Prove it
Interpret the data
Use the statistics
Interpersonal
Think-Pair-Share
Jigsaw
Cooperative grouping
Drama
Debates
Class meetings
Role play
Meeting of minds
Peer counseling
Tutors/buddies
Giving feedback
Shared Journals
Visual/Spatial
Mind maps
Graphic organizers
Video
Color code
Highlight
Shape a word
Interpret a graphic
Read a chart
Study illustrations
Visualize it
Make a chart
Create a poster
Naturalist
Label it
Categorize it
Identify it
Form a hypothesis
Do an experiment
Adapt it
Construct it
Classify it
Investigate it
Discern patterns