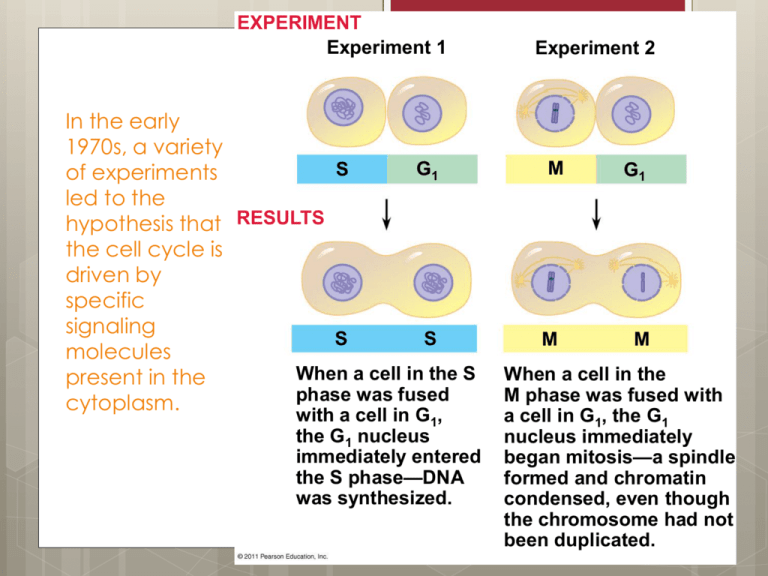 EXPERIMENT
Experiment 1
In the early
1970s, a variety
G1
S
of experiments
led to the
hypothesis that RESULTS
the cell cycle is
driven by
specific
signaling
S
S
molecules
When a cell in the S
present in the
phase was fused
cytoplasm.
with a cell in G1,
the G1 nucleus
immediately entered
the S phase—DNA
was synthesized.
Experiment 2
M
M
G1
M
When a cell in the
M phase was fused with
a cell in G1, the G1
nucleus immediately
began mitosis—a spindle
formed and chromatin
condensed, even though
the chromosome had not
been duplicated.
Cell Cycle Control



Cell cycle control system: a cyclically
operating set of molecules in the cell that
both triggers and coordinates key events in
the cell cycle.
The cell cycle is regulated at certain
checkpoints by both internal and external
signals.
A checkpoint is a control point in the cell
cycle where stop and go-ahead signals can
regulate the cycle.
Cyclins and CyclinDependent Kinases

Cell cycle regulatory molecules are mainly
proteins of two types: kinases and cyclins.




Kinases are enzymes that activate or inactivate
other proteins by phosphorylating them.
Most cell cycle kinases stay at a constant
concentration in the cell.
Cell cycle cyclins have fluctuating
concentrations in the cell.
To be active, cell cycle kinases must be
attached to a cyclin (cyclin-dependent
kinase or Cdk).
MPF as a Cdk
Internal Checkpoints
Protein
Location
Purpose
Ras cyclin
G1 checkpoint
Checks that cells are big
enough to enter the next
part of cell cycle.
P53
G1 checkpoint
Inspects chromosomes for
damage.
ATM/Nibrin
S checkpoint
Inspects copied DNA for
mistakes.
MPF
G2 checkpoint
Phosphorylates proteins,
which initiates mitosis.
MAD1
Metaphase
Checks that spindle fibers
are attached to
chromatids.
External
Checkpoints
 Growth
factor: protein
releases by certain cells
that stimulates other
cells to divide.
 Density-dependent
stop dividing.

inhibition: crowded cells
Binding of a cell-surface protein to an adjoining
cell sends a cell division-inhibiting signal.
 Anchorage
dependence: cells must be
attached to substratum to divide.
Loss of Cell
Cycle Controls
in Cancer Cells

Cancer cells do not stop dividing when
growth factors are depleted.



HeLa cells
(green
microtubles
and orange
Golgi)
Hypothesis: cancer cells do not need growth
factors in their culture medium to grow.
Hypothesis: cancer cells have an abnormal cell
cycle control system.
The underlying basis of the abnormality is
almost always a change in one or more
genes that alters the function of their protein
products, resulting in faulty cell cycle control.


If a cancer cell stops dividing, it occurs at a
random point in the cycle.
Cancer cells can go on dividing indefinitely in
culture with a continual supply of nutrients.


Cells are said to have undergone
transformation.
Cancer cells evade the normal controls that
trigger a cell to undergo apoptosis when
something is wrong.
Lung cancer
cell dividing.
Development of Cancer
Cancer develops only after a cell experiences ~6
key mutations ("hits").

Unlimited Growth
Turn on growth promoter genes.

Ignore Checkpoints
Turn off tumor suppressor genes (p53).

Escape Apoptosis
Turn off suicide genes.

Immortality = unlimited divisions
Turn on chromosome maintenance genes.

Promotes blood vessel growth
Turn on blood vessel growth genes.

Overcome anchor and density dependence
Turn off touch-sensor gene.
It's like an
out of control
car!
p53 Mutation



Controls G1 phase; tells cell to kill itself
(apoptosis) if DNA damage cannot be
repaired.
Prevents development of mutated cells.
Mutation in gene allows cancer cells to
continue dividing.
p53 is the
Cell Cycle
Enforcer
p53: Master Regulator Gene
NORMAL p53
p53 allows cells
with repaired
DNA to divide.
p53
protein
DNA repair enzyme
p53
protein
Step 1
Step 2
Step 3
DNA damage is caused
by heat, radiation, or
chemicals.
Cell division stops, and
p53 triggers enzymes to
repair damaged region.
p53 triggers the destruction
of cells damaged beyond repair.
ABNORMAL p53
abnormal
p53 protein
Step 1
Step 2
DNA damage is
caused by heat,
radiation, or
chemicals.
The p53 protein fails to stop
cell division and repair DNA.
Cell divides without repair to
damaged DNA.
cancer
cell
Step 3
Damaged cells continue to divide.
If other damage accumulates, the
cell can turn cancerous.
How does
cancer happen?


Breast
cancer cell
Benign tumor: abnormal cells remain at the original
site because they have too few genetic and
cellular changes to survive at another site.
Malignant tumor: cells whose genetic and cellular
changes enable them to spread to new tissues
and impair functions of one or more organs.