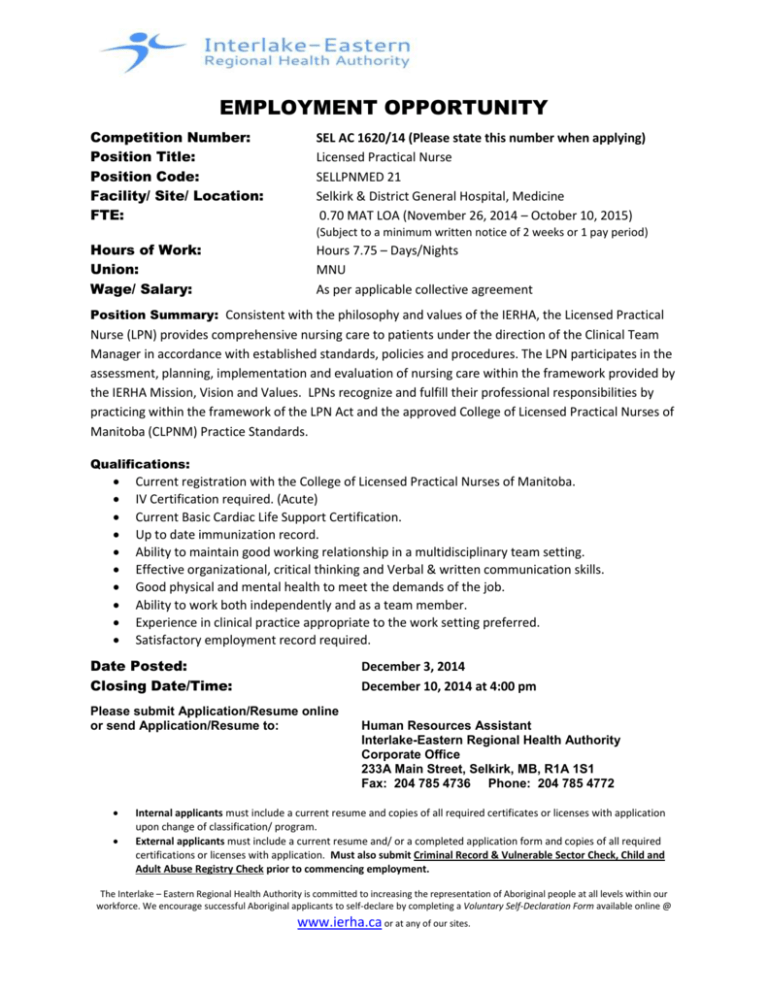 EMPLOYMENT OPPORTUNITY
Competition Number:
Position Title:
Position Code:
Facility/ Site/ Location:
FTE:
SEL AC 1620/14 (Please state this number when applying)
Licensed Practical Nurse
SELLPNMED 21
Selkirk & District General Hospital, Medicine
0.70 MAT LOA (November 26, 2014 – October 10, 2015)
(Subject to a minimum written notice of 2 weeks or 1 pay period)
Hours of Work:
Union:
Wage/ Salary:
Hours 7.75 – Days/Nights
MNU
As per applicable collective agreement
Position Summary: Consistent with the philosophy and values of the IERHA, the Licensed Practical
Nurse (LPN) provides comprehensive nursing care to patients under the direction of the Clinical Team
Manager in accordance with established standards, policies and procedures. The LPN participates in the
assessment, planning, implementation and evaluation of nursing care within the framework provided by
the IERHA Mission, Vision and Values. LPNs recognize and fulfill their professional responsibilities by
practicing within the framework of the LPN Act and the approved College of Licensed Practical Nurses of
Manitoba (CLPNM) Practice Standards.
Qualifications:










Current registration with the College of Licensed Practical Nurses of Manitoba.
IV Certification required. (Acute)
Current Basic Cardiac Life Support Certification.
Up to date immunization record.
Ability to maintain good working relationship in a multidisciplinary team setting.
Effective organizational, critical thinking and Verbal & written communication skills.
Good physical and mental health to meet the demands of the job.
Ability to work both independently and as a team member.
Experience in clinical practice appropriate to the work setting preferred.
Satisfactory employment record required.
Date Posted:
Closing Date/Time:
December 3, 2014
December 10, 2014 at 4:00 pm
Please submit Application/Resume online
or send Application/Resume to:


Human Resources Assistant
Interlake-Eastern Regional Health Authority
Corporate Office
233A Main Street, Selkirk, MB, R1A 1S1
Fax: 204 785 4736 Phone: 204 785 4772
Internal applicants must include a current resume and copies of all required certificates or licenses with application
upon change of classification/ program.
External applicants must include a current resume and/ or a completed application form and copies of all required
certifications or licenses with application. Must also submit Criminal Record & Vulnerable Sector Check, Child and
Adult Abuse Registry Check prior to commencing employment.
The Interlake – Eastern Regional Health Authority is committed to increasing the representation of Aboriginal people at all levels within our
workforce. We encourage successful Aboriginal applicants to self-declare by completing a Voluntary Self-Declaration Form available online @
www.ierha.ca or at any of our sites.