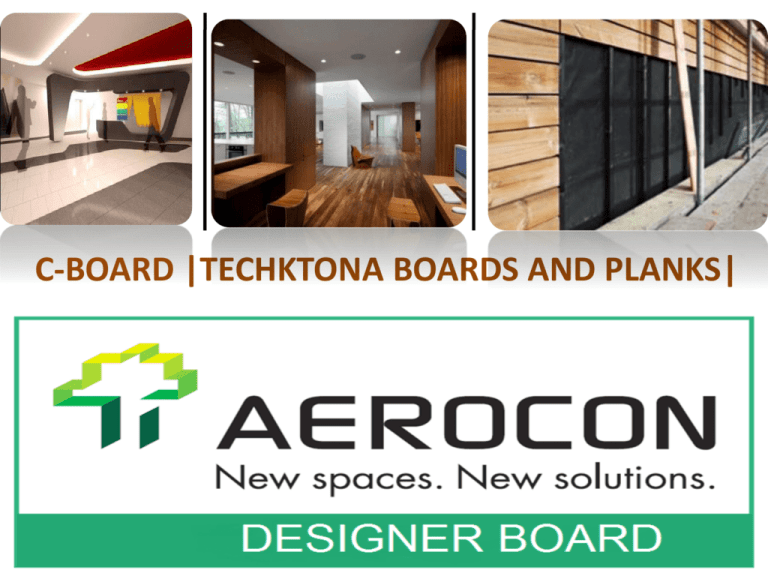 C-BOARD |TECHKTONA BOARDS AND PLANKS|
Introducing Techktona, the latest addition to our board range.
Techktona Boards and Planks are the perfect blend of innovation,
cutting edge technology and superior aesthetics. Autoclaved &
environment friendly,Techktona products have a natural grainytexture
that can take on any color, giving you amazing flexibility in design.
Company Profile….
•
HIL LIMITED is part of the CK Birla Group.
• Founded in the year 1946, has blazed a pioneering path in the fibre cement
industry over the decades.
• 13 plants pan-India to manufacture fibre cement sheets and green building
products – Rs.1000 Crore turnover.
• Our sheeting brand "Charminar" built over a period of 60 years based on
affordability, quality, strength and durability, continues to enjoy the
confidence of our customers.
• Our extensive sales and distribution network spread across the country,
with a representation in all the states, is a result of our continued efforts to
extend the network and ensure availability of our products even in remote
rural areas.
• Currently a major trend that is sweeping the building products
industry is the "Green" factor. We anticipated this Green revolution
a decade ago, and matured product in the lines of Aerocon and
Hysil, stand testimony to that fact. There is a growing segment of
Green Building products consumers who are environmentally
conscious.
• We welcome this paradigm shift and are confident that as a pioneer,
we will be able to set standards and serve the discerning customer
to their satisfaction.
• HIL Ltd is run by a team of dedicated professionals and has grown
into an organization occupying an eminent position in the building
material industry of India. HIL is backed by the organizational and
technical expertise of the Birla's and has a Board of directors
comprising experienced personnel from Business, Finance and
Industry.
RESEARCH & DEVELOPMENT
HIL's leading-edge R&D Centre is recognized by the Department of
Scientific and Industrial Research, Government of India.
HIL Ltd has been awarded the prestigious DSIR National Award for R&D
efforts in industry for the year 2000, in the area of new materials for
AEROCON PANELS.
Fiber
TECHKTONA
The Techktona Boards and Planks are non-asbestos made from a
mix of cement, cellulose fiber and fire resistant fillers on hatchek
machines.
It is cured under high pressure steam curing process called
autoclaving for dimensional stability and durability.
Techktona products have a natural grainy texture that can take on
any color, giving you amazing flexibility in design.
TECHKTONA
The products having excellent resistance against fire, termite and
moisture makes it ideal material for varying applications.
They can be painted or polished for an authentic wood look.
" Designer Boards and Planks open new
horizons to the architect's creativity which
allows them to use in almost all the interior
and semi covered exterior of a building"
TECHKTONA
•The superiority of product lies in its durability and
resistance to fire moisture and offers a great
maintenance free environment
ENVIRONMENTAL FRIENDLY:
It is the best substitution to wood with a
contemporary range of green products suitable for
all modern constructions.
|PLANKS|
|TECHKTONA
PLANKS |
AEROCON PLANKS:
•An autoclaved fiber cement plank captures the beautiful look of wood.
•A perfect siding option – more durable and natural looking.
PRODUCT FEATURES:
wear and tear.
PLANKS
•The Planks are tough, water resistant and have a great ability to resist
•A concept to save environment by providing the truly natural wooden
feel to the product.
•Provides a durable aesthetic treatment to the building exteriors and
interiors.
•If the wall are not plumb and the Architect doesn't want to invest
on plastering, Plank cladding serve as a very good option.
•It can take any finishes / paints / natural polishes / glossy finish.
Siding
TECHKTONA
APPLICATIONS:
PLANKS
AVAILABLE
External Siding &
THICKNESSES:
Internal Siding
•8mm and 10mm
AVAILABLE SIZES:
• 150mm * 2440 mm
• 200mm * 2440 mm
Technical Properties
TECHNICAL PROPERTIES
Adhesion test (cross
hatch)
100%
Water resistance
48 hrs (blisters recovery in overnight)
Wet scrub resistance
100 cycles
Fire resistance
properties
HIL Designer Planks are a non-combustible material
and qualify for Resistance to fire as per BS-476, Part
5, 6, 7
Standard weight
8.2 Kg/m2 for 6 mm
Water permeability
< 1%
Thermal conductivity
0.18 W/m0K
Screw holding capacity 190 kg
on face
Nail holding capacity
on face
120 kg
• FIRE RESISTANT
• ECO FRIENDLY
• TERMITE RESISTANT
• WEATHER RESISTANT
• WATER RESISTANT
• NOT BRITTLE
• SOUND INSULATION
TECHKTONA
• NON ABSESTOS
• LOW SHRINKAGE
• HIGH WORKABILITY
• DIMENSIONAL STABILITY
• DECORATIVE
TECHKTONA
PLANK CLADDING SYSTEM:
The plank cladding is a simple and yet different
system of cladding which gives an assured quality
aesthetics of the building.
Fiber cement board is considered the best option
for its durability and flexibility.
We go for Screwing application for overlapping.
This cladding is generally supported by a
structural frame or it can also be done on the
bitumen primered or water proof coated wall
directly by using the concrete screws.
STEP 01:
•Prepare the wall to be treated and make sure the wall is clear from all undulations
and undesired material. The wall surface should be treated with a coat of water
proofing material.
STEP 02:
•The framing structure needed to support the cladding can be of G.I. or Al.
•Mark the layout on the wall by making sure that the spacing between the studs is not
more than 600mm.
•The sections to be used vary with the type of building and the particular requirements
of the building.
•A typical structure requires a channel stud of dimensions: Web – 48mm, Flange –
32mm, Thickness – 1.0mm.
•The anchor clips or brackets, which support the sections, are to be secured to the wall
with the help of anchor bolts.
STEP 03:
•Two horizontal channels are to be placed – one at the top and one at the bottom of
the vertical members. These provide support to the edges of the boards.
•The studs are then placed at every 600mm centers and are secured to the anchor clips
or brackets with the help of self driven screws.
Step 04:
•The planks are available in widths – 450mm and 600mm and in lengths of 3000mm.
•For an overlapping system of cladding, the installation should be started from the
bottom.
•The overlap between two rows of planks should be at least 25mm.
Step 05:
Plank fixing:
•Each plank should be screwed to each of the
studs.
•It should be made sure that the screw is 12mm
away from the edges and 20mm from the corners
of the plank, to avoid any damages and to allow
proper fixing.
•The screw fasteners can be fixed above or under
the lap joint, depending on the customer's choice.
S I D I N G D E TA I L S
1.AeroconPlank,BlindFastening
G.I vertical
member
2 . AeroconPlank,Blind&visibleFastening
01
S I D I N G D E TA I L S
3.A e r o c o n P l a n k - F r o n t e l e v a t i o n u s e d v e r t i c a l l y
4.Aerocon Plank – Inside corner solution without profile
02
S I D I N G D E TA I L S
5.Aerocon Plank-Outside corner solution without profile
6.Aerocon Plank-Outside corner solution with profile
03
S I D I N G D E TA I L S
7.Aerocon Plank – Bottom Detail
04
NOTE:
• We propose any corner profile to be anti -corrosion
material , preferably aluminium with powder coated.
• Studs can be G.I because they are not exposed to the
external environment.
• We recommend additional framework securing each
joint if the planks are not overlapped.
• If not overlapped, every horizontal joint should be
sealed properly with epoxy grouting or silicon filling
so as to ensure no water leakage.
Contact us
• We have a dedicated Design and Technical
team who will provide necessary solutions.
• We provide an Inhouse labour team for
installation for plank cladding or siding.
• We will support with necessary Accessories
required for Plank cladding.
Contact us
Why choose Aerocon Fibre Cement Board or planks over
Vinyl Exterior?
• It is more energy saving.
• It is more fire resistant compared to Vinyl siding.
( The National Institute of Standards and Technology found
that, in tests involving vinyl-clad structures in close proximity,
fire was observed to spread between two vinyl-clad test
structures located six feet apart in fewer than five minutes.
Additionally, vinyl siding can release toxic fumes when
burning, particularly dioxins. This is not only an environmental
concern, but the fumes can be dangerous to fire fighters and
bystanders, and the toxic fumes released may increase the
likelihood of fatality from smoke inhalation for anyone
trapped in the burning structure )
Contact us
Why choose Aerocon Techktona Board or planks over
Masonite Siding?
• Easy workablity.
• Longer life
( Masonite are prone to deterioration due to moisture )
• No wrapping.
• Less maintenance
• Termite resistant.
• Moisture resistant.
( Masonite naturally absorbs water and swells slightly.
Moisture intake can lead to irremovable mildew, indoor leaks,
cracked exterior paint, and damaged nails )
Contact us
Why choose Aerocon Fibre Cement Board or planks
over Hardboard Siding?
•
•
•
•
•
•
Aerocon Fibre Cement Board or planks is much superior to
Hardboard siding because
It doesn't wrap.
No buckling is observed.
Less maintenance.
Contact us
Termite resistant.
Moisture resistant.
Fire resistant.
And hence a longer life.
Why choose Aerocon Fibre Cement Board or planks
over Stucco Siding?
• Better Moisture resistance .
( Stucco does not work well in wet climates. If water from rain or snow seeps
inside the concrete-like shell through a joint or crack, the moisture could
damage the wood frame underneath the stucco, causing the wood to rot )
• Cost effective .
( Stucco siding requires several layers, so a large portion of your stucco budget
is going to go to those you hire to apply it )
• Less Maintenance and Longer life.
(Because stucco is damaged so easily, it requires more maintenance than
other siding materials. Holes and cracks must be patched as soon as you
notice them so that water doesn't have a chance to get beneath the
surface and cause further damage)
Contact us
CONTACT US
Green Ventures
Address:
32/1136,1137, South Kalamaserry,
N.H.47, Kochi, Kerala 682033
India
Email id : greenventures.ekm@gmail.com
Mobile : 9895195461 .