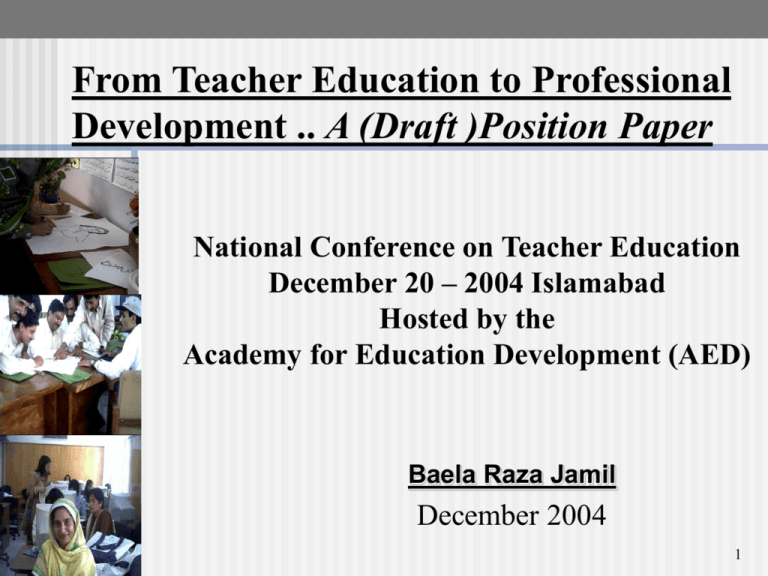 From Teacher Education to Professional
Development .. A (Draft )Position Paper
National Conference on Teacher Education
December 20 – 2004 Islamabad
Hosted by the
Academy for Education Development (AED)
Baela Raza Jamil
December 2004
1
The Scale … Magnitude of the Challenge
Demand and Supply Side Implications
Femal
Male
250
Teachers 000s
700
600
200
500
150
400
300
100
200
50
100
0
Primary Middle
(NEMIS 2002-03)
High
High
Sec.
0
Rural
Urban
584
404
Private
330
Public
658
•Shortage of teachers due to low criteria (2 teacher 2 room ), recruitment ban ..180,000
required for NPA/EFA 2015
•Low transition rates and low provision 10:1 and 15:1 primary middle & primary to sec..
- Addressing this gap will lead to higher demand for teachers
2
•Severe shortage of subject teachers (English, Science, Maths, Social Studies)
Policies on Teacher Education




Policies often accompanied by comprehensive analysis but
short on vision, operationalization, financing & action plans:
NEP; EFA- NPA and ESR Action Plan 2001-2005,
No provision for elevating status of teaching into a full
fledged accredited profession.
Absence of a social dialogue forum to involve teachers,
experts and organizations in policy making and reform.
GOP adopted a sector-wide approach with a two pronged
strategy in ESR/EFA :
 Improving existing public sector facilities for better
performance and
 An enabling environment for non-state providers to help
meet education targets ..including teacher education.
3
Teacher Training Institutions ..a proliferating
phenomenon ..but what is the quality
Category of Capacity Building Institutions : Public Sector
No.
Provincial Institute of Teacher Education (PITE),
4
Education Universities
1
Teachers Training Departments attached with Universities
9
Government Colleges of Education in Pakistan
17
Training in Physical Education
03
Training in Home Economics
01
Agro Tech Training
04
Training in AV Aids and Special Education
04
Government Colleges for Elementary Teachers
89
Teachers Training Outposts (TOs)
66
Teachers Resource Centers. Initiative under ESR for decentralized
capacity building & information sharing
380
Total
578
Source: Ministry of Education
AIOU, National Commission for Human Development (NCHD), Education
Foundations
Non-State Providers include: Private Sector Universities; Private Sector School
4
Networks; Civil Society Organizations, Private Academies TTIs
Institutional Disconnects

Institutional Diversity or Confusion :
Apex and affiliate institutions vary
from province to province..

District in-service training facilities in,
TRCs and TOs are in high schools
under district line management vs.
affiliate institutions/ GCETs.. with
little evidence of communication
between the two

Local Government Ordinance 2001:
training is a provincial subject, whilst
professional development needs,
support and follow up are core service
delivery issues at district level.

Institutional arrangements require
clarity in the stated functions of Apex
bodies and their affiliate institutions in
concurrent spheres of work at
provincial and district level.

Multiple providers and multiple options in
a weakly defined policy & service
delivery environment.. Gaps growing
between quality and non-quality
providers, representing rising inequity, the
`myth of choice in education', quality
consistently undermined in public &
private sectors.

Tensions between state and non-state
providers. Many collaborative initiatives
but procedures are at discretion of
decision makers. No formal dialogue
between different providers of teacher
education for healthy public-private
partnerships.

Insufficient comparative research and
transparent standards on teachers and
student learning outcomes, applicable
equally to public and private sectors.
5
Pre-Service Training…97% vs. 66% trained in
public and private sector ..the quality quandary
Pre-service
Certification
Options :
PTC, PTOC, CT,
Dip.ed,
Diplomas,
B.ed/ M.ed
- State Providers
Duration
19 weeks to
two years
after Matric,
FA/FSC,BA/BSC
MA/MSC
Providers :
State and
Non-State
growing
reality
Curriculum
General and
Specific
Content
Public Sector
: 'Blooms
Taxonomy"
Issues
:
Dated subjects, in content and sequencing
- Non-state providers : Some..more innovative and client and school based in focus.. some jargonistic
- Teaching Practicum is not sufficient and not well-supervised
- Link between pre and in-service is non-existent/weak
- Low provision for technical education, special education, NFE/literacy
- Little experimentation in alternative professional dev. models in public sector
-TTIs-University-School links; TTIs-School-industry links; Consortia School—University; Public6
Private, School/Teacher Networks
In-Service .. A Pandora's Box …
….Event based INSET…
In-Service
Range of
Courses
..as per
need
Duration : 1
day to 6 weeks
subject based;
emerging disciplines
•
•
•
•
•
Providers:
Multiple &
Growing
.In-country
and abroad
Curriculum
Need based..
Issues
Approaches
More Innovative…
flavour of the month
No checklist for quality assurance of INSET to multiple providers..
One off trainings with no follow up and support ..low resource provision
No link between INSET providers and education managers unless school based initiatives
Several innovative models /approaches emerging waiting to be institutionalized eg. Mentors,
Reflective Practioners, WSIP, Cluster Based- PDC/PDT, moving towards professional development
but without policy…
Donor and/or project dependent : No proper costing/financing for planning forecasting of INSET7
Professional Issues of Teacher
Education…









Lack of Uniform National Certification/Accreditation Systems for
equivalence
Low Entry Level Requirements and no Professional Screening
No regulation of standards pre and in-service undermining student
learning & professional mobility and status of teachers.
Varying entry level recruitment requirements from province to province
leading to inequities: inter and intra provincial, affecting women
Lower Standards for Non-Formal Education .. NFE a massive reality
NFE pre-and in-service is not standardized: duration, content,
institutional arrangements or professional mobility paths. Quality
assurance even more tenuous
Professional mobility in public sector is linked to seniority, qualifications
and level of teaching: Teachers with special primary, middle-school
level aptitude are forced out once they improve qualifications.
Salary structure of teachers at elementary/school level and incentives need
revision and rationalization
No rigorous research in teacher education and learning assessments
8
ensuring comparability
ICTs in Teacher Education ..
Imperceptible initiatives… waiting for formal
recognition and integration
Supported by the
•Government,
•MNCs, Corporate sector ,
•Civil society organizations and
•Donor initiatives
" Min. of IT, S&T, AIOU
INTEL, iEARN, Microsoft, ICI
PSO, CSOs, Private Sector
ESRA, ADB, JICA, UNESCO
- Policy and strategy on ICTs still not
finalized...over 100,000 teachers trained
- Distance Education in Teacher
Education is highly Under-utilized
9
Infrastructure & Financing …
Sustaining Teacher Education

Infrastructure









Public sector sprawling facilities…under-utilized
Poor condition in public sector ..no or low budgets for M&R, equipment,
service support and upgrading outdated facilities….for ICTs etc.
Financing of Teacher Ed in Pakistan
Skills for planning, budgeting, costing and financial reporting are severely
lacking
Projections are under-costed
Financing of teacher education is generally project driven and not
part of the recurrent mainstream budgets.
There is lack of institutionalized approach to financing of teacher
education as an embedded costing approach of institution based costs
Budgetary constraints and conventions of low or adhoc budgetary
provision for teacher education as part of non-salary recurrent budgets
which can be costed on a per-student or even per school/institution basis.
Financial short falls also impact availability of learning aids/technology,
supplementary teaching material, reference materials, maintenance and
monitoring ability in the training institutes
10
The Shifting Paradigm of Teacher Education…
Adjusting systemically to new realities







From transmission To constructivism ..teachers as active learners
From one off training to long term systematic training opportunities
From dislocated training to processes in contexts and cultures
From skill training to one supported by school/curricular reform
From isolated/individual to collaborative processes
From empty vessels to adult reflective
practitioners and leaders of change
Content
From passive participants to key reform agents
Professional
+
Personal Dimensions
Pre-Service
School based ..
Field Based
On-Service
Processes Contexts
In-Service
From Teacher Education to Professional Ed. Development
11
A Framework to Address Teacher Education:
A comprehensive systemic approach
Policy
Practice
Competence,
Motivation &
Opportunity
Institutional
all levels
Curriculum
Pre-In Service
12
Policy Shifts.. From teacher education to
Professional Development







Long term, embedded in a vision,
strategies, criteria, institutional
clarity and operational procedures
Principle of inclusion : all teacher
education service providers
National Certification system for all
teachers (doctors, engineers,
architects)
Elevate teachers status and profession
with incentives
Credible comprehensive database
/EMIS on teachers in all sectors
Establish a National Teacher
Education Forum (NTEF) to include
teachers' voices in reforms
Annual Head Teachers' Conference at
district, provincial and national levels
as an advocacy lobby.




..Addressing Quality
Institutional linkages across
school, district, provincial and
national levels
Research expanded on teacher
education, classroom practices
and student achievements for
evidence-based policy
adjustment
Links between school education
and higher education: tapping
HEC and Provincial
budgets/opportunities
Trend mapping on budgets for
teacher education to: inform
policy; design new resource
templates by level/category; and to
revise financing for teacher
education (pre, in-service,
13
monitoring support and research)
Institutional Shifts …



A national standards and
accreditation system institutionalized
for different levels of teacher
education, in all sectors: for
recruitment criteria, acquisition of
competencies and eligibility for
teaching and management with interprovincial agreements for equivalence
and professional mobility
Clarify confusion between apex and
support institutions in all provinces.
Guidelines on jurisdiction and
responsibilities, districts, provinces and
national institutions to ensure alignment
School-based or cluster based in-service
training programs be promoted and
reflected in performance evaluation and
career mobility of teachers and head
teachers

Jurisdiction for learning and
quality support at the provincial
and district levels. Districts should
be able to plan, finance and
supplement quality improvement
through existing teacher education
facilities (GCETs/TRCs etc) .

The TRCs set up under ESR must
be made fully functional with links
between TRCs, TTIs (dist.) and
provincial level institutions

Institutional needs assessment of
TTIs and TRCs for strengthening
and optimal functioning (Physical,
human, financial and purpose
level)
14
Curriculum for Teacher Education
and Practice





A technical group constituted on
teacher education curriculum pre and
in-service for formal and non-formal
systems to develop guidelines (all
sectors)
Urgent attention to training in
technical education, special/ inclusive
education, and early childhood
education;
Integration of rights, health, HIV
AIDs, population, use of ICTs
/distance education. as envisaged in
EFA/ESR/MDGs in pre-/INSET
Co-opt leading teacher education
institutions (global) for technical
advisory services.
Upgrading INSET through a
comprehensive quality assurance
checklist


Changes in curriculum/textbooks to
be accompanied by timely training
Permission and financial support
for innovative approaches
enhancing learning and curriculum
at school./local level through local
mentors, cluster school
development coordinators (earlier
LCs), school university links,
access to TRCs and school audits

Head teachers be provided authority
for collaborative planning at local
and school level

Improving attitudes and practices
be duly rewarded through
recognition and awards coinciding
with the World s Teachers' Day,
15
EFA Week or Literacy Day.