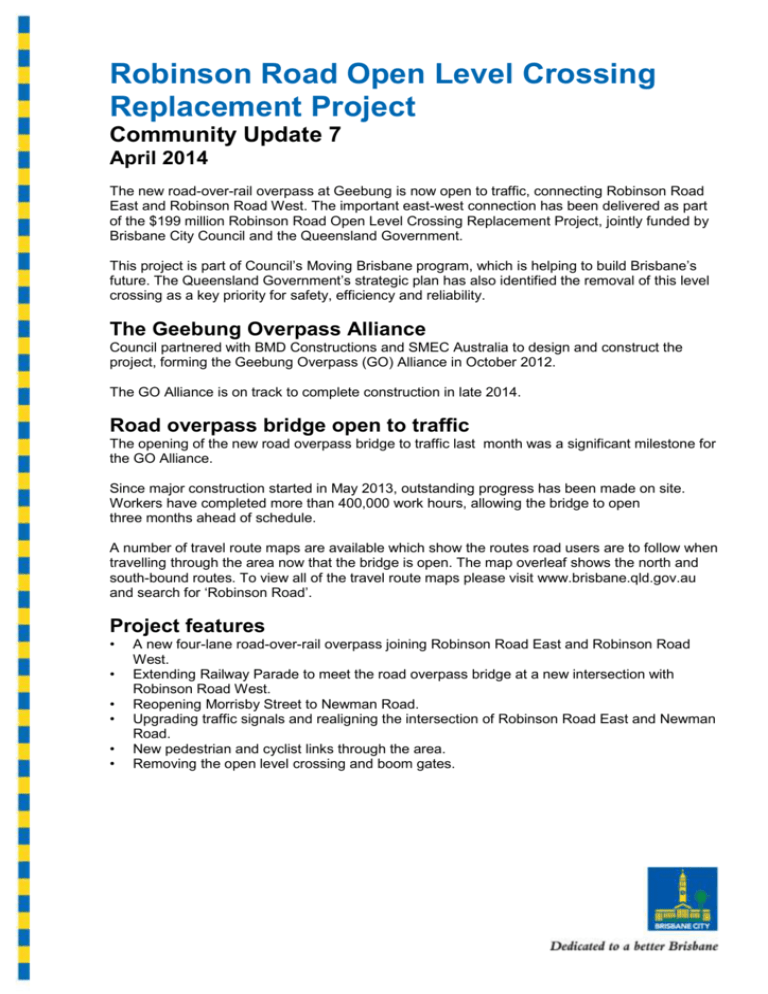 Robinson Road Open Level Crossing
Replacement Project
Community Update 7
April 2014
The new road-over-rail overpass at Geebung is now open to traffic, connecting Robinson Road
East and Robinson Road West. The important east-west connection has been delivered as part
of the $199 million Robinson Road Open Level Crossing Replacement Project, jointly funded by
Brisbane City Council and the Queensland Government.
This project is part of Council's Moving Brisbane program, which is helping to build Brisbane's
future. The Queensland Government's strategic plan has also identified the removal of this level
crossing as a key priority for safety, efficiency and reliability.
The Geebung Overpass Alliance
Council partnered with BMD Constructions and SMEC Australia to design and construct the
project, forming the Geebung Overpass (GO) Alliance in October 2012.
The GO Alliance is on track to complete construction in late 2014.
Road overpass bridge open to traffic
The opening of the new road overpass bridge to traffic last month was a significant milestone for
the GO Alliance.
Since major construction started in May 2013, outstanding progress has been made on site.
Workers have completed more than 400,000 work hours, allowing the bridge to open
three months ahead of schedule.
A number of travel route maps are available which show the routes road users are to follow when
travelling through the area now that the bridge is open. The map overleaf shows the north and
south-bound routes. To view all of the travel route maps please visit www.brisbane.qld.gov.au
and search for 'Robinson Road'.
Project features
•
•
•
•
•
•
A new four-lane road-over-rail overpass joining Robinson Road East and Robinson Road
West.
Extending Railway Parade to meet the road overpass bridge at a new intersection with
Robinson Road West.
Reopening Morrisby Street to Newman Road.
Upgrading traffic signals and realigning the intersection of Robinson Road East and Newman
Road.
New pedestrian and cyclist links through the area.
Removing the open level crossing and boom gates.
Where to from here?
With the road overpass bridge now open to traffic, the project remains on track to be fully
completed in late 2014.
A number of construction activities will take place between now and late 2014.
These include:
• the new pedestrian overpass bridge at Geebung Station to replace the current level crossing
access to the station and across the rail line
• a new car park and plaza area on the northern side of Geebung Station
• removing the temporary crossing of the Zillman Waterholes
• reopening Morrisby Street from Newman Road to one-way traffic, improving connectivity to
Robinson Road East and local businesses.
Project benefits
Removing the open level crossing has long been a priority for Council, with three fatalities
recorded at the open level crossing since 1992 and a number of near misses involving
pedestrians, road vehicles and trains.
Now that the road overpass bridge is open, the open level crossing has closed to road traffic.
Pedestrians and cyclists will continue to cross at the open level crossing until construction of the
pedestrian overpass is completed later this year.
The new pedestrian bridge will include lifts and stairs to improve access for people with a
disability or restricted mobility.
The project will:
• improve safety by separating road from rail
• reduce traffic congestion
• increase freight and passenger rail efficiency
• improve pedestrian and cycle links.
More information
The GO Alliance sends out regular project updates to keep local residents, community groups
and the wider public informed about the project.
To find out more you can:
PHONE:
1800 704 749
EMAIL:
community@goalliance.com.au
WRITE TO: Robinson Road Open Level Crossing
Replacement Project
Brisbane City Council
PO Box 1434
Brisbane QLD 400
VISIT:
www.brisbane.qld.gov.au
To have the Robinson Road Open Level Crossing Replacement Project, Geebung newsletter
interpreted, call the Translating and Interpreting Service on 13 14 50 and ask to speak to
Brisbane City Council on (07) 3403 8888.