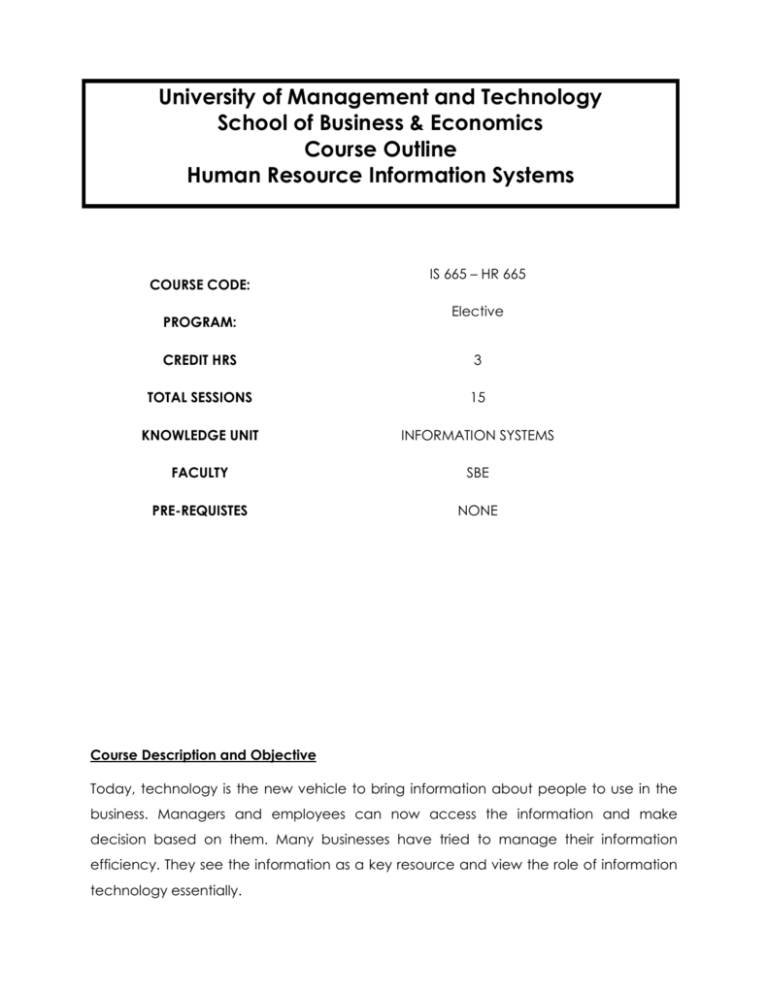 University of Management and Technology
School of Business & Economics
Course Outline
Human Resource Information Systems
COURSE CODE:
PROGRAM:
IS 665 – HR 665
Elective
CREDIT HRS
3
TOTAL SESSIONS
15
KNOWLEDGE UNIT
INFORMATION SYSTEMS
FACULTY
SBE
PRE-REQUISTES
NONE
Course Description and Objective
Today, technology is the new vehicle to bring information about people to use in the
business. Managers and employees can now access the information and make
decision based on them. Many businesses have tried to manage their information
efficiency. They see the information as a key resource and view the role of information
technology essentially.
Furthermore, one of the biggest challenges is to manage employees to utilize the
technology since we are in the information age. The staff needs to increase their
productivity, reduce cost, produce better products/service, provides customer
satisfaction, increase business competitiveness, and growing business. In order to do so,
the organization needs to utilize technology.Therefore, the course is offered to provide
general concept and guidelines to understand the HRIS planning, development,
implementation, and maintenance.
Textbooks & Supplies:
1. Human Resource Information Systems: Basics, Applications & Future Directions by
Michael J. Kavanagh & Mohan Thite (2009).
2. The Brave New World of eHR: Human Resources Management in the Digital Age.
By Eduardo Salas, Hal Gueutal, Dianna L. Stone (2005)
3. Management Information Systems for the Information Age U.S.A.: Haag, S.,
Cummings, M. & Dawkins, J.P. (2007) The McGraw-Hill Companies
4. Supplementary MaterialResearch Publications, Case Studies, Course
Handoutswill be provided in class
Web Resources
http://www.ihrim.org/resources/Publications/automating-the-workplace.html
http://www.chrt.com.au/hrismain.html.
http://www.ethics.ubc.ca/resources/computer
Grading:
Course Work
Weight
Quizzes
Assignments / Project
Class Participation / Attendance
Mid Term
Final Term
10
25
5
25
35
Course Outline
Day
1
2
3
4
Topics to be Covered in the Course
Evolution of HRMS; Information System Concepts, Role of IT
Systems strategic and competitive opportunities in HRM.
Managing IT Systems, Human resources and HRIS,
Components of HRIS;
Database Concepts and application in HRIS, Database Model,
MS ACCESS Database, SQL Concepts
Relational Databases Concepts, Data Warehousing, Business
Assessment Criteria
Class Participation
HRIS vs. HRMS Article
Questions, Assignment
Quiz
Class Participation,
5
6
7
8
9
10
11
12
13
14
15
Intelligence and Mining; Developing HRIS using MS Access
Systems Considerations in the Design of an HRIS; HRIS
Architecture, System Implementation Process
HRIS needs Analysis, SDLC, Gap Analysis
System Design and Acquisition, Cost justifying HRIS
Implementation
MID TERM
Project Management & Development and HRIS Acceptance,
Change Management. Models of change process
HRIS Applications: HR Administration, HR Strategic Goal
Achievement & the Balanced Scorecard
Job Analysis & HR Planning; Framework for Strategic HR
Planning
Recruitment & Selection in Internet Context or e-Recruitment
Training & Development HRIS applications, Performance
Management, Compensation, Benefits, Payroll and HRIS
The Next Decade of HR: Emerging trends in HRM and IT
Presentations
Assignment
Quiz
Class Participation
Quiz, Class Participation
Class Participation,
Term Project
Quiz, Class Participation
Class Participation
Quiz
Class Participation
Class Participation
Presentation
Guide Lines:
1. There may be unannounced quizzes; students should expect 3-4 quizzes during the
semester. There will be no makeup quizzes for missed sessions and/or low scoring
quizzes.
2. Submission deadlines for assignments will not be extended.Late submissions will be
penalized
3. Students must read relevant chapters of the reading books stated in the textbooks
section for the class discussions. Case studies and other reading material furnished
by the instructor will be included in the midterm exam and quizzes.
4. This syllabus may be revised at the discretion of the instructor without prior
notification or consent of the students.