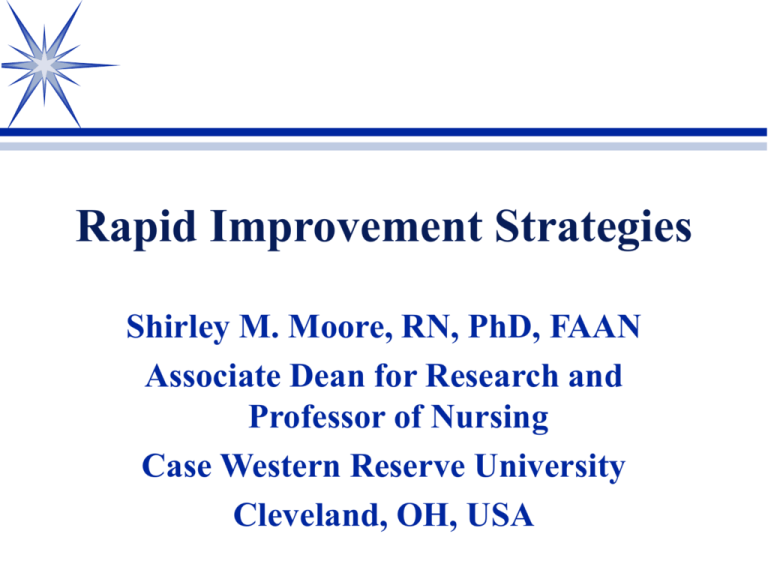 Rapid Improvement Strategies
Shirley M. Moore, RN, PhD, FAAN
Associate Dean for Research and
Professor of Nursing
Case Western Reserve University
Cleveland, OH, USA
Rapid Improvement Strategies

One of the criticisms of CQI is that it can
take a long time to plan, test, and evaluate
an improvement

Making fast changes lasting and pervasive,
rapid improvement strategies speed things
up without changing the nature of
necessary improvement activities
Objectives



Describe the key focuses of rapid
improvement strategies
Compare traditional and rapid
improvement strategies
Apply rapid improvement strategies to
an improvement initiative
Making rapid improvement
work....





Interdisciplinary
Systems approach
Throw away your hats
Take risks
Take ownership
As in the use of traditional improvement
strategies, to help develop tests and implement
changes using rapid improvement strategies,
the PDSA cycle is used as a framework for an
efficient trial-and-learning methodology
When using rapid improvement strategies, the
goal is to speed up cycles, thus making change
faster
Plan-Do-Study-Act (PDSA)




Plan--a change, preferably on a small
scale
Do--carry out the plan
Study--the effects of the change, making
simple measurements
Act--on what you learn to plan the next
round of testing
"Trial and Learning"

Small scale tests

Simple measurements
Five steps to speed up change
Wasting time working on
the wrong problem
1. Define the right problem
Ineffective Meetings
2. Rapid meetings
Planning and not acting
3. Rapid plans
Too much time collecting
data
Selling change to others
4. Rapid data collection
5. Rapid whole system
change
Define the Right Problem




Postpone benchmarking when
problems are obvious
Waiting for data to clarify problems
can delay improvement efforts
Using data you "have" may lead to an
inaccurate improvement
Focus benchmarking on a "few
problems"
Define the Right Problem
Creates a focus on the "system" and not the
staff

Problem statement: "The inability of the ED
to initiate antibiotics in a timely manner."

Problem restated: "Delay in antibiotic
administration for pneumonia patients."
Define the Right Problem
Define the problem in terms of the
customers experience, obtain information
via:




focus groups
interviews
observations
questionnaires
Define the Right Problem
State the problem from different perspectives
 Problem statements often include the
environment for improvement
 Increases focus on the team's scope
Problem statement: "Sixty percent of
pneumonia patients get antibiotics in the ED."
Problem statement: "Forty percent of
pneumonia patients do not get antibiotics in the
ED."
Define the Right Problem
State the problem from different
perspectives
Team exercise:
•
•
Have all team members define the problem
Compare answers to identify the various ways to
approach the problem.
Rapid Meetings
Choose a nonparticipating facilitator
•
•
keep group on track and focused
identify team problems
Meet before the meetings
•
•
present team focus and agenda to members
for feedback (electronic, telephone, etc)
initiates ideas prior to meetings, increases
interaction and problem-solving
Rapid Meetings
Postpone evaluation of ideas
•
•
increases amount and creativity of ideas.
minimizes "group think"
Think it through again
•
•
improves teams original decisions
considers all perspectives
Rapid Meetings
Meet between meetings
•
•
•
Electronic feedback on issues (e-mail)-eliminates evaluation of ideas and minimizes
group think
Allows for "drafts" to be revised, updated
and represented
More meeting time available for approval of
action plans, decision making, and finalizing
implementation strategies
Plan Rapidly
Start with what "could be" and not "what
is"....Ideal system design...Futuring
•
•
•
•
Fits solution to system
Generates solutions before understanding
constraints, increasing creativity
Brainstorm ideal solution, then define realistic
improvement approach
Minimizes time spent flowcharting the current
process
Plan Rapidly
Know Your Cast




Champions
Agents
Sponsors
Targets
Collect data rapidly




Write outcomes reports before begin
data collection, including tables and
figure
Collect only data you need
Representative surveys of customers
Increase speed of data collection by
using numerical and subjective data
Collect data rapidly
Rely on numerical estimates made by
process owners
•
•
•
•
Derive from subjective data based on
observations and feedback
Involve a cross-section of experts involved in
the process
Analyze and display outcomes
Experts discuss and re-estimate outcomes
Rapid Whole-System Changes



Cross-functional teams--interdisciplinary
Internal and external experts
Unfolding storyboards
•
•
•
employees follow team progress
understand evolution of change
increase involvement and feedback
Rapid Whole-System Changes





Employees need to feel they are capable of
change
Employees are more likely to change when
they participated in the decision making
process and have organizational support
Top down approach
Maintain focus with reminders and updates
Focus on early adopters
Strength of Evidence

Beyond reasonable doubt

Preponderance of evidence

Common Sense
Summary



Application of a set of strategies can be
employed to speed up the CQI process
Rapid improvement strategies do not
bypass the basic steps of the CQI process they speed up the planning, measurement
and PDSA cycle time
Using rapid improvement strategies often
means getting rid of old, ritualistic
organizational change behaviors
References
Alemi, F., Moore, S. M., Headrick, L.,
Heckelman, F., Kizys, N., & Neuhauser, D.
(1998). Rapid improvement. The Joint
Commission Journal on Quality
Improvement, 24, 119-129.