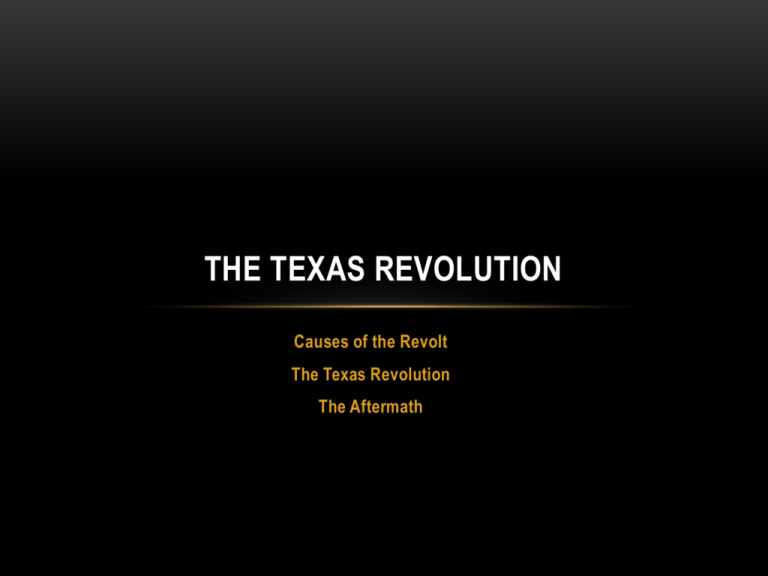 THE TEXAS REVOLUTION
Causes of the Revolt
The Texas Revolution
The Aftermath
WESTWARD MOVEMENT
• Americans
"wanted" to expand
to the West
• Americans,
especially in the
Southern region,
"wanted" to expand
slavery
A HISTORY OF TEXAS
• Americans are invited to
settle the region of Tejas by
the Mexican government in
1821 under the empresario
system they are required to
become Mexican citizens
• By 1830 Americans
outnumber native Mexicans
• Disagreements will arise
over slavery, religion and
language
CAUSES OF THE TEXAS REVOLUTION
• Negligence- Mexico
allowed Anglos to run their
own affairs in government
• Racism- Both sides feel
that they are better than one
another
• Cultural DifferencesMexicans are Christians and
speak Spanish; Anglos
refuse to learn Mexican
culture
CAUSES OF THE TEXAS REVOLUTION
• Slavery- Mexico had
outlawed slavery in
1830 but Anglos
continue to bring them
• Government- Anglos
believe in state's right,
Mexico believes in a
strong central
government
SANTA ANNA
• Mexican president who
seeks to put down Texas
Revolution and gain
power over Mexico
• He orders the siege of
the Alamo
• The purpose of
executing survivors was
to end rebellion
THE MEXICAN RESPONSE
• The Mexican
Government passes the
Law of April 6, 1830 to
stop Anglos from
immigrating to Texas
NEW LAWS IN TEXAS
1st LAW
• No more Americans were
allowed to come to
Texas. No immigration
2ND LAW
• All Texans had to
become Mexican
citizens, or they
weren't allowed there.
3RD LAW
• All Texans had to
become Catholic
because that was
Mexico's religion.
4TH LAW
• All Texans would
have to pay taxes
to the Mexican
government.
TEXAS MAKES MONEY
• By 1830, Texas was
making more money than
any other part of Mexico.
TEXANS BEING TAXED
• Texans were being taxed
with out representation in
the Mexican government.
TEXAS WANTS TO BE A STATE
• Texans demanded to
become a state of
Mexico, so they could be
a part of the Mexican
government and help
make laws
THE FINAL STRAW
• Stephen F. Austin rode down
into Mexico in order to try to
talk to them about what was
going on in Texas.
• The Mexican Officials decide
to arrest Austin, "the father of
Texas", and lock him up for 2
years.
TEXAS REVOLUTION
• The Texas Revolution
started in October of
1835
• Anglos believe that they
are rebelling against an
oppressive government
again
TEXAS INDEPENDENCE
• Texans declare
independence on March
2, 1836
• Republic of Texas
• Sam Houston named
head of the Texas Army
• Stephen Austin went to
the U.S. to seek money
and troops.
http://cookinlet.tripod.com/sitebuildercontent/sitebuilderpictures/texas_independence.jpg
WILLIAM B. TRAVIS
• South Carolinian who flees to
Texas after abandoning his
family
• Practices law and becomes a
leading voice in the rebellion
against Mexico
• Becomes the commander at the
Alamo and is killed at its siege on
March 6, 1836
• Most of the defenders at the
Alamo are not from Texas most
are from the South
THE ALAMO, MARCH 6 1836
• Siege of Texian forces led
by William Travis and Jim
Bowie, Feb 23-March 6,
1836
• Close to 187 Texians and
Tejanos fight a Mexican
army of 2,000 men at the
Alamo mission
• All Texians are killed and
the Alamo becomes a
symbol of heroism and
rallies Texians to fight
BATTLE OF GOLIAD
• James Fannin is in
command of the troops
• He was told to retreat
but waited too long
• All his troops were
surrounded in a field by
the Mexicans.
• They surrendered but
were still executed.
SAM HOUSTON
• Virginian who makes
Texas his home
• Commander of Texan
army who overtakes
Santa Anna's army at
San Jacinto, gives
Texas independence
from Mexico
SAN JACINTO, APRIL 21, 1836
• April 21, 1836 forces led by
Houston defeat tried
Mexican forces under Santa
Anna
• Fighting lasted 20 minutes
but slaughter continues until
evening over 630 Mexicans
killed
• Massacre is revenge driven
for the Alamo and Goliad
TREATY OF VELASCO, MAY 14, 1836
• Treaty gives Texas it's
independence also
boundary between Mexico
and Texas established
• Texas argues that Rio
Grande is boundary but
Mexico argues that it is the
Nueces River
• This will come back and
haunt both countries
TEXAS BECOMES A REPUBLIC
• Republic:a form of
government in
which people elect
representatives to
govern them
INDEPENDENT NATION
• Sam Houston elected
President
• Stephen Austin becomes
Secretary of State
• Texas offers new settlers
land grants; many come from
southern states & bring
enslaved Africans with them.
http://www.dallashistory.org/images/Sam_Houston_on_Horse.jpg
REPUBLIC OF TEXAS
• Problems: Mexico refuses to
accept the treaty Santa Ana
Signed & Texas was nearly
bankrupt
• Most Texans hope the U.S. will
annex, or take control of, Texas
and make it a state
• President Jackson recognized
Texas as an independent nation.
• Jackson didn't want to admit Texas
and upset the balance between free &
slave states.
Republic of Texas Currency
•http://cookinlet.tripod.com/sitebuildercontent/sitebuilderpictures/texas_money.jpg
QUESTIONS
•
How did Texas become an independent nation?
•
Why was the fall of the Alamo both a defeat & a victory for Texas?
•
What challenges, or problems, did Texas face after winning independence?