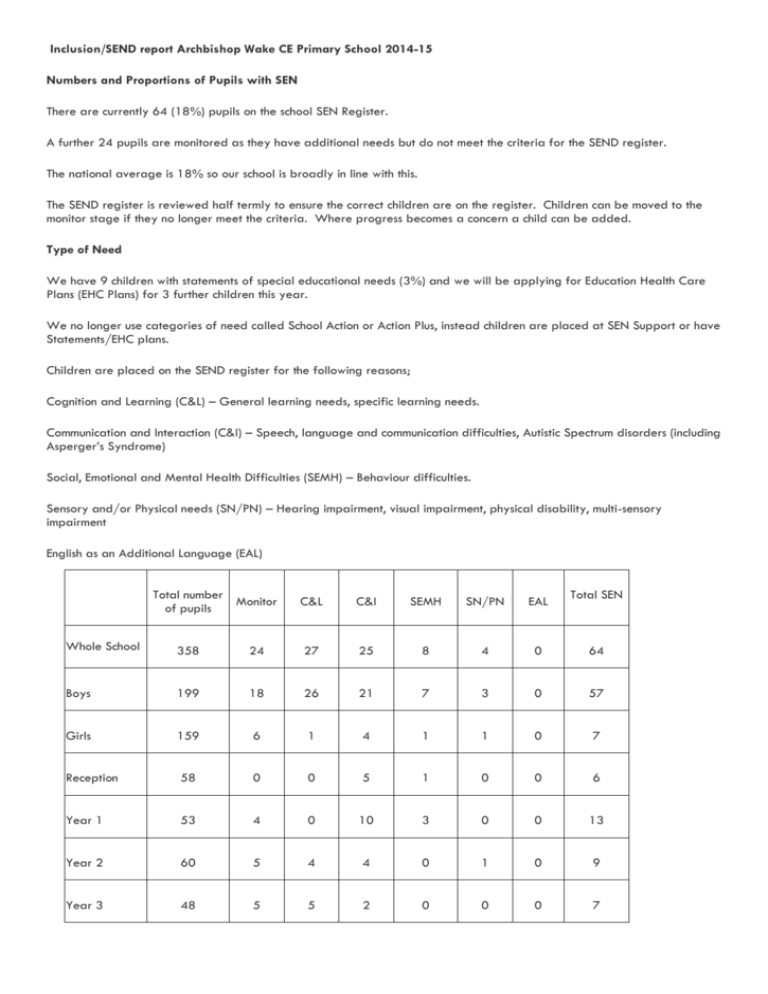 Inclusion/SEND report Archbishop Wake CE Primary School 2014-15
Numbers and Proportions of Pupils with SEN
There are currently 64 (18%) pupils on the school SEN Register.
A further 24 pupils are monitored as they have additional needs but do not meet the criteria for the SEND register.
The national average is 18% so our school is broadly in line with this.
The SEND register is reviewed half termly to ensure the correct children are on the register. Children can be moved to the
monitor stage if they no longer meet the criteria. Where progress becomes a concern a child can be added.
Type of Need
We have 9 children with statements of special educational needs (3%) and we will be applying for Education Health Care
Plans (EHC Plans) for 3 further children this year.
We no longer use categories of need called School Action or Action Plus, instead children are placed at SEN Support or have
Statements/EHC plans.
Children are placed on the SEND register for the following reasons;
Cognition and Learning (C&L) – General learning needs, specific learning needs.
Communication and Interaction (C&I) – Speech, language and communication difficulties, Autistic Spectrum disorders (including
Asperger's Syndrome)
Social, Emotional and Mental Health Difficulties (SEMH) – Behaviour difficulties.
Sensory and/or Physical needs (SN/PN) – Hearing impairment, visual impairment, physical disability, multi-sensory
impairment
English as an Additional Language (EAL)
Total number
Monitor
of pupils
C&L
C&I
SEMH
SN/PN
EAL
Total SEN
Whole School
358
24
27
25
8
4
0
64
Boys
199
18
26
21
7
3
0
57
Girls
159
6
1
4
1
1
0
7
Reception
58
0
0
5
1
0
0
6
Year 1
53
4
0
10
3
0
0
13
Year 2
60
5
4
4
0
1
0
9
Year 3
48
5
5
2
0
0
0
7
Year 4
47
4
7
2
2
0
0
11
Year 5
46
0
7
0
0
1
0
8
Year 6
46
6
4
2
2
2
0
10
The overall SEND figure is lower than the end of last year, due to the number of pupils on the SEND register leaving Year 6
and only initial indications of Reception class needs.
5 pupils in the school are back-yeared (educated in the year below their allocated year group). 4 of these pupils are on the
SEN register.
Minority Groups
There are 24 pupils in the school whose first language is not English (7%) is significantly below the national average (approx
15%). One of these pupils is on the SEN register.
Three pupils are currently in care (Looked After Children). All three are very well supported and are making good progress
from their starting points. One of these pupils is on the SEN register.
No pupils are from Traveller families.
Talented or Exceptionally Able pupils
Roughly 4% of the pupils in the school are currently identified as being Talented or Exceptionally Able. One of these pupils is
on the SEND register.
These pupils have been identified by virtue of their ability shown in one or more of the National Curriculum core subjects.
There are a number of pupils who have been identified as having a particular talent for creative arts or sports and this is
nurtured throughout the school through a number of different opportunities and activities.
Pupil Premium
There are currently 62 pupils who are in receipt of pupil premium (17%). Of these pupils, 27 are on the SEND register.
There are 5 pupils from Service families. None of these pupils are on the SEND register.
Intervention and Support
All pupils with statements of special educational need receive adult support on a 1:1 or small group basis as specified in
their statement. Reviews are held at least annually to evaluate progress and ensure the targets are still fit for purpose and
relevant to the child's needs.
Children with statements of special educational needs have Individual Education Plans (IEPs). These have specific targets for
the child to work towards and are reviewed at least twice each year.
All other children on the SEN register have a provision map that details there individual targets and what interventions are
being provided to meet their individual needs. This is part of a graduated response with some support being given in small
groups (Wave 2) and some individually (Wave 3).
Archbishop Wake CE Primary School Provision Map
Child's name:
Class:
Date of plan:
Date of review:
Stage: SEN Support/ Statement
Current targets:
1.
2.
3.
Provision
Curriculum and
Learning
Wave 2 (Small group support)
Early Literacy Support Year 1.
Quest Year 3.
Further Literacy Support Year 5.
Booster Groups Year 6.
Springboard Maths.
TA/Teacher support in small group work.
Every Child a Writer project.
First Class Number
Physical
Development
Learn to Move, Move to Learn.
Handwriting support with JW
Social and
Emotional
Peer mediation.
Signposting for talented children.
Year 6 extra transition opportunities.
Pre school/Reception extra transition opportunities.
Social skills group.
Circle of Friends
ELSA
Wave 3 (One to one support)
1:1 Literacy support from Teaching Assistant.
1:1 Numeracy support from Teaching Assistant.
Work with Ms Finch (Special Educational Needs Support
Teacher).
Referral to Educational Psychologist.
Individual Education Plan.
Statements of Special Educational Need.
Wave 3 maths.
1:1 tuition.
Individual support in PE.
Writing slope.
Access to laptop/computer.
Writing grips/shaped pencils and pens.
Referral to Occupational Therapy.
Referral to school health practitioners.
Social stories.
Referral to Social Services.
Referral to Locality workers
Behaviour
Communication
Assessment
Access
Community
Extended
Services
Peer mediation.
Social skills group.
Weekly sessions with S&L TA.
Narrative therapy
Time to Talk
Optional SATs differentiated by ability e.g. Year 5 child may
take Year 4 paper.
Individualised behaviour plans.
Referral to Behaviour Support Service.
Referral to Educational Psychologist.
School nurse.
Additional playground support.
Speech And Language Therapy.
Hearing and Vision Impaired Service.
School nurse.
Individual assessments by Special Educational Needs Support
Service/Educational Psychologist.
Individual observation by Special Educational Needs Coordinator/ Special Educational Needs Support
Service/Educational Psychologist.
Desk top visual timetable.
Use of FM system.
Acoustic boarding.
Flashcards.
Sign Language.
Parent consultations by appointment.
Special Educational Needs Co-ordinator/Parent liaison
Parent Support Advisor drop in sessions
Signposting to support groups
Family Learning sessions
CAF process begun.