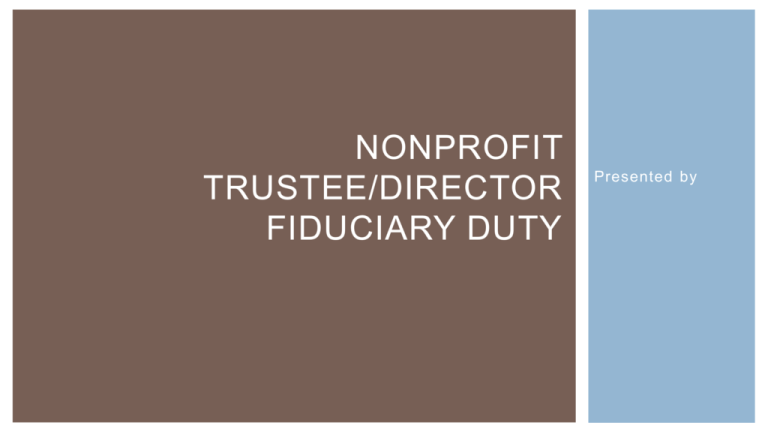 NONPROFIT
TRUSTEE/DIRECTOR
FIDUCIARY DUTY
Presented by
OVERVIEW
 Fiduciary Responsibility/Duty Defined
 As a trustee/director fiduciary duty entails
 Duty of Care
 Duty of Loyalty
 Duty of Obedience
 Legal Liability and Indemnification
 The Age of Accountability
 The President as Fiduciary, a special position of trust
INTRODUCTION
As a director/trustee of a nonprofit organization today, one needs to be
vigilant of fiduciary duty and potential personal liability.
As an officer or president, one has even higher obligation to adhere to
the law and organization bylaws and mission.
While there are safeguards and D&O insurance (directors and
officers), as a fiduciary, one can be held personally legally liable for
malfeasance. Such policies are cancellable and are unlikely to protect
directors/trustees as a whole or individually from any intentional
concealment or misrepresentation of material fact . (examine your
policy)
In today's world, two edicts are omniscient: need for complete
transparency and zero tolerance.
NOTE OF CAUTION
This presentation is a response to a request for a summary of key issues related
to "fiduciary responsibility" in today's world for directors/trustees of nonprofit
organizations. One should consult their lawyers, insurance professionals, and
accountants for authoritative advice. For fiduciary duty related to investments of
nonprofits, Fi360 is an organization that has special expertise.
The primary sources used for this discourse are internet based:
1. "Legal Responsibilities of Board Members in the Age of Accountability" by Bruce R
Hopkins,(nonprofitlawcenter.c om)
2. "Fiduciary Responsibility of a Presidential Officer for a Nonprofit" by Melanie Jo Triebel
(legalzoom.c om )
3. "Fiduciary Duties of Directors and Officers of Distressed Nonprofit Organizations by Gregory
Pesce and Neal Donnelly (thelawprojec t.org )
4. "Legal Duties and Avoiding Liability: A Nonprofit Board Member Primer" by Paul Davidson and
Tera Rica Murdock (trusteemag.com ) .
FIDUCIARY RESPONSIBILITY DEFINED
 "A person who has a relationship of trust or confidence with another
is a fiduciary. A fiduciary's relationship with an organization is one sided, meaning the relationship is designed to meet only the needs of
the organization and the fiduciary must act without regard to his or
her own needs." (Davidson and Murdock)
 Simply put – Fiduciary responsibility is to do what's right!
 "Directors and officers of nonprofit and community -based
organizations are considered fiduciaries, or persons of trust, with the
power and obligation to act with total trust, good faith, and honesty
on behalf of their organization" ( Pesce and Donnelly)
DUTY OF CARE, LOYALTY, & OBEDIENCE
Directors/Trustees "are deemed to
have the same obligation toward
assets (of the nonprofit)…as they do to
personal assets. Equally, all board
members' responsibility is to act
prudently in their handling of nonprofit
organization's resources…(They) are
fiduciaries; the law imposes on them
standards of conduct and management
that, together, comprise fiduciary
responsibility …One of the main
responsibilities…is to maintain
financial accountability and effective
oversight of the organization they
serve." (Hopkins)
 DUTY OF CARE – "to keep informed,
remain attentive, and act in a manner
that the officer or director reasonable
believes is in the best interest of the
organization…inform itself of all
material information reasonably
available to it. Implement a decision
making process … seek advice… and
maintain complete records"
 DUTY OF LOYALTY – "to act in good
faith … and in the best interest of the
organization"
 DUTY OF OBEDIENCE - "to carry
out the purpose and mission of the
organization, as expressed in the
governing legal documents" (Pesce
and Donnelly)
LEGAL LIABILITY AND INDEMNIFICATION
 Strategies to Minimize Liability
 "Analyze solvency regularly (cash flow and balance sheet)…
 Comply with fiduciary duties…
 Obtain professional advice…
 Do not wait until the "last minute" …
 Document the bases or reasoning for decision-making…
 Detailed evaluation of "business plan"…
 Ensure the quality and quantity of disclosure …
 Gain familiarity with organizational documents…article of incorporation, bylaws, and
policies …
 Confirm scope and purchase of "D&O" insurance …
 Create indemnification policy for the organization" (Pesce and Donnelly)
THE AGE OF ACCOUNTABILITY
We live in a world where transparency is critical and the measure is
how would the "Washington Post" report any event.
We also live in a world of "zero tolerance" whereby norms of the past
are not appropriate and any indiscretion may taint one's reputation
and/or be a cause for dismissal.
"Former directors may be held responsible if he or she oversaw the
matter being alleged. Although a director relinquishes his or her
fiduciary duties upon resignation, a director 's fiduciary duties continue
for events set in motion or known about prior to resignation" ( Pesce &
Donnelly)
Also, see "New Concepts of Board Duties and Responsibilities"
(Hopkins) for a checklist of suggested safeguards.
THE NONPROFIT ORGANIZATION PRESIDENT
 "The president of a nonprofit, like the president of a for -profit
business, is legally required to act with special care towards the
nonprofit … is a 'fiduciary' of the nonprofit: an individual in a special
position of trust who must not abuse the position …must act with a
heightened standard of care" (Triebel)
 State law determines actual standards of fiduciary duty.
SUGGESTED ACTION
 PROVIDE MANDATORY ORIENTATION OF ALL DIRECTORS/TRUSTEES
ON FIDUCIARY RESPONSIBILITY NOT JUST CONFLICTS OF INTEREST
WITH A QUIZ TO ASSURE UNDERSTANDING AND WITH EACH
INDIVIDUAL SIGNING AN AGREEMENT OF UNDERSTANDING ANNUALY
 PROVIDES AN ANNUAL REPORT ADDRESSING HOW THE NONPROFIT
ORGANIZATION IS FULFILLING FIDUCIARY RESPONSIBILITY ISSUES
 PROVIDE EACH FIDUCIARY WITH A COPY OF THE D&O POLICY AND
RELATED STATE LAW
 CREATE A NEW PAID POSITION OF RISK MANAGER/CHIEF
COMPLIANCE OFFICER WHO ORGANIZATIONALLY REPORTS TO THE
EXECUTIVE COMMITTEE. HE/SHE REPORTS TO THE BOARD OF
DIRECTORS QUARTERLY REPORTS AND HAS COMPLETE ACCESS TO
ALL ORGANIZATION PERSONNEL AND RECORDS AND MAY ATTEND
ANY ORGANIZATION ACTIVITY AS AN OBSERVER.