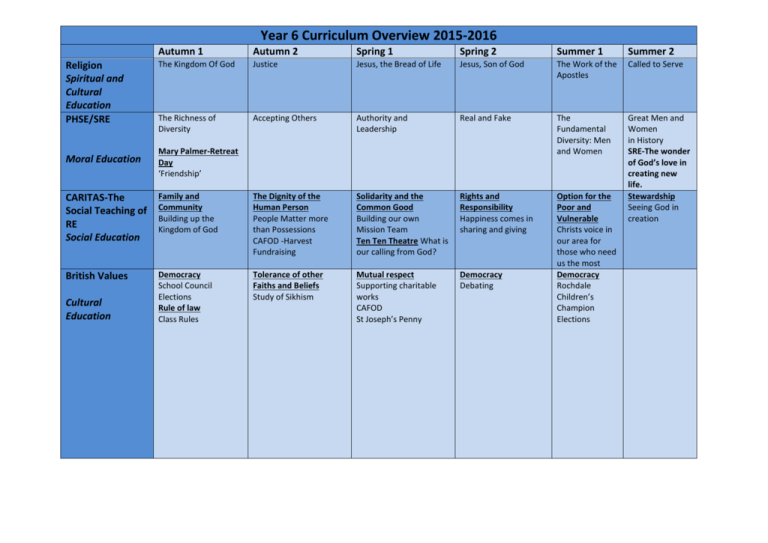 Year 6 Curriculum Overview 2015-2016
Religion
Spiritual and
Cultural
Education
PHSE/SRE
Moral Education
Autumn 1
Autumn 2
Spring 1
Spring 2
Summer 1
Summer 2
The Kingdom Of God
Justice
Jesus, the Bread of Life
Jesus, Son of God
The Work of the
Apostles
Called to Serve
The Richness of
Diversity
Accepting Others
Authority and
Leadership
Real and Fake
The
Fundamental
Diversity: Men
and Women
Option for the
Poor and
Vulnerable
Christs voice in
our area for
those who need
us the most
Democracy
Rochdale
Children's
Champion
Elections
Great Men and
Women
in History
SRE-The wonder
of God's love in
creating new
life.
Stewardship
Seeing God in
creation
Mary Palmer-Retreat
Day
'Friendship'
CARITAS-The
Social Teaching of
RE
Social Education
Family and
Community
Building up the
Kingdom of God
The Dignity of the
Human Person
People Matter more
than Possessions
CAFOD -Harvest
Fundraising
Solidarity and the
Common Good
Building our own
Mission Team
Ten Ten Theatre What is
our calling from God?
Rights and
Responsibility
Happiness comes in
sharing and giving
British Values
Democracy
School Council
Elections
Rule of law
Class Rules
Tolerance of other
Faiths and Beliefs
Study of Sikhism
Mutual respect
Supporting charitable
works
CAFOD
St Joseph's Penny
Democracy
Debating
Cultural
Education
Year 6 Curriculum Overview 2015-2016
English –
writing genres
Maths
Topic
History/
Geography
New Curriculum
Objectives
Autumn 1
Autumn 2
Spring 1
Spring 2
Summer 1
Summer 2
Explanation text
Non-chronological
Reports
Newspaper
Reports (RE)
Place Value
Mental Addition and
Subtraction
Decimals, Percentages
and Fractions
Ratio and Proportion
Recount
Letters Debates
Biographies
Autobiographies
Arguments/discussion
Place Value
Problem Solving
Measurement
Algebra
Fractions, Ratio and
Proportion
Mental Multiplication
and Division
Would you like to have
been a Victorian Child
working at the mill?
A study of an aspect of
history or a site dating
from a period beyond
1066 that is significant in
the locality-Industrial
Revolution/The Cotton
Trade
Description/setting
Diaries linked with Robin
Wood
Instructions-linked with
Robin Wood
Written Addition and
Subtraction
Multiplication and
Division
Geometry-shape
Problem Solving
Mental Addition and
Subtraction
Who were the Mayans
and what have we
learnt from them?
A non-European society
that provides contrasts
with British history – a
study of the Mayan
civilization c. AD 900;
Informal/ Formal
Letters
Narrative
Poetry-Limericks
Instructions
Arguments
Persuasive
letters
Narrative
Place Value
Written
Addition and
Subtraction
Written
Multiplication
and Division
Reciting poetry
Creation stories
from around the
world
How does water
impact on the local
area?
Use fieldwork to
observe, measure
record and present
the human and
physical features in
the local area
Study of physical
geography, including:
rivers and the water
cycle.
Problem Solving,
Reasoning and Algebra
Statistics
Position and direction
Fractions, Ratio
and Proportion
What's so special
about the USA?
Locate the world's
countries, using maps
to focus on North
America,
environmental regions,
key physical and
human characteristics,
countries, and major
cities. Understand the
significance of Time
zones and Greenwich
Meridian and the
position of the
Northern and Southern
Hemisphere
Place Value
Fractions
Ratio and
Proportion
Measurement
Position and
direction
Algebra
How can we be Good Stewards of
Creation?
Human geography study, including:
types of settlement and land use,
economic activity including trade
links, and the distribution of natural
resources including energy, food,
minerals and water.
Year 6 Curriculum Overview 2015-2016
Autumn 1
Autumn 2
Spring 1
Spring 2
Summer 1
Summer 2
Science
Classifying Critters
Staying Alive
Shadows
Electrifying
Evolution
Dinosaur Hunters
Computing
Understand Computer
Networks
Design, write and debug
programs
Select, use and combine
a variety of software
Use search
technologies
effectively
Use sequence,
selection, and
repetition
ART
DT
Collage-Matisse
Sketching William Morris
Collecting,
analysing,
evaluating and
presenting data
and information
Painting
Music
Cornets/Trumpets
BBC Ten pieces (History of Music)
Big Sing
Gymnastics
Gymnastics
Games
Dance
PE
MFL
Events and Trips
Big Questions
Andy Warhol
French
French
Design and Build
Pyramids
Cornets/Trumpets
Notation exploring musical processes
Big Sing
Outdoor
Adventurous Gymnastics
Activity
High-Five/Netball
Gym and Dance
French
French
United Utilities School Visitors
Local Area Nature
Walk-Whit Brook
Tsunamis and
Flooding
Why does God allow
disaster to strike? Link
with Water Topic
Quarry Bank Mill
Touchstones Rochdale
Does child labour still
exist? How can we stand
up against this?
Link with Victorian Child
labour.
The Mayans believed in
many Gods. Is there just
one God?
Link with history topic
Does religion cause
wars?
Link with USA- a
'super-power'.
Design a wind
turbine
Cornets/Trumpets
Improvisation
Big Sing
Striking/
Invasion/
Fielding Games Dance
and Dance
French
French
Recycling Plant
Can you be a scientist and a
Christian? Link with evolution topic.