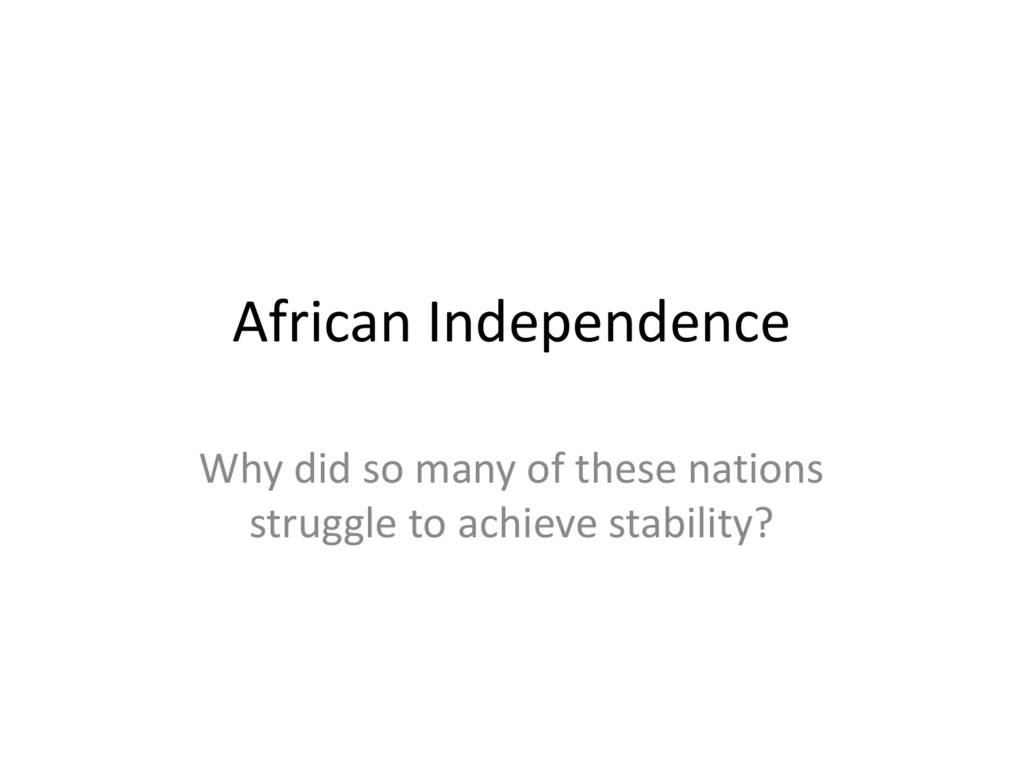 African Independence
Why did so many of these nations
struggle to achieve stability?
Berlin Conference 1885
Foundations of Independence
Pan-African Movement
--The belief that all Africans should unite to fight
for political freedom and economic
development
--Members from across globe, including WEB Du
Bois
--Held conferences in European cities like Paris
and Manchester, beginning in early 1900s
World War II
• Africans fought with Europeans against
fascism and Japanese imperialism
• The war weakened colonial rulers
economically
Ghana—First to win freedom
• British colony (indirect
rule)
• Movement led by Kwame
Nkrumah (studied in US),
using non-violent strikes
and protests
• Jailed several times
• Achieved independence
in 1957, changed name
from Gold Coast to Ghana
Challenges of Ghana
• Overspent on
infrastructure, schools
and health care
• Nkrumah may have
been too focused on
Pan-African issues
• Army seized power in
1966
• First free elections in
2000
Kenya
• British settlers in
northern highlands
resisted independence
mvt
• Jomo Kenyatta
(educated in Britain) led
resistance
• Kenyatta supported
Pan-African movement
Mau Mau
• Secret society of Kikuyu
farmers who lost land
to British settlers
• Tried to frighten white
settlers and kill livestock
• Turned to guerrilla war
tactics
• British sent in troops
from 1952-1960
-Official British numbers:
11,000 rebels killed while
32 whites died
-Kenyan Human Rights
Commission claims:
90,000 Kenyans
"executed, tortured or
maimed" (BBC)
• Mau Mau were also
brutal
--example: raid on village
Lari while men were off
fighting on behalf of
British; Mau Mau killed 70
people, mostly women
and children
Challenges in Kenya
• Kenyatta became first president and was able
to keep ethnic groups unified
• Succeeded after death by Daniel arap Moi,
leader from 1978-2002, who was accused of
corruption
• Ethnic conflicts killed hundreds
• Elections in 2002
• Growing prosperity, but also problems with
Somalia and al Shabaab (mall shooting?)
Congo
• Belgian colony given
freedom in 1960
• Congo divided internally:
• Patrice Lumumba
democratically elected
prime minister
• Gave speech about
humiliations and
exploitation of colonial
system that scared
Western nations
• Province of Katanga (rich in copper and uranium)
wanted to secede, led by Moise Tshombe
• CIA gave money and support to Lumumba's
opponents
• Lumumba betrayed and handed over to
Tshombe, who had him beaten, tortured and shot
• Tshombe overthrown in 1965 by Mobutu Sese
Seko (one of Lumumba's betrayers)—changed
name of country to Zaire
• Mobutu looted mineral
wealth while leaving the
people poor, but held
power for 32 years
• US supported him as
anti-communist
• Congo still struggling
with instability
Rwanda
• Belgium had given status to Tutsi ethnic group
over Hutu majority
• Given freedom from Belgium in 1962
• New democratic government gave power to
Hutus
• Ethnic violence broke out between these
groups several times over next few decades
Genocide
• In 1994,
Hutu
extremists
led a
genocide of
Tutsis and of
Hutu
moderates.
• Over one
million
people were
killed
Algeria
• French colony with one
million colonists
• About nine million Arab
and Berber natives
• Algerian National
Liberation Front (FLN) led
movement
• French used force to
maintain power
(beginning in 1945) and
FLN led guerilla resistance
• Algeria gained
independence in 1962
• Most of the French
settlers left
• New nation struggled to
modernize
• In 1988, Islamic militants
rioted against secular
government
• Civil War broke out in
early 1990s
Angola
• Portuguese colony—no
school system or health
facilities; only limited
commerce
• Independence movement
began in 1960s
• Portugal sent 50,000
troops
• Withdrew in 1975 but
without establishing a
new government
• Internal fighting between
– MPLA (Communist, helped by Cuba and USSR)
– FNLA (helped by US and Zaire/Congo)
– UNITA (helped by US and South Africa)
• War ended in 2002
• Why do you think so many African nations
struggled to achieve stability after
independence?