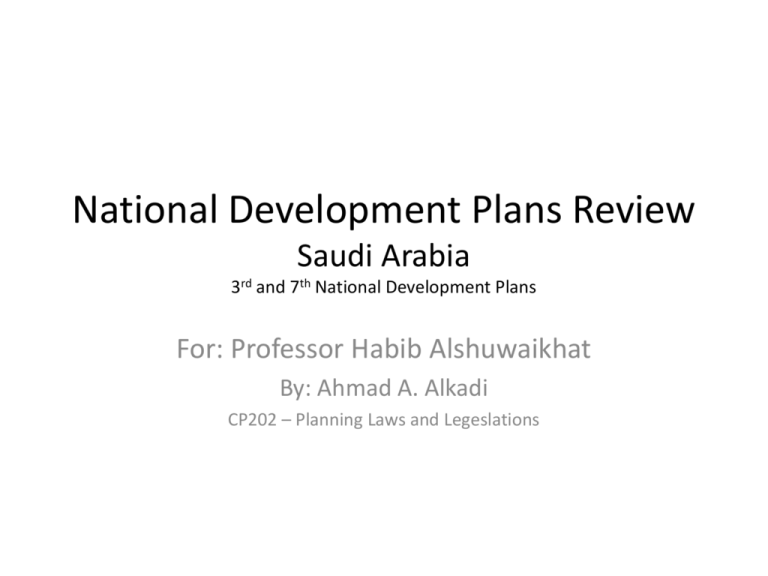 National Development Plans Review
Saudi Arabia
3rd and 7th National Development Plans
For: Professor Habib Alshuwaikhat
By: Ahmad A. Alkadi
CP202 – Planning Laws and Legeslations
The 3rd Development Plan
• controlled urban growth in predetermined
areas.
• To achieve successful urban development,
industrial and commercial growth in locations
which have capacity to be productive.
• Migration to the cities which created and
expanding demand for buildings and an
increase in construction activity
3rd Plan Policies
• Operate and maintain existing and planned
municipal systems effectively so that citizens
receive services in a timely and economically
manner.
• Continue the decentralization program by
establishing more municipal administrative
municipal administrative units.
3rd Plan Policies
• Enforcing building code and regulations when
promulgated for private buildings in cities,
towns and villages.
• Assure that cities which have problems due to
their topography or other reasons will get the
proper storm drainage systems to protect lives
and property.
4th Plan Policies
• Institute systematic building inspection.
• Accelerate the formation of village clusters.
• Prepare and regularly update comprehensive
plans.
• Encourage developments that will utilize
existing infrastructure.
Problems:
• Difficulties in recruiting and training the
necessary people, especially outside the major
urban areas.
• Difficulties in controlling urban growth inside
the serviced areas, which has caused a higher
per unit cost of infrastructure investment.
• Centralization of government and lack of
coordination between related governmental
agencies.
Analysis of the 3rd Development Plan
• The policies of third plan are mainly
concerned with decentralization of municipal
services to achieve urban balance between
different parts of the kingdom.
• The repetition of the decentralization policies
in the fourth plan, in addition to the
evaluation of the status quo, we find that
there has been a failure in implementing
these polices.
Analysis of the 3rd Development Plan
• No actions should be taken to slow the growth
of the main regions.
• Decentrlization can be achieved by
encouraging and finding variety of services in
the rural and middle sized cities such as
universities and specialized ho
• spitals.
Analysis of the 3rd Development Plan
• One major problem in achieving
decentralization is suggested to be in focusing
too much on the detail rather than on
ensuring the delivery is driven forward in a
systematic way .
Analysis of the 3rd Development Plan
• find the 3rd development plan has achieved its
goal of enforcing building codes and
regulations, which is reflected by the 4th
development plan policy indicating institution
of a systematic building inspection.
The 7th Development Plan
• Increase on the demand for municipal
facilities and services municipal services.
• Cities' Expansion created a wide gap between
spatial expansion and the number of
inhabitants.
7th Development Plan Policies
• Raising the efficiency of municipalities'
information systems and updating them regularly.
• Planning for urban development with the
participation of municipalities and in
coordination with relevant agencies.
• Reorganizing the structure of the Ministry and
affiliate agencies in order to eliminate duplication
of responsibilities in conformity with the
provincial system.
7th Development Plan Policies
• Availing of all means to ensure regular and
continuous revenue streams to enable the
municipalities to develop their services and
maintain their infrastructure.
• Continuing to develop and improve village
clusters to ensure availability and accessibility
of municipal services in rural areas.
8th Development Plan Policies
• Continued restructuring of the sector to
enable provision of more efficient, advanced
municipal services.
• Implementation of the National Spatial
Strategy, with due emphasis on the
development corridors and growth centers
identified by it.
8th Development Plan Policies
• Development of municipal revenues to enable
municipalities to develop their services and
maintain their facilities.
• Enhancing the role of municipal councils in all
regions.
Problems
• Lack of enough funds to support the municipal
projects to meet up with the spending urban
growth.
• Internal migration leads to expand the
number of rural areas which requires
expanding the scope of municipal services in
existing municipalities and village clusters.
Problems
• There are lack of databases and information
banks on urban functions and services and
regional computerized information systems.
• There is lack coordination among all relevant
governmental and non-governmental
agencies, at all stages from planning to
implementation and monitoring.
Analysis of the 7th Development Plan
• the restructuring of the municipal and rural
affairs department, which is represented by
the repetition of the same policy in the 8th
plan.
• lack of coordination between different
planning related agencies.
Analysis of the 7th Development Plan
National Spatial Strategy
• Solving the centralization issue.
• It is a long term policy statement .
• To broad guidelines for spatial development under various
policy directions
• To provide a spatial level of policies relevant to various
sectors of development and different parts of national
space.
• To ensures the integration of human settlements planning
into general socio-economic development planning.