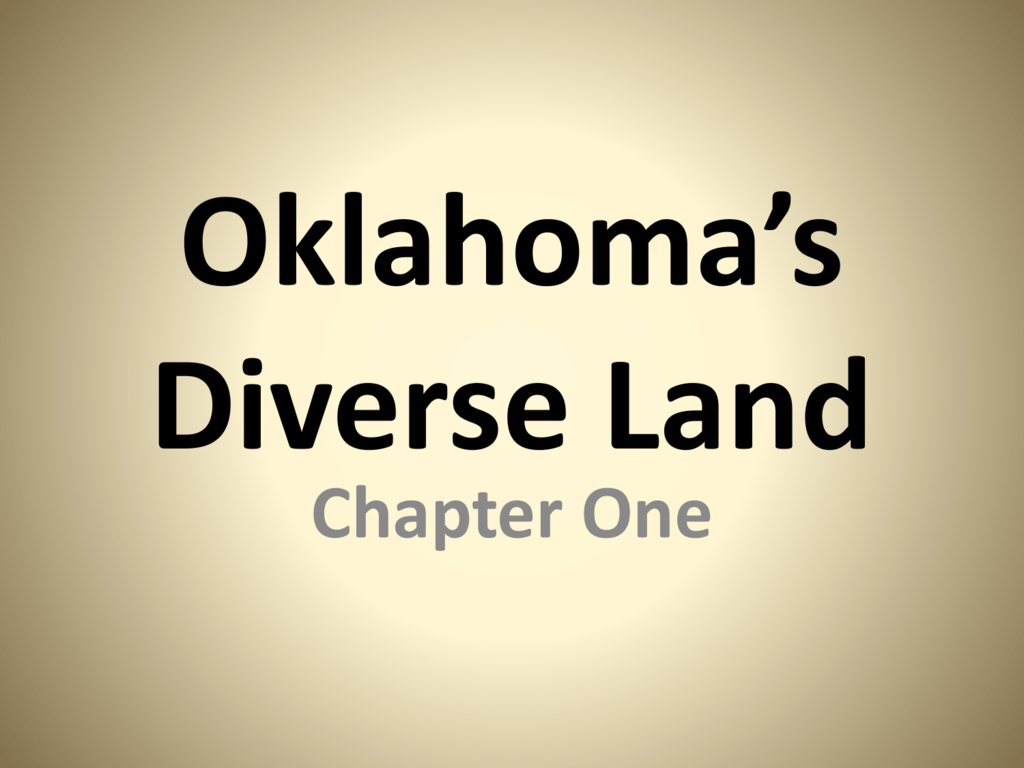 Oklahoma's
Diverse Land
Chapter One
Ten Geographical Regions
High Plains
Sandstone Hills
Gypsum Hills
Prairie Plains
Wichita Mountains Ozark Plateau
Ouachita Mtns.
Red Bed Plains
Arbuckle Mtns.
Red River Plains
The Cross Timbers
• Vegetation zone that cuts across
several regions
• Post Oak and Blackjack Oak Trees
• Forms a natural barrier between
west plains and eastern prairies
The Cross Timbers
• It was hard to penetrate for early
travelers
• Not good for farming; soils
eroded
Tornado Alley
• Variable weather in Oklahoma,
seasonal extremes
• 53 tornadoes annually
• 3 climate regions meet: humid,
sub humid, and semiarid
Tornado Alley
• Average annual temperature in
60 degrees
• Precipitation: NW=little,
SE= a lot
Fertile Soils
• Among world's most fertile
• SE=least productive due to
excessive rain
• NW=not as much rain as needed
for crops
Fertile Soils
• Important to our economy
• Shapes our "personality"
Forest
• 1/5 of our land
• $ after Civil War
• "Cut out and get out", then a
conservation plan
• Half a billion $/year business
today
Salt Plains
• Alfalfa County has 120 sq. miles
of pure salt deposits
• Important source for people and
animals
• National Wildlife Refuge in 1930
• A few other salt springs/flats
Tallgrass Prairie
• Soils are dark and deep
• Climate is warm and somewhat
wet
• Preserve---excessive plowing and
grazing destroys grasses (Dust
Bowl)
Mesas and Mountains
• Black Mesa=highest point in
state, dinosaur bones,
prehistoric human skeletons,
wagon ruts
• Wichita Mountains=granite and
rhyolite, Mt. Scott
Mesas and Mountains
• Ouachita Mountains=western
extension of Appalachian
Mountains
• Arbuckles
• Ozarks
Wildlife
• Many species due to the variety
of the geography
• Important to the livelihood of
early inhabitants
• Songbirds and game birds
Wildlife
• Buffalo=endangered/repopulated
• White-tailed deer, elk, black bear,
beavers,
alligators
Water
• Springs=Sulphur, Springs of
Everlasting Water
• Waterfalls=Turner Falls
• Two major river
systems=Arkansas (2/3) and Red
• Important channels of commerce
Water
• Steamboats in 1828
• "Great Raft" on Red
• 1946 McClellan-Kerr Arkansas
River Navigation System
• Port of Catoosa connected with
Mississippi River
Water Conservation
• More water carried out of state
than into state
• Water Banking upstream
• 1800 man-made lakes, 34 federal
reservoirs
Water Conservation
• Lake Eufaula
is the largest
state lake
• More
shoreline
than any
other state
Why is all of this
important?
Our geography has
influenced our history,
and therefore it has and
does influence our lives
today.