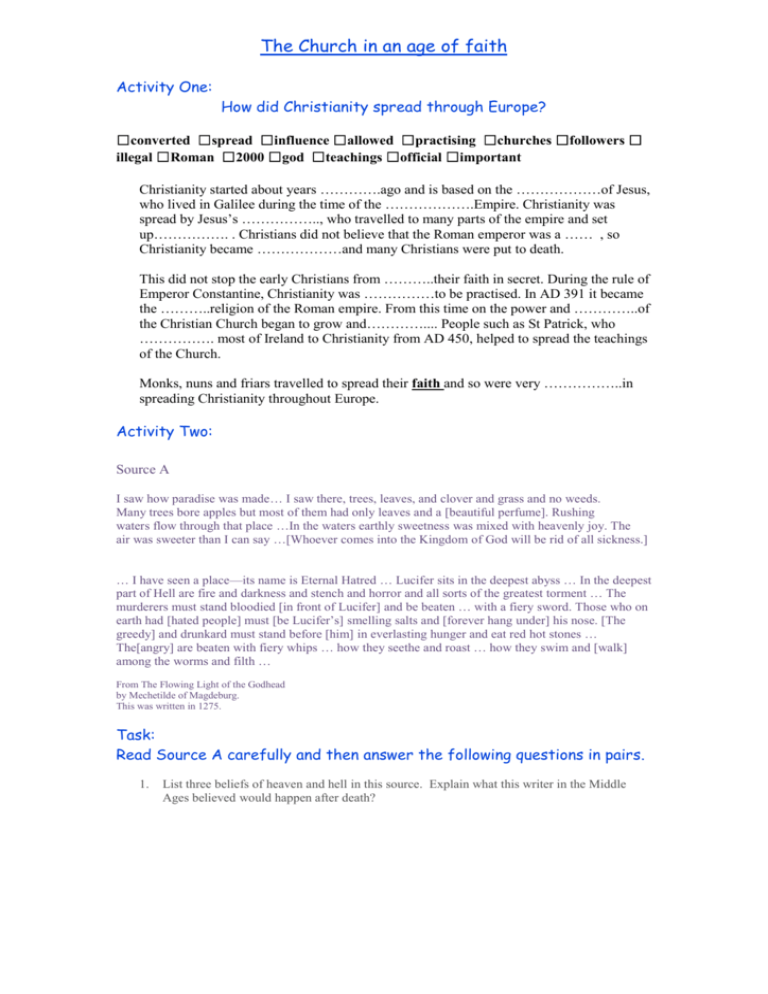 The Church in an age of faith
Activity One:
How did Christianity spread through Europe?
☐converted ☐spread ☐influence ☐allowed ☐practising ☐churches ☐followers ☐
illegal ☐Roman ☐2000 ☐god ☐teachings ☐official ☐important
Christianity started about years ………….ago and is based on the ………………of Jesus,
who lived in Galilee during the time of the ……………….Empire. Christianity was
spread by Jesus's …………….., who travelled to many parts of the empire and set
up……………. . Christians did not believe that the Roman emperor was a …… , so
Christianity became ………………and many Christians were put to death.
This did not stop the early Christians from ………..their faith in secret. During the rule of
Emperor Constantine, Christianity was ……………to be practised. In AD 391 it became
the ………..religion of the Roman empire. From this time on the power and …………..of
the Christian Church began to grow and………….... People such as St Patrick, who
……………. most of Ireland to Christianity from AD 450, helped to spread the teachings
of the Church.
Monks, nuns and friars travelled to spread their faith and so were very ……………..in
spreading Christianity throughout Europe.
Activity Two:
Source A
I saw how paradise was made… I saw there, trees, leaves, and clover and grass and no weeds.
Many trees bore apples but most of them had only leaves and a [beautiful perfume]. Rushing
waters flow through that place …In the waters earthly sweetness was mixed with heavenly joy. The
air was sweeter than I can say …[Whoever comes into the Kingdom of God will be rid of all sickness.]
… I have seen a place—its name is Eternal Hatred … Lucifer sits in the deepest abyss … In the deepest
part of Hell are fire and darkness and stench and horror and all sorts of the greatest torment … The
murderers must stand bloodied [in front of Lucifer] and be beaten … with a fiery sword. Those who on
earth had [hated people] must [be Lucifer's] smelling salts and [forever hang under] his nose. [The
greedy] and drunkard must stand before [him] in everlasting hunger and eat red hot stones …
The[angry] are beaten with fiery whips … how they seethe and roast … how they swim and [walk]
among the worms and filth …
From The Flowing Light of the Godhead
by Mechetilde of Magdeburg.
This was written in 1275.
Task:
Read Source A carefully and then answer the following questions in pairs.
1.
List three beliefs of heaven and hell in this source. Explain what this writer in the Middle
Ages believed would happen after death?
Activity Three:
Task:
Look carefully at Source B and then answer the following questions in
pairs.
1.
2.
Describe what is shown in this source?
What is Pope Gregory doing in Source B?
SOURCE C: Detail from Fra Angelico, The Last Judgement, 1432±35.This painting depicts the horrors which
would be suffered in hell by those who did not follow the Church's teachings.
Task:
1.
2.
3.
Explain how Sources B and C help us understand how the medieval church got its message
across?
What effect do you think this had on the way people thought?
How is this source useful for historians studying what people believed in the Middle Ages?
Activity Four:
Task:
Look at source 6.6.2 and use your knowledge gained in class to answer the following questions.
Which members of the clergy (priests, monks, cardinals, bishops, archbishops, friars)
had:
(a) most power
(b) most contact with ordinary people?
Give reasons for your answers.
Knowledge and understanding
1. What religion did most medieval Europeans follow?
2. List three signs of the Catholic Church's wealth and influence over people's lives.
3. Explain what the term `Christendom' refers to.