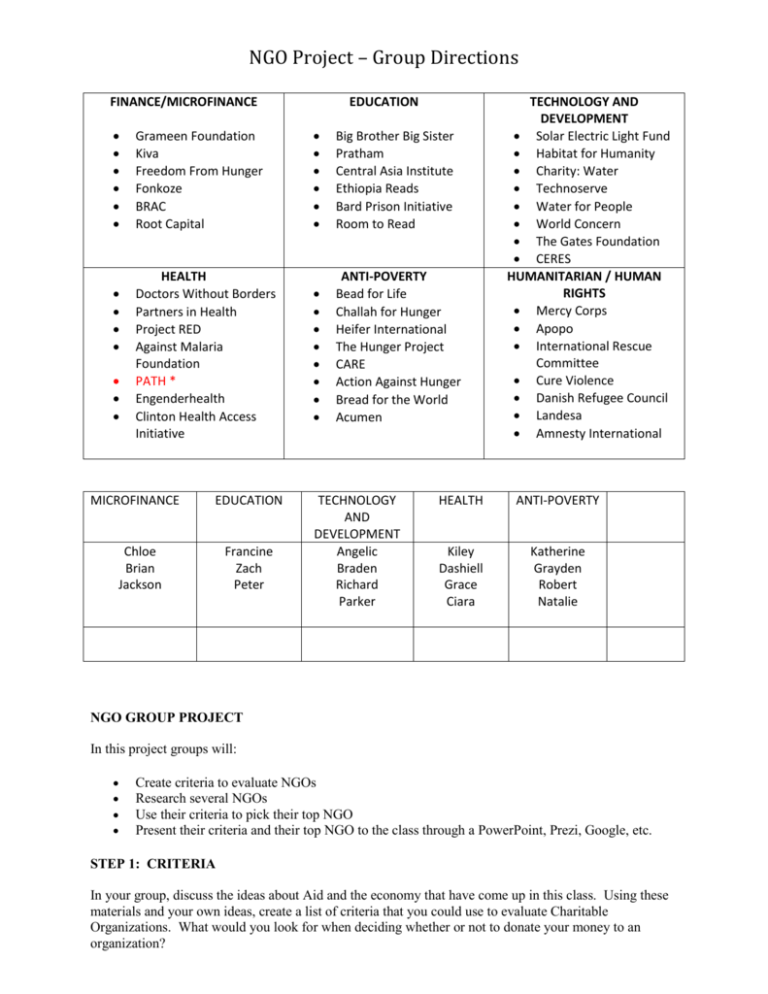 NGO Project – Group Directions
FINANCE/MICROFINANCE













Grameen Foundation
Kiva
Freedom From Hunger
Fonkoze
BRAC
Root Capital
HEALTH
Doctors Without Borders
Partners in Health
Project RED
Against Malaria
Foundation
PATH *
Engenderhealth
Clinton Health Access
Initiative
MICROFINANCE
EDUCATION
Chloe
Brian
Jackson
Francine
Zach
Peter
EDUCATION






Big Brother Big Sister
Pratham
Central Asia Institute
Ethiopia Reads
Bard Prison Initiative
Room to Read








ANTI-POVERTY
Bead for Life
Challah for Hunger
Heifer International
The Hunger Project
CARE
Action Against Hunger
Bread for the World
Acumen
TECHNOLOGY
AND
DEVELOPMENT
Angelic
Braden
Richard
Parker
TECHNOLOGY AND
DEVELOPMENT
 Solar Electric Light Fund
 Habitat for Humanity
 Charity: Water
 Technoserve
 Water for People
 World Concern
 The Gates Foundation
 CERES
HUMANITARIAN / HUMAN
RIGHTS
 Mercy Corps
 Apopo
 International Rescue
Committee
 Cure Violence
 Danish Refugee Council
 Landesa
 Amnesty International
HEALTH
ANTI-POVERTY
Kiley
Dashiell
Grace
Ciara
Katherine
Grayden
Robert
Natalie
NGO GROUP PROJECT
In this project groups will:




Create criteria to evaluate NGOs
Research several NGOs
Use their criteria to pick their top NGO
Present their criteria and their top NGO to the class through a PowerPoint, Prezi, Google, etc.
STEP 1: CRITERIA
In your group, discuss the ideas about Aid and the economy that have come up in this class. Using these
materials and your own ideas, create a list of criteria that you could use to evaluate Charitable
Organizations. What would you look for when deciding whether or not to donate your money to an
organization?
NGO Project – Group Directions
At the end of the discussion, you should have a short list of carefully worded criteria.
STEP 2: RESEARCH
Your group has been assigned several NGOs. Divide them up among your group members. Research
these groups starting with the group's own website. You should complete outside research in order to
evaluate the NGOs. You will complete an in-depth individual response for the specific NGO that you are
assigned (See "NGO Project – Individual Directions" sheet, which is what you will submit on
presentation day).
STEP 3: EVALUATION
Meet with your group and use your criteria to prioritize your NGOs. Which is the group you would most
support to least? (Understand why for each)
STEP 4: CREATE PRESENTATION
As a group, create a brief presentation.
WHAT TO PRESENT
1. A THESIS: "We picked _____ because..."
2. Your criteria
3. Your top NGO:
a. What does it do?
b. Give an example of a project
c. Why did you pick this NGO?
d. How can we get involved?
4. 1-2 slides on each of the other NGOs that you researched on what they do and why you didn't
select them. Was there another organization that you couldn't pick but you liked?
HOW TO PRESENT







Create a presentation
Be informative AND engaging
Feel free to show video clips to support your project
Show us the organization's website if that is helpful
Dress appropriately
10 minutes max.
Other students must make sure to take notes while group is presenting (for test)
Focus on making your presentation INTERESTING!
STEP 5: PRESENT
All members must participate in this presentation. It should be a formal, polished presentation.